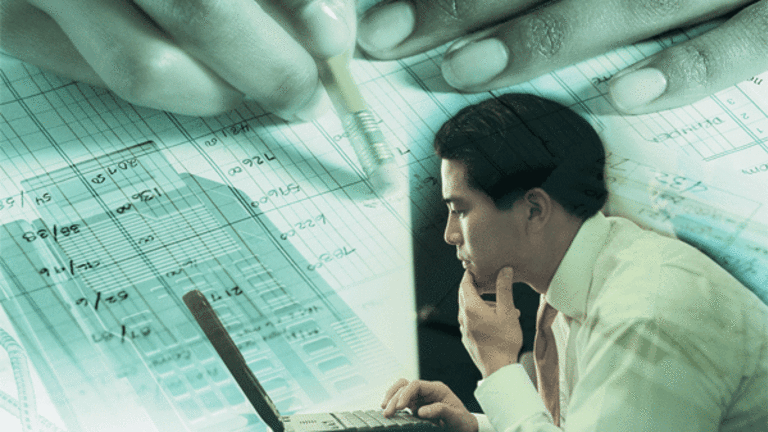 Publish date:
Coming Week: FOMC On Deck
With the Federal Open Market Committee on deck, observers are looking ahead to another week of economic data and earnings news.
With the Federal Open Market Committee on deck, observers are looking ahead to another week of economic data and earnings news.
NEW YORK (
) -- After completing yet another choppy week of trading -- though one where the
Dow Jones Industrial Average
finished 2.4% higher -- and as eurozone worries began to ebb after Spain's soothing bond auction, market observers will be looking ahead to another week of economic data and earnings news.
Though many will continue eyeing the ripple effects of the euro -- watching headlines out of Europe, particularly as G20 leaders prepare to meet for a summit on June 26 and 27 -- along with those in the Gulf of Mexico following the
BP
(BP) - Get Report
oil spill, several commentators said they will be turning their firm focus to more traditional domestic economic events in the coming week.
Sure, the data may be slim, but a few nuggets have market-rattling potential. Chief among them, traders will be eyeing the monetary policy statement following the conclusion of another two-day meeting of the
Federal Open Market Committee
. And though many expect no hike to the
Federal Reserve
's key interest rate, the statement will be picked apart for any clues of when such a decision could be made.
"Really, that's the thing people will be paying most attention to," said Robert Pavlik, chief market strategist at Banyan Partners. "You're not expected to see any kind of change. You're just going to be largely seeing a very similar statement coming out of the Fed where they're going to remain on hold for an extended period of time. Let's face it. Inflation is not an issue right now."
"I think it's going to be almost a carbon copy from the statement from the last meeting," he added. "If you look at the
Beige Book, that gives you a better indication of what the Fed is thinking. And so far, we're moving ahead at a good pace."
> > Bull or Bear? Vote in Our Poll
Yet one market economist says this meeting could offer some departures, since uneasy employment, manufacturing and housing figures of late hint at weakness, coupled with slowdowns in Europe and China, that could hamper growth in the latter half of the year.
"With each and every passing day, a rate hike seems further and further down the road," said Michael Pento, chief economist at Delta Global Advisors. "You're looking at markets telling you, and economic data telling you, that the economy is rolling over. Put me on the record saying the next Fed move will be an ease, not a tightening. It'll be quantitative in nature."
"I have no faith in recovery. I think the economy is going to slow. I think Ben
Bernanke is going to go back to quantitative easing. I think there will be another jobs stimulus program from Washington," he added. "The headlines this fall are going to be downright ugly."
Coming off of Friday's session highlighted by quarterly quadruple witching adjustments, Ryan Detrick, senior technical strategist at Schaeffer's Investment Research, said to expect light volumes yet again in the coming week. A recent trend that has seen swings both high and low near the closing bell will probably continue as well. But most of all, Detrick will be looking for the
S&P 500
to continue holding above its 200-day moving average, or around the 1,108 level, which it breached last week.
Besides the FOMC rate decision, look for markets to pay close attention to home sales data scheduled for release at the beginning of the week. The signing deadline for the federal homebuyer tax credit came at the end of April. So, with the government boost subsiding, Wall Street will be looking for any signs of sluggish sales for existing and new homes in May, with reports due on Tuesday and Wednesday, respectively. According to
Briefing.com
, existing home sales are expected to edge up to a seasonally adjusted annual pace of 6.1 million from 5.77 million in April, though new home sales are thought to have slipped to a rate of 480,000 in May from 504,000.
The Commerce Department will also release its final read on first-quarter economic growth Friday at 8:30 a.m. EDT, though most see
gross domestic product continuing to reflect a 3% jump.
First-time jobless claims data, due for release Thursday at 8:30 a.m. EDT, will also get a closer look after the Labor Department reported a disappointing surge to 472,000 last week. Claims have spent all of 2010 trending around and above the 450,000 level, a range that most economists and market participants say portend little prospect for extended job growth.
Traditionally volatile durable goods results for last month are scheduled for release Thursday morning, with many likely to zero-in on business spending assessments. And a final read on consumer attitudes in June will come out Friday in the University of Michigan Consumer Sentiment report.
Company reports will remain scant up until the kickoff of a new earnings season in a few weeks. Still, Pavlik says any news about company guidance or revised expectations have the ability to move markets this week. Just see the market's downturn last Wednesday following
FedEx's
(FDX) - Get Report
disappointing outlook.
"It was a very good report," said Pavlik, who remains incredulous about the market's reaction to
FedEx's earnings report. "They're telling you that their businesses are increasing, especially international, and demand is increasing in Europe. They haven't seen much impact at all from these concerns in Europe."
Despite the limited earnings flow, a few notable names will get their chance in the spotlight.
Customers raced to pre-order
Apple's
(AAPL) - Get Report
iPhone 4, as the firm's inability to keep up with demand garnered the lion's share of tech headlines last week. But look for a group of tech names to jump into the fray this week. Investors will delve into quarterly news from
Oracle
(ORCL) - Get Report
, looking for any further signs of revived business spending, while a report from
Research in Motion
(RIMM)
will be mined for any discernable mobile business trends, particularly after
Nokia
(NOK) - Get Report
tempered sales expectations last week. And as its much ballyhooed feud with Apple CEO Steve Jobs over the
suitability of its Flash platform has put
Adobe Systems
(ADBE) - Get Report
in the press cross-hairs in recent weeks, the firm will report its results after Tuesday's closing bell.
Homebuilders
Lennar
(LEN) - Get Report
and
KB Home
(KBH) - Get Report
are set to report early Thursday and Friday, respectively.
Other spotlighted firms in the earnings report mix include
Rite Aid
(RAD) - Get Report
,
Discover Financial Services
(DFS) - Get Report
,
ConAgra Foods
(CAG) - Get Report
and
Walgreen
(WAG)
.
Finally, as productivity around the world dwindles in the face of World Cup fever, both
Nike
(NKE) - Get Report
and German-based
Adidas AG
, the world's traditional soccer wares powerhouse, have been locked in a war for world-wide brand domination in the event. The Beaverton, Ore. outfit will unveil its fourth-quarter results late Wednesday, with consensus projections calling for earnings to rise to $1.05 a share from 99 cents a share at the same time last year.
--Written by Sung Moss in New York