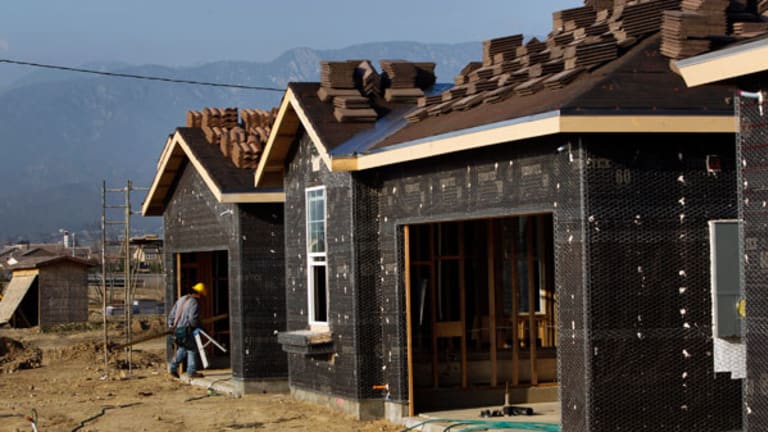 Buyers Driving Housing Recovery, Not Investors
Recent studies show buyers dominate non-distressed home sales, dispelling concerns that investors are causing a bubble.
NEW YORK (
) -- Investors may have kick-started the housing recovery, buyers are truly driving the market, research shows.
Recent reports point to strength in the non-distressed or conventional sales market, which is dominated by current homeowners and first-time home buyers.
According to the Campbell/Inside Mortgage Finance Survey released last week, investors accounted for just 21.8% of home sales in March. Investors accounted for only 13% of sales of non-distressed properties, the largest segment of the market. Current homeowners had a 50% market share and first-time homebuyers a 37% share of the non-distressed housing market.
Bank of America Merrill Lynch analyst Michelle Meyer noted in a report last week that while investors buy a disproportionate share of foreclosed homes -- making them relevant in markets with high levels of foreclosures -- primary homebuyers are still the largest share of the market.
Significantly, she notes that while a third of the sales are "cash" purchases, not all cash-buyers are investors. "Over 20% of buyers who are looking to relocate (turnover) and 60% of second home buyers use only cash," according to Meyer."
"As credit conditions gradually ease, which we anticipate, the housing market will open to a wider range of buyers, particularly first-time owners," she wrote.
Former Morgan Stanley analyst Oliver Chang, who now runs his own single family rental business Sylvan Road Capital, studied the Atlanta housing market and was surprised to find that homebuyers and not investors are driving the recovery in both sales and prices.
For all the stories about how investors are crowding out home buyers, "owner-occupied buyers are paying the highest prices for non-distressed properties by a wide margin, over the highest investor prices even after taking renovation costs into account," Chang's study revealed. The analysis adjusted for the mix of homes.
Clearly buyers who are in it for the long haul are more willing to pay a higher price for a home than investors who are looking to profit from the housing recovery.
All the studies are aimed at dispelling one concern in this housing recovery -- that big investors hungry for yield such as
Blackstone
(BX)
and
Colony Capital
(CLNY)
are driving up home prices, but will disappear from the market once the returns diminish. For more on this subject, see
Real Estate Investor Math Changes As Rents Flatten
.
Given investors' relatively low share of the market, this fear may be overblown.
But does this mean the recovery is sustainable? Chang is relatively cautious. "If it is true that owner-occupied buyers are driving the recovery, then the recovery will only be that much more dependent on cost and availability of mortgage credit. As it is, home prices are rising, so if mortgage rates were to return to their pre-bubble levels, affordability would fall considerably -- all at a time when income growth remains tepid," he wrote.
Chang expects that the market will likely be volatile going forward, with the pace of price and sales increases expected to slow and be very sensitive to interest rate changes.
If interest rates do stay long, the recovery in home prices will likely continue, though the bubble question will not go away. "The last time home prices went up because of cheap and easy mortgage credit, it led to the largest housing bubble in nearly a century," notes Chang. "Mortgage credit is cheap again, albeit for different reasons. But what happens if lending standards start to ease as well?"
Also see: Tight Mortgage Credit Isn't the Real Problem >>
-- Written by Shanthi Bharatwaj New York.
>Contact by
.
Disclosure: TheStreet's editorial policy prohibits staff editors and reporters from holding positions in any individual stocks.