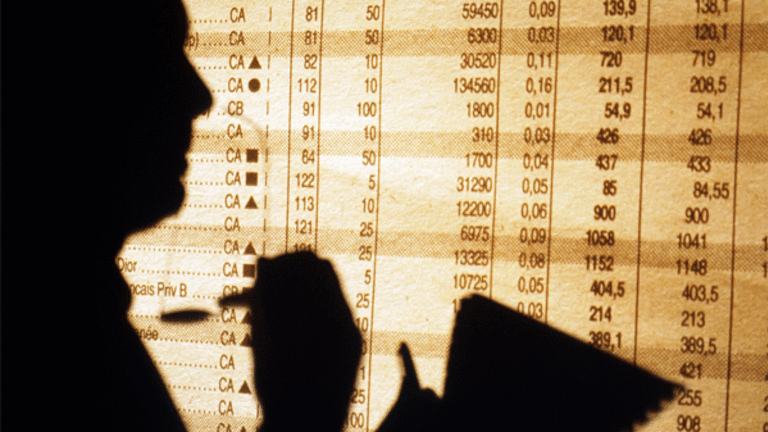 Brutal First Quarter for BankUnited
Loan-loss provisions and impairment charges take their toll.
Yesterday, BankUnited Financial Corporation( BKUNA) said it took a loss in the first quarter amid impairment charges and provisions for loan losses.
BankUnited reported a net loss of $65.8 million for the first quarter of 2008, following positive net income of $24.4 million in the same period the prior year. Last quarter saw a loss of $25.5 million.
Not surprising in the current environment, the thrift-holding company's loss was driven mainly by $98 million in quarterly provisions for loan losses, up from last quarter's already-high $65 million and just $4 million a year ago. Securities impairment charges of $25.5 million also contributed to the trouble.
BankUnited's common shares were down 5% on the day, closing at $3.70. Through yesterday, shares were down 46% year to date and down 83% for the 52-week period.
Option-ARMs
A recent look at
regional banks' asset quality and capital levels
addressed BankUnited's high concentration in option-payment adjustable-rate mortgages with negative amortization features, also know as option-ARMs.
By now, almost everyone has heard of these innovative but risky instruments, which allow borrowers to choose a payment that could result in adding principal to the loan.
Along with BankUnited, big players in option-ARMS suffering in the real estate crisis include
Washington Mutual
(WM) - Get Waste Management, Inc. Report
,
Wachovia
(WB) - Get Weibo Corp Sponsored ADR Class A Report
and
Downey Financial Corp.
(DSL) - Get DoubleLine Income Solutions Fund Report
.
Option-payment mortgages totaled $7.4 billion and represented 59% of BankUnited's loan portfolio as of March 31. In the earnings release, CEO Alfred Camner reiterated the company's plan to transition to a "more traditional retail commercial bank."
Loan Quality Tumbling
Nonperforming loans increased 58% during the first quarter, totaling $609 million as of March 31. That compares with $384 million in December 2007 and $71 million in March 2007. In the discussion of loan loss reserves in its 10-Q filing, BankUnited stated that option-ARMs represented the majority of the increase in nonperforming loans over the past several quarters. These totaled $512 million, or 84%, of the company's problem loans as of March 31.
One of the features of option-ARMs is that the loans "recast" if the customer continues to make the lowest option payments until their mortgage loan's principal balance grows to a certain point. This means that the loan payment is recalculated, based on current rates and fully-amortizing the new balance. The new loan payment will be much higher than the old one. The rate may be higher than the loan's original rate, and there will no longer be an option payment. The new payment will include all the previous month's accrued interest and a portion of the principal, just like any other mortgage loan.
At BankUnited, option-ARMs recast when the loan-to-value (LTV) ratio hits 115%. In its earnings release, the company stated that $13.6 million in loans had reached the 115% LTV and been recast, as of March 31. This number was projected to reach $90 million over the next two quarters.
Considering that the LTVs for these loans are based on the original appraised values of the homes and how much values have been dropping, these borrowers will be "upside down" on their mortgages by a very significant percentage, making it likely the loans will go sour.
Loan-loss reserves totaled $202 million as of March 31, and covered 33.25% of nonperforming loans. Net loan charge-offs for the first quarter totaled $13.3 million, so the company pointed out that its $98 million in loan-loss provisions has so far kept well ahead of the pace of actual loan losses.
Even so, when factoring in the decline in market values for mortgage collateral, as well as the high LTVs for many of the nonperforming loans, loan-loss reserves are low.
Capital
As the real estate crisis continues, raising capital is a constant theme for banks and thrifts. BankUnited's capital level was still strong as of March 31, with a risk-based capital ratio of 14.6% for its main subsidiary, BankUnited FSB. This ratio needs to be at least 10% for the thrift to be considered well capitalized under regulatory guidelines.
Also helping to preserve capital ratios is the shrinking of BankUnited's balance sheet. The company is doing this by slowing retail and wholesale loan origination and focusing on mortgages that conform to
Fannie Mae
( FNM) and
Freddie Mac
( FRE) requirements.
Mortgages conforming to agency standards are not only more conservative than option-ARMs. They are also much easier to sell, thus keeping the balance sheet smaller and helping to keep capital ratios from dropping. Mortgage sales to the agencies can also generate profits on sale and often a continuous stream of servicing fee income.
Still, with an annualized negative return on average equity of 37% for the first quarter and with problem loans continuing to rise rapidly, it's conceivable that BankUnited will have to raise additional capital sooner rather than later.
The company filed a proxy on May 6, asking shareholders to approve a plan that could result in the company raising capital by issuing more shares.
Philip W. van Doorn joined TheStreet.com Ratings., Inc., in February 2007. He is the senior analyst responsible for assigning financial strength ratings to banks and savings and loan institutions. He also comments on industry and regulatory trends. Mr. van Doorn has fifteen years experience, having served as a loan operations officer at Riverside National Bank in Fort Pierce, Florida, and as a credit analyst at the Federal Home Loan Bank of New York, where he monitored banks in New York, New Jersey and Puerto Rico. Mr. van Doorn has additional experience in the mutual fund and computer software industries. He holds a Bachelor of Science in business administration from Long Island University.