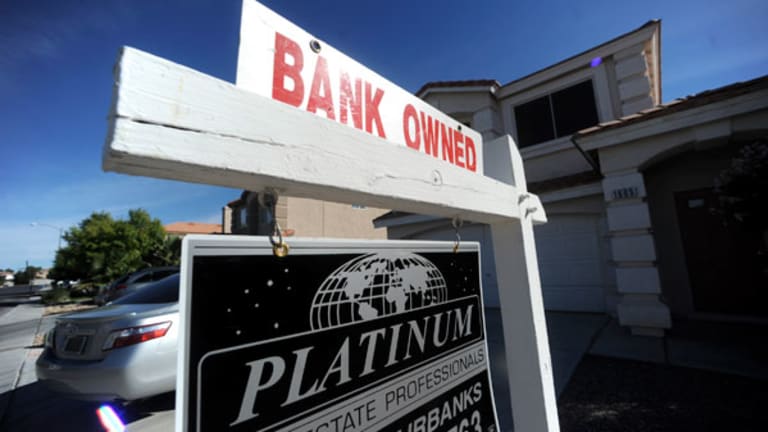 Borrowers in Hardest-Hit Areas Could Remain Underwater for Years: Zillow
More than half of the 12.2 million underwater borrowers owe substantially more than their properties are worth.
NEW YORK (
) -- Rising home prices have helped pull more than 3 million borrowers from underwater over the past year, but in the hardest-hit areas, the crisis is far from over.
According to Zillow, there are still millions of borrowers who have debt so far in excess of the value of their homes, that it would likely take years for them to regain equity in their homes.
The national negative equity rate fell in the second quarter to 12.2 million borrowers. That's 23.8% of all homeowners with a mortgage who owe much more than their homes are worth. In the previous quarter, there were 13 million underwater borrowers while in the year ago quarter there as many as 15.3 million.
While the negative equity rate is improving, about 57% of homeowners in negative equity are underwater by 20% or more. Roughly one in seven owe more than twice what their homes are worth.
Zillow expects home prices to rise by 4.8% over the next year. If home prices rise at that pace annually, it would take a homeowner underwater by 20% roughly four years to reach positive equity, according to Zillow.
Between rising interest rates, flat incomes and a still lackluster job market, it is unclear if home prices will indeed expand at that pace for four years.
"The frustratingly slow pace of negative equity declines in the face of such robust home value appreciation is a direct result of the fact that many people in the hardest-hit markets are underwater by an enormous amount," said Stan Humphries, chief economist at Zillow. "Because of this, negative equity will be a factor in these markets for years to come, constraining the supply of homes for sale and keeping people out of the market who might otherwise get involved."
Zillow also calculates the "effective" negative equity rate, which includes borrowers who have less than 20% equity in their homes. Such borrowers usually will find it difficult to sell and trade-up to a bigger home because listing a home for sale and buying a new one involves not only a new downpayment but considerable closing costs.
The effective negative equity rate declined in the second quarter to 41.9% from 43.6% in the first quarter. Still, it means roughly 42% of homeowners with a mortgage are unable to sell their homes. About a third of homeowners do not have a mortgage at all.
Zillow expects rising prices will lift an additional 1.9 million borrowers out of negative equity over the next year, with the majority of the freed homeowners anticipated in Los Angeles, Riverside, Calif. And Atlanta.
Zillow calculates negative equity by looking at current outstanding loan amounts for individual owner-occupied homes with those homes' current estimated values.
Estimates of underwater borrowers vary. According to CoreLogic, the number of
underwater borrowers was 9.7 million
at the end of the first quarter. An additional 11.2 million have less than 20% equity in their homes.
But the Zillow analysis is significant because cities hardest hit by the housing bust are still crying for more relief. But rising home prices has made mortgage relief a less urgent issue in Washington than it once was at the peak of the crisis.
That has pushed some cities such as Richmond, Calif to consider
seizing mortgages from investors via eminent domain
and writing them down for borrowers, a plan that has been vigorously contested by the mortgage industry.
As Humphries noted, deep negative equity discourages borrowers from selling homes, thereby constraining supply.
Underwater borrowers are also considered more likely to default, though it is worth noting that the majority of the borrowers continue to meet their mortgage obligations.
-- Written by Shanthi Bharatwaj New York.
>Contact by
.
Disclosure: TheStreet's editorial policy prohibits staff editors and reporters from holding positions in any individual stocks.