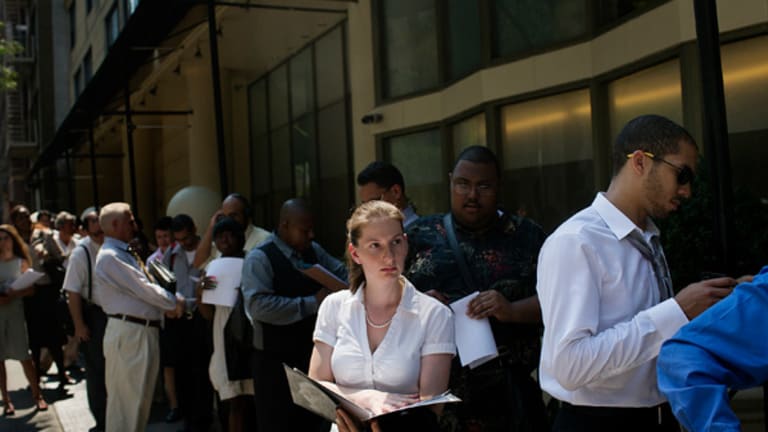 'Better' Trade Balance Just Masks Weakness
U.S. exports rose in August, prompting some economists and investors to conclude that global demand is strengthening. If only that were the case.
NEW YORK (
) -- The U.S. government's August trade report illustrates the meaninglessness of headline figures.
The trade balance shifted toward exports more than economists had predicted. The trade gap fell 3.6%, leading many to conclude than an unexpected uptick in demand from around the world shows the global economy is beginning to rev up again, foreshadowing a spike in U.S. production. That's why some news outlets have called the report "better than expected." Not so fast.
A weaker dollar stimulated foreign demand -- and will continue to do so. The dollar is now trading at a 14-month low against major currencies, helping exporters. But consumer spending is by far the biggest part of the U.S. economy.
In addition, much of the increase in exports came from Canadian demand for cars. In fact, exports to our northern neighbor rose to a nine-month high. Other countries that employed stimulus programs similar to America's so-called cash for clunkers may have lifted demand to unsustainable levels. Sure, there are short-term benefits to companies such as
Ford
(F) - Get Ford Motor Company Report
and
GM
(GMGMQ)
, but some U.S. car companies reported that they didn't even have enough cars to satisfy demand.
As for imports, less demand for oil skewed the balance toward exports. The U.S. imported 8.66 million barrels a day on average in August, down from 9.56 million a month earlier. It's nice to think less American money is being funneled overseas to feed our oil addiction, but the fact of the matter is that we still run primarily on oil. If
Exxon
(XOM) - Get Exxon Mobil Corporation Report
and
Chevron
(CVX) - Get Chevron Corporation Report
are bringing in less, it means we are producing less.
Unfortunately, the U.S. is going to be a net importer for the foreseeable future. While a high export balance is nice for a few industries, the economy won't be cooking again until Americans start spending money. For that to happen, higher imports will be necessary.
-- Reported by David MacDougall in Boston.
Prior to joining TheStreet.com Ratings, David MacDougall was an analyst at Cambridge Associates, an investment consulting firm, where he worked with private equity and venture capital funds. He graduated cum laude from Northeastern University with a bachelor's degree in finance and is a Level III CFA candidate.