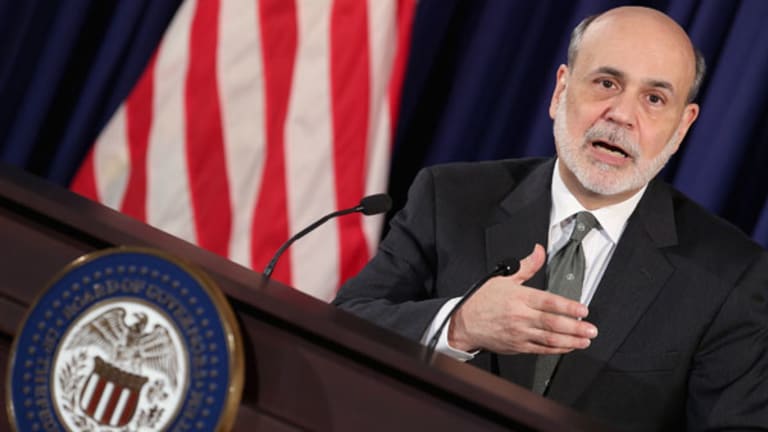 Bernanke Lets Dems, Republicans Have It on Sequester
Ben Bernanke critiques Democrats' and Republicans' approaches to the upcoming sequestration.
NEW YORK (
) --
Federal Reserve
Chairman Ben Bernanke let Republicans and Democrats in Washington have it.
The head central banker testified Tuesday before Congress in his semi-annual report on monetary policy, and he spent the final section of his speech relaying his thoughts on current fiscal policy a few days before across-the-board spending cuts by the federal government are expected to go into effect.
Bernanke noted the spending sequestration scheduled to begin on March 1, and pointed out that a full sequestration would create a 0.6 percentage point drag on economic growth in 2013.
Bernanke's comments appear to be a shot across the bow of some Republicans who argue the deep spending cuts would be a victory for long-term deficit reduction.
"Given the still-moderate underlying pace of economic growth, this additional near-term burden on the recovery is significant," Bernanke said, according to the text of the speech. "Moreover, besides having adverse effects on jobs and incomes, a slower recovery would lead to less actual deficit reduction in the short run for any given set of fiscal actions."
But the chairman also took aim at some so-called tax-and-spend Democrats who have pushed for greater revenue, as he noted new revenue must encourage growth and investment in the private sector.
"The sizes of deficits and debt matter, of course, but not all tax and spending programs are created equal with respect to their effects on the economy," Bernanke said. "To the greatest extent possible, in their efforts to achieve sound public finances, fiscal policymakers should not lose sight of the need for federal tax and spending policies that increase incentives to work and save, encourage investments in workforce skills, advance private capital formation, promote research and development, and provide necessary and productive public infrastructure."
-- Written by Joe Deaux in New York.
>Contact by
.