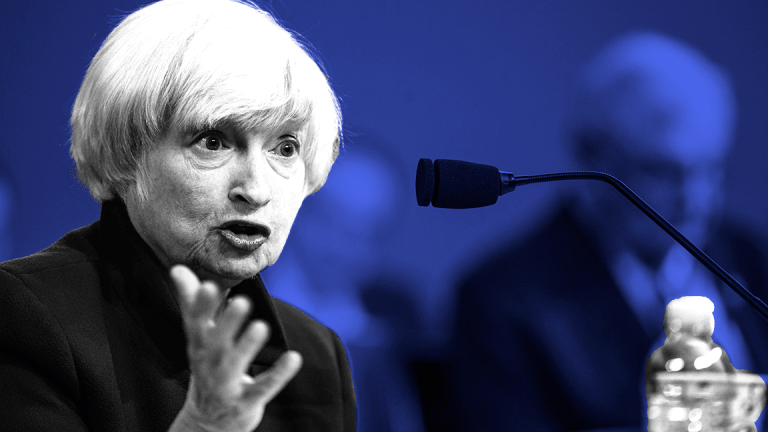 Bank of America Sees 'Modestly Hawkish' Tilt to Fed Rate Statement
Federal Reserve officials, in their first meeting of 2018, held benchmark U.S. interest rates steady in a range of 1.25% to 1.5%, as expected.
The Federal Reserve's monetary-policy statement on Wednesday was "modestly hawkish," supporting expectations that the central bank will increase rates three times this year, including a quarter-point hike at its next meeting in March, according to economists at Bank of America Corp. BAC.
Key to the reading are subtle changes in the wording of the statement since the Fed monetary-policy committee's last meeting in December, the economists wrote Wednesday in a report. 
Officials at the central bank kept interest rates steady at their first meeting of the year on Wednesday, saying that labor markets continue to strengthen amid "solid" economic activity. The Fed raised rates three times in 2017, bringing the target to a range of 1.25% to 1.5%, from near zero before the central bank starting the current hiking cycle in late 2015.
The Bank of America economists noted that the Fed now sees inflation moving up over the next 12 months and stabilizing around the target of 2% "in the medium term." In December, the committee said in a statement that inflation was expected to "remain somewhat below 2% in the medium term," according to the report.
"This is a decisive change," the economists wrote.
The Fed also pointed to increases in market-based measures of inflation. The observation was seen by the bank's economists as a sign that the officials are "taking note of the recent shift in market perception," according to the report.
The Standard & Poor's 500 Index of U.S. stocks was down 1.1% in New York trading after the announcement. Yields on 10-year U.S. Treasury bonds were up 0.01 percentage point to 2.73% on Wednesday.
The bond market's response to the Fed statement was "relatively muted," the economists wrote. 
"The market interpreted the statement as indicating a Fed encouraged by higher market-based readings of inflation expectations and more confident in the inflation outlook," they wrote. 
According to the bank, the market is now pricing in 2.75 quarter-point rate increases in 2018 and 1.2 hikes in 2019. 
The Fed is now "effectively set up for a hike in March," the economists wrote. 
More of What's Trending on TheStreet: