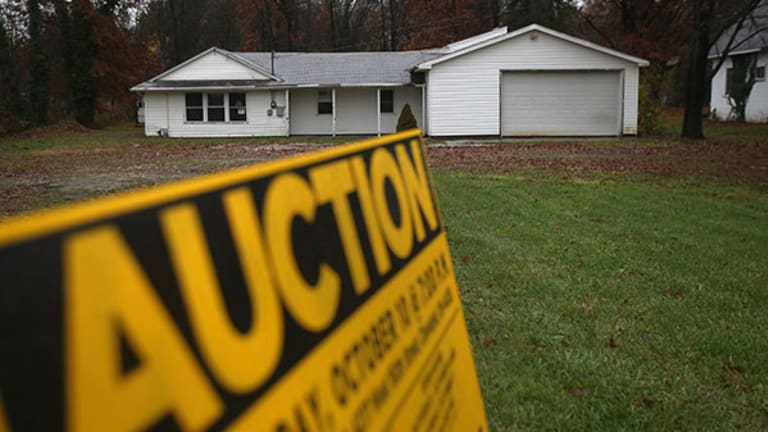 [video] As Home Prices Rise, Short Sales Lose Favor
New data from RealtyTrac shows a slow shift back to traditional foreclosures over short sales.
NEW YORK (TheStreet) -- Short sales are starting to lose favor with lenders as a method of disposing distressed property, with rising home prices making foreclosure auctions more attractive.
According to a report from RealtyTrac, short sales represented 5.3% of all sales in October, down from 6.3% in September and 11.2% a year earlier.
Meanwhile, sales of bank-owned property, referred in the industry as real-estate owned or REO, accounted for 9.6% of all sales, up from 8.9% in September and 9.4% a year earlier.
Foreclosure auctions to third parties, which represent sales to parties other than the foreclosing lender at a public auction, have doubled to 2.5% in October from 1.3% a year earlier.
"After a surge in short sales in late 2011 and early 2012, the favored disposition method for distressed properties is shifting back toward the more traditional foreclosure auction sales and bank-owned sales," Daren Blomquist,vice president at RealtyTrac, said in a release. "The combination of rapidly rising home prices -- along with strong demand from institutional investors and other cash buyers able to buy at the public foreclosure auction or an as-is REO home - means short sales are becoming less favorable for lenders."
Markets with highest percentage of REO sales included Stockton, Calif., (24.4 %), Las Vegas (23.8 %), Cleveland (22.3 %), Riverside-San Bernardino, Calif., (20.1 %), Detroit (18.8 %) and Phoenix (18.0 %).
Interestingly, while cash sales accounted for 44.2% of all residential sales in October, up sharply from 33.9% a year earlier, there was a sharp drop in institutional investor purchases.
Institutional investor purchases, defined as sales to investors who purchased at least 10 properties in the last 12 months, represented 6.8% of all purchases in October, down from 9.7% a year earlier.
This is despite the fact that foreclosure auctions are on the rise.
One explanation could be that smaller investors who also represent a large chunk of cash buyers are now more active in the market on the back of a recent slowdown in home prices.
-- Written by Shanthi Bharatwaj in New York.
Disclosure: TheStreet's editorial policy prohibits staff editors and reporters from holding positions in any individual stocks.