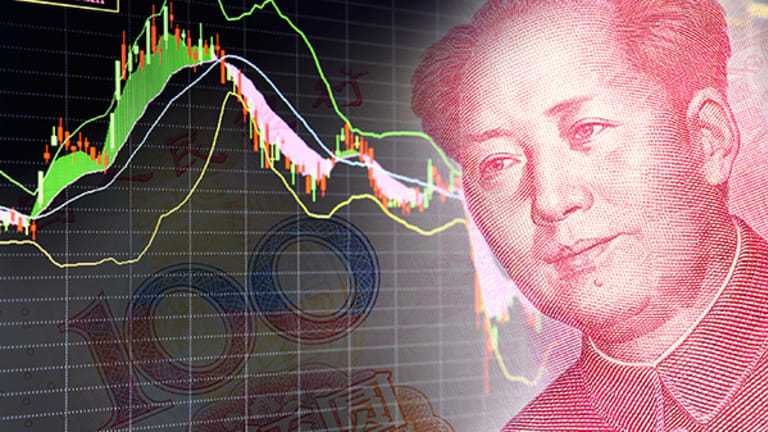 As China's $9 Trillion Bond Market Goes Bust, Here's How to Profit
Disturbing new signals from China's teetering bond market are a green light for this one trade.
The $9 trillion bond market of the world's second-largest economy is teetering on the edge of the abyss, which is a rare opportunity for you to make a quick killing.
One of the surest ways to reap outsized profits is to exploit the inevitable imbalances in global markets. With the simple trade explained below, you can profit from the coming implosion of China's financial sector.
First, let's examine the China's worsening bond crisis.
Government and corporate bond prices in China have plummeted over the past week, a sharp sell-off that continued on Tuesday. The rout in bonds has unnerved investors, compelling the central government to curtail bond trading and offer emergency loans to floundering financial services entities.
The precipitous decline in bond prices has translated into steeper borrowing costs at just the wrong time for Chinese companies, as they seek additional loans to withstand flagging economic growth. Bond yields in China have soared to new highs. On Tuesday, the yield on one-year government bonds rose to 3.11%, compared with 2.35% two weeks ago.
China's bond woes largely derive from the government's campaign to tighten the lending spigot, to preclude speculative bubbles. The problem is that China has been relying on its expanding bond market to confer a measure of free market discipline to its mercantilist, centrally planned economy.
Nonetheless, in China's top-down economy, state-operated banks are the major source of funding. Over the past several years, China's economic policymakers incurred a mountain of debt via copious expenditures on infrastructure projects. The goal was to stimulate growth but the result has been excess capacity in slumping sectors. The spending spree also spawned a host of inefficient "zombie" enterprises that are kept alive through debt-fueled subsidies. It's all a recipe for disaster.
China's total debt is estimated to hover at about $28 trillion, a staggering amount larger than that of Germany or the U.S. China's corporate debt accounts for about 160% of the country's gross domestic product, twice the U.S. level. As the economy struggles, this corporate debt is turning sour.
According to a McKinsey Global Institute Report, the non-performing loan ratio of China's debt is on track to soar to 15% in 2019 from 1.7%, further boosting the annual cost of dealing with that debt.
The latest distress of China's bond market is adding additional strains to an already teetering financial system.
You can profit from the epic mismanagement of China's economic mandarins by going short the Global X China Financials ETF (CHIX) - Get Free Report. With net assets of $28.69 million, this fund is a proxy for China's financial sector.
CHIX focuses the majority of its portfolio on financial services stocks, such as China Construction Bank, Industrial and Commercial Bank of China, Bank of China and Agricultural Bank of China. These institutions will get clobbered if China's debt woes worsen in 2017, which seems likely.
CHIX is down more than 5% year to date and more than 13% over the past 12 months. The expense ratio is 0.65%.
---
It's not just China. A global crisis is coming. When it hits, weak companies and their investors will be washed away. Don't let that happen to you! I've found seven companies you should own no matter what the economy is doing. Each one of these powerful yet overlooked companies barely notices when the market tumbles. And they'll skyrocket when it rebounds. To get the names of these "seven survivor stocks," click here.
John Persinos is an investment analyst at Investing Daily. At the time of publication, he owned none of the stocks mentioned. Persinos appears as a regular commentator on the financial television show "Small Cap Nation." Follow him on Twitter.