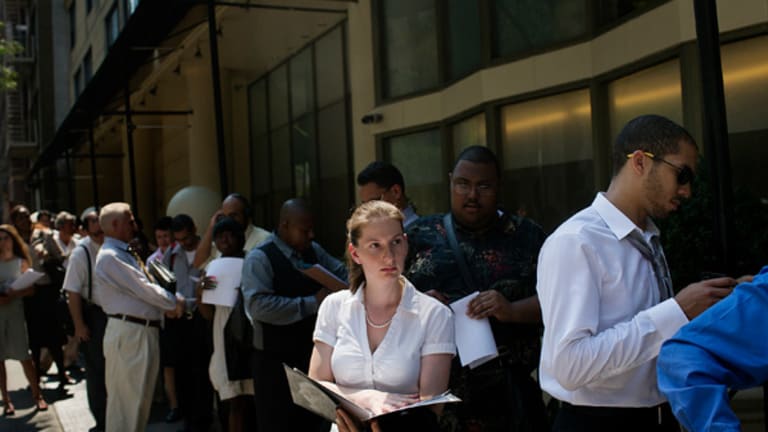 Publish date:
July Job Gains Signal Stabilizing Unemployment
Moderate gains in employment suggest that that the nation's 9.1% unemployment rate will remain steady.
Moderate gains in employment suggest that that the nation's 9.1% unemployment rate will remain steady.
NEW YORK (
) -- A rise in private sector employment in July may lessen fears of a recession but isn't likely to significantly move the needle in the nation's hefty 9.2% unemployment rate.
Companies added 114,000 jobs last month, according to a report from Automatic Data Processing, exceeding consensus estimates for an additional 100,000 jobs. While the latest update was better than expected, growth was down compared to a revised 145,000 additional jobs in June. Economists originally estimated that June added 157,000 in new private sector jobs.
Jobs in construction have declined for three straight months. The sector has lost more than 2 million jobs since employment peaked in January 2007. Manufacturing, financial services and the goods sector also saw job declines in July.
Any gain or loss in jobs above 100,000 is considered statistically significant by economists. Investors cheered the gain in July, lifting futures Wednesday morning. Expectations going into the ADP report were rather low, however, given a slew of bad news in GDP, consumer spending and manufacturing recently.
For Friday's government employment report, Wall Street is only anticipating 78,000 job gains in July after June's meager increase of 18,000. The unemployment rate, meanwhile, is only projected to dip to 9.1%, from 9.2%.
Investors often look to the ADP report to gauge how the government's unemployment report might shape up. ADP estimates are not always accurate. June's reading on payrolls overshot by 100,000.
"We still expect that actual payrolls may have risen by around 50,000 in July," says Capital Economics. "That would be better than the previous two months, but hardly reason for cheer."
"This pace of job creation usually implies a steady unemployment rate," according to the ADP employment report. Capital Economics said that the latest job gains would not reduce the unemployment rate.
"We are in a process of discovery over whether the slowdown we have seen since March in the U.S. is over and we are entering a new phase of faster growth or that we are in a slump," said Francisco Torralba, economist at Morningstar Investment Management.
-- Written by Chao Deng in New York
.