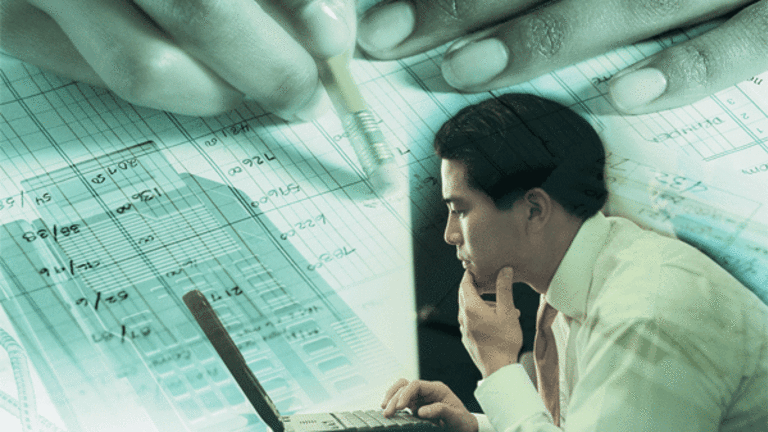 A Task of Greek Proportion
The EU is claiming that Greece is too big to fail. I'm not convinced.
This post appeared earlier Tuesday on RealMoney. Click here for a free trial, and enjoy incisive commentary all day, every day.
The capital markets have worked themselves into a lather today. There is much speculation that the European Union is preparing a support package for Greece. The foreign currencies are rallying. The much-beaten up Greek bonds are rallying. Stocks are rallying and the other part of the risk-on trade, gold, is also advancing.
No big, fat Greek wedding, but a fat chance that this speculation will be satisfied. First, a bailout now for Greece is putting the cart before the horse. Greece is saying thank you, but it does not need assistance at the moment. Europe, even if the legal issues were to be resolved, cannot help Greece before seeing it implement its budget strategy.
My mother used to tell us that God helps those that help themselves. While of dubious theological value, it is probably true of the EU. It can only help Greece while minimizing threats to its own credibility by ensuring that Greece is, in fact, doing what it promises to do, despite the social backlash.
And if Greece is bailed out, why not Spain and Portugal? Nobel prize-winning economist Joseph Stiglitz claims a proper bailing out of Greece would end the crisis and put a floor under other weak credits. He could be right, but there is a substantial risk that he is wrong and that a bail out of Greece would simply deflect attention to Spain and Portugal.
The downside momentum of the foreign currencies appeared to wane yesterday and the short-term speculative market got caught leaning the wrong way. As of last Tuesday, the net speculative position at the IMM Chicago currency futures was a record short euro position. The fading of downside momentum left some of the short euros in weak hands and, voila, a squeeze today on the flimsiest of excuses.
If the EU does not make good on the speculation of a bailout, today's price action could easily turn out to be a 1-2 day wonder.
This is not an exercise in cynicism as much as political realism. Moreover, I am not convinced that a bailout would stem the rot of the euro. The toothpaste is out of the tube and it will be difficult to put it back in. The institutional vacuum has been exposed and a bailout of Greece, as an exercise in ad hoc-ery, underscores the absence of European institutional mechanisms and further expands the moral hazard.
The EU claims that Greece is too big (or too important, or too something) to fail. After the financial crisis, the market is asking (today's price action notwithstanding) whether that is really true.
Color me skeptical.
Marc Chandler has been covering the global capital markets in one fashion or another for nearly 20 years, working at economic consulting firms and global investment banks. Currently, he is the chief foreign exchange strategist at Brown Brothers Harriman. Recently, Chandler was the chief currency strategist for HSBC Bank USA. He is a prolific writer and speaker and appears regularly on CNBC. In addition to being quoted in the financial press, Chandler is often a guest writer for the Financial Times. He also teaches at New York University, where he is an associate professor in the School of Continuing and Professional Studies. While Chandler cannot provide investment advice or recommendations, he appreciates your feedback;
to send him an email.