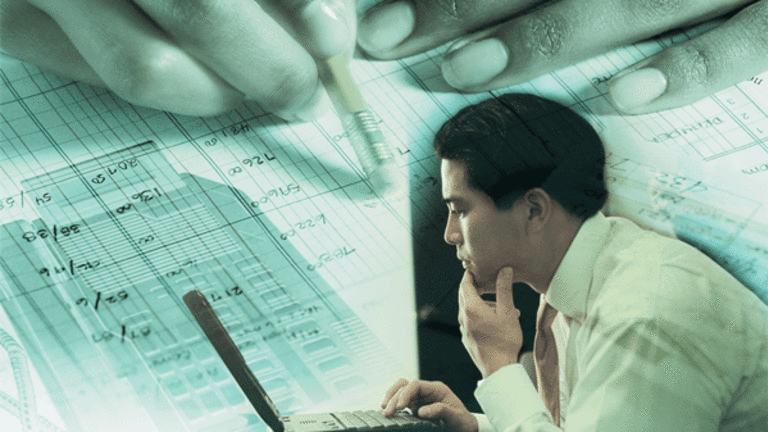 6 Funds That May Defy Bond-Market Downturn
Pimco and Fidelity funds, among others, are prepared for rising interest rates.
Pimco and Fidelity funds, among others, are prepared for rising interest rates.
BOSTON (TheStreet) -- Bond mutual fundsb kept investors from losing money during the stock-market crash of 2008 and have delivered large gains since equities bottomed out two years ago.
Still, investors have dumped bond funds in favor of stock funds in recent months amid signs global economic growth is accelerating, threatening to fuel inflation.
Bond funds, in fact, lost money late last year, due to a rise in interest rates, which occurred after the Federal Reserve actually tried to keep rates low with its second installment of quantitative easing, dubbed QE2. For example, multi-sector bond funds, which have the freedom to go into any area of the fixed-income market, lost 1% late last year, according to Morningstar.
That sent investors packing.
But now, it appears safe-haven bond-buying is picking up again, given the prospect of continued turmoil throughout the Middle East and the weak dollar.
>>Stocks to Buy for Third Year of Bull Market
Investors have been selective, however, and money flows into bond funds have jumped and then faltered from week to week.
Fund-flows tracker EPFR Global reported that, for the week ending Feb. 23, flows into bond funds hit a 15-week high, "with U.S. bond funds having their best week since late October."
And last week, Lipper reported that investors are favoring high-grade U.S. corporate bonds, adding $114 million and bringing inflows this year to $400 million in the category. That's a turnabout from last year, when investors redeemed $300 million in the fourth quarter.
>>10 Best Dow Stocks Since March 2009 Low
A bond fund's category makes a big difference in its appeal to investors, but finding the right one is a daunting task.
Pimco Investments, the investment house known for its bond expertise, said in a February advisory on its Web site that "successful
bond investing
now means seeing the bond market as a colossal $90 trillion global supermarket containing many different aisles, with sources of value located literally throughout the world."
Morningstar tracks 13 fixed-income funds. The top performer this year is high-yield bond funds, with a 3.6% return, including 1.1% in the past month. Second is the bank loan bond category, with a 2.3% return.
>>Small-Caps With Gains of 15-Fold in Two Years
Over the past month, inflation-protected bond funds, known as TIPS, have gained 1.4%, by far the biggest return in the period.
The S&P 500 Index
is up 6.2% this year. A fixed-income investment benchmark, the
Barclays Capital U.S. Credit Index
, is down 0.26% so far in 2011, but up 4.2% over the past 12 months.
For now, investors appear to be seeking the safety they perceive in high-quality U.S. corporate bonds as the economy recovers. Returns have been a solid 8.95% over the past 12 months, Lipper said.
Here are six bond funds that offer diversity, reliability and relatively strong returns:
Pimco Total Return Institutional Fund
(PTTRX) - Get Report
, the world's largest bond fund, with $237 billion in assets and managed by Bill Gross.
Morningstar gives it its highest rating of five stars.
It's hard to beat its three-year average annual return of 8.1% in a bond fund, but it's off to a slow start this year with a return of 0.57%. It has gained 7.3% over the past year.
The fund seeks maximum total return. It invests at least 65% of its assets in a diversified portfolio of fixed-Income instruments of varying maturities. Its current top holdings include a variety of Treasury notes and Fannie Mae bonds.
A Morningstar analyst writes that the manager sometimes moves early on inflation risk, "but Gross has protected the fund well from rising-rate spikes, and he has room to react if he sees rising yields on the horizon."
Loomis Sayles Investment Grade Bond Fund
(LSIIX) - Get Report
, which is top-rated by Morningstar with five stars, is a good all-around bet for investors seeking a conservative bond allocation. It has gained 1.5% this year, 10.5% over the past year, and has a three-year average return of 7.7% -- and that was through some rough and rocky times.
The fund, with $4.4 billion in assets, invests at least 80% of total assets in investment-grade fixed-income securities and can invest up to 10% of the fund in higher-yielding, lower-rated securities. The fund may invest up to 20% of total assets in foreign securities, including emerging-markets securities. It doesn't hold any equities.
Among its largest holdings are government bonds from Canada, New Zealand and Norway and corporate bonds from
Intel
(INTC) - Get Report
and
Deutsche Telekom
(DT) - Get Report
.
Another fund in the high-quality corporate bond category worth considering is the
Pimco Investment Grade Corp Bond Institutional Fund
(PIGIX) - Get Report
, a $5.8 billion fund that also garners a Morningstar five-star rating.
Its mandate is a total return consistent with preservation of capital and prudent investment management. The fund normally invests at least 80% of assets in a diversified portfolio of investment-grade corporate fixed-income securities of varying maturities, and can invest up to 10% of total assets in junk bonds. It can also invest up to 30% of its assets in foreign currencies such as sovereign bonds.
It has returned 1.4% this year and 10% over the past 12 months.
Fidelity Strategic Real Return Fund
(FSRRX) - Get Report
, a broad market bond fund, gained 17% in the 12-month period through the end of February. It's up 2.8% this year.
Morningstar, which categorizes it as a "conservative allocation" fund, gives it a three-star rating out of a possible five.
The $4.2 billion fund is a mix of about 30% inflation-protected debt securities, 25% floating-rate loans, 25% commodity-linked notes, 20% real estate investment trusts (REITs) and other real-estate-related investments.
A Morningstar analyst says the fund's diversified portfolio, which includes a heavy reliance on U.S. Treasury Inflation-Protected Securities and floating-rate loans, "makes it an intriguing option for fighting inflation."
The
Pioneer High-Yield Fund
(TYHYX) - Get Report
has notched the top return in the high-yield bond category this year. It gets a four-star rating from Morningstar.
This $3 billion fund is up 5.6% this year and 23% over the past 12 months.
The fund seeks to maximize total returns through a combination of income and capital appreciation. It invests at least 80% of assets in high-yielding debt securities of any rating and preferred stocks, even those of firms that are in default or bankruptcy. The fund also invests in investment-grade and below-investment-grade convertible bonds and preferred stocks that are convertible into the equity securities of the issuer.
This fund is differentiated mostly by an affinity for convertible bonds, which can be as much as 20% of assets, notes a Morningstar analyst. The fund can also own equities and convertible preferred stocks, to as much as 20% of the portfolio, which is about eight times more than the typical high-yield fund category average.
The $9 billion
Oppenheimer Global Strategic Fund
(OPSIX) - Get Report
, which gets two stars from Morningstar, is a multi-sector bond fund that divides the fund's assets among U.S. government, high-yield and foreign debt, including emerging-markets issues.
It has a 1.76% return this year and 15% over the past year.
The fund also uses derivatives for investment purposes or hedging, including options, futures, forward contracts, swaps and "structured" notes.
Top 10 holdings includes sovereign bonds from Poland, Turkey, Brazil, Japan and South Africa.
Readers Also Like:
5 Top-Ranked Gold Stocks for Year Ahead
Stocks to Buy for Third Year of Bull Market
Disclosure: TheStreet's editorial policy prohibits staff editors and reporters from holding positions in any individual stocks.