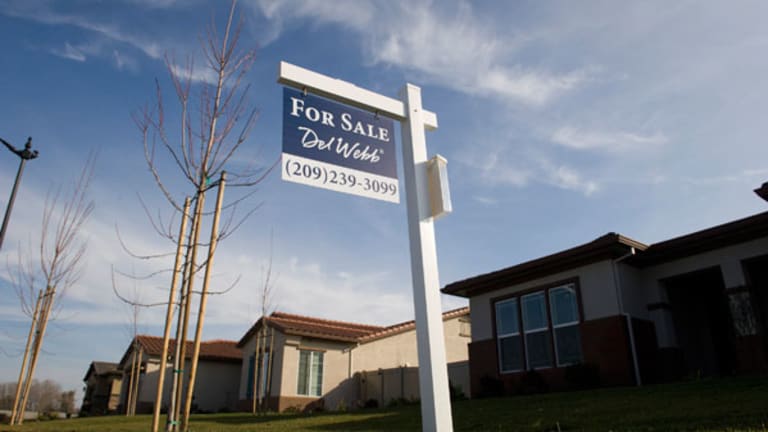 4 Takeaways From Recent Housing Data
The housing market is neither booming nor crashing. It is normalizing.
NEW YORK (TheStreet) --  The housing data has been so mixed lately that it can be hard to tell whether the market is booming or faltering.
While existing home sales and pending home sales data were down, home prices and building permits have been strong.
And while we hear that buyers are withdrawing from the market because of higher interest rates and home prices -- as evident from the declines in mortgage purchase applications -- we also see the continued dominance of cash sales. Plus, inventory still continues to be in short supply.
But a look at the overall picture suggests that the housing market is neither crashing nor bubbling over. It is stabilizing and heading back to normal.
Here are takeaways from recent housing data.
Home prices are rising but gains are moderating: The S&P/ Case-Shiller 20-City Composite Index rose 13.3% year-over-year in September, the fastest annual pace since February 2006. The index was up 1% from the previous month on a seasonally-adjusted basis.
The Case-Shiller Index is based on a three-month moving average and is based on closed transactions. So this data is more of a lagging indicator. It also does not adjust for distressed sales such as foreclosures and short sales, which sell at a discount to the market price. Since foreclosure and short sales have declined over the past year, the gains in the Case Shiller Index may be exaggerated.
The LPS Home Price Index, which adjusts for distressed sales, showed a monthly gain of just 0.2% in September.
But what all indices do show is that national home prices are continuing to tick up, but the pace of gains has moderated since the beginning of the year.
Sales Activity is Cooling: Existing home sales fell 3.2% in October to a seasonally adjusted annualized rate of 5.12 million units. The outlook for the coming months is not so good either.
Pending Home Sales, a forward-looking indicator of existing home sales, has declined for five consecutive months, though the latest decline in October might have been impacted by the government shutdown as well.
It is still not clear how far demand has cooled. Yes, mortgage applications are down and real estate brokers report that the buyer frenzy that caused bidding wars earlier in the year has started to wear off.
But the interesting divergence in existing home sales data is that while volume is down, prices of homes are still up. That is because of low inventory, which limits the number of homes that can be sold but by the same token pushes prices higher.
Inventory has started to ease, however, which means that in the coming months, we may end up seeing a reversal in the recent pattern, with prices easing and home sales picking up.
If home sales remain sluggish even after inventory increases, then we have a problem, as that would be a more sure sign that demand for homes is slacking.
Distressed Sales Declining, but Cash Sales Still High: The silver lining in the recent sales data is that the percentage of foreclosures and short sales continues to drop, while non-distressed sales rise. For instance, while existing sales were up 6% year-over-year in September, non-distressed sales were up 22%.
Distressed sales weigh on home prices so the decline in the share of such sales is a positive. Also, as distressed sales drop, we should start to see a shift in the buyer mix as well from investors to traditional homebuyers.
That is not yet happening, though. Cash sales accounted for 44% of all transactions in October, up from 34% a year earlier, according to RealtyTrac. But the share of institutional buyers is declining, accounting for 6.8% in October from 9.7% a year earlier.
Housing Starts Is Missing Piece: If there is one indicator that is yet to recover substantially from the bottom, it is new home construction.
Total housing starts for August was a seasonally adjusted annualized rate of 891,000. That is only 40% back to normal according to Trulia's Jed Kolko.
The Department of Commerce is yet to release housing starts data for September and October, but building permits climbed in October to a five-year high. But even that was mostly driven by multi-family permits.
Home construction slumped in the wake of the housing bust as foreclosed homes flooded the housing market. With the excess supply draining from the market, construction should have picked up, but a shortage of labor and materials and a lack of credit has constrained building. Homebuilders are also taking care to not overbuild.
Still, a rise in new home construction is a necessary condition for the housing recovery. Without new construction, the lack of supply would drive prices higher. Plus home construction creates jobs and new residential investment is a vital component in GDP growth.
We will get housing starts data for September, October and November on Dec.18.
That should tell us more about where housing is headed in 2014.
-- Written by Shanthi Bharatwaj in New York.
Disclosure: TheStreet's editorial policy prohibits staff editors and reporters from holding positions in any individual stocks.