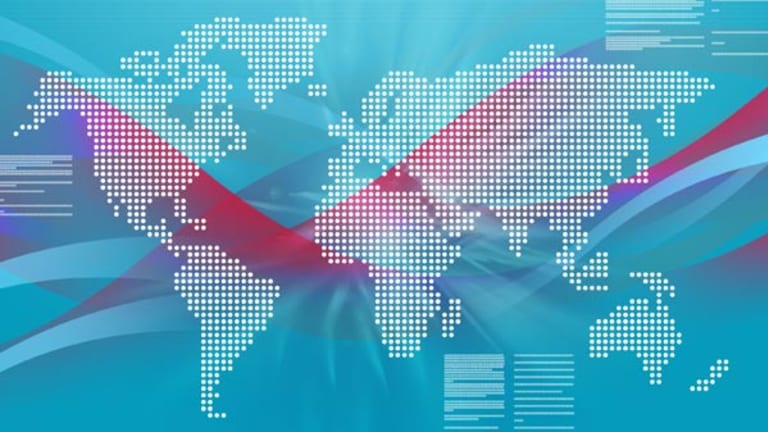 Rate-Cut Hopes Lift Asia
The Nikkei was the biggest gainer, rising 390 points, or 3%, to 13,478.
Asian markets followed Wall Street's lead and rebounded a bit Tuesday amid expectations of a half-point interest rate cut in the U.S.
Japan's Nikkei was the biggest gainer, rising 390 points, or 3%, to 13,478, while the Hang Seng gained 238 points, or 1%, to 24,298. The Shanghai Composite Index was also up, by 38 points, or 0.9%, to 4457, after snowstorms Monday stalled the market.
However, in a pattern consistent with the performance so far this year, volumes were low on the buying. On the Hang Seng, market turnover was HK$92.6 billion vs. HK$107.8 billion when the index sold off 4.3%.
"Performance in Asia is up a little today, although people feel hesitant to commit before
the Federal Open Market Committee meeting," says Tat Auyeung, who manages $600 million for Apex Capital in Hong Kong. "A 50-basis-point interest rate cut should provide some relief in the short term."
In Japan, exporters led most of the buying, even as the yen rose against the dollar to 106.69 from 106.90 previously.
Nintendo
(NTDOY)
jumped 5.4% to 49,550 yen, while
Sony
added 4.5% to 5,100 yen, and
Canon
rose 3.5% to 4,780 yen.
Megabanks also fared well ahead of the expected cut in interest rates stateside.
Mitsubishi UFJ
(MTU)
was 4.6% higher, to 1,030 yen, and
Sumitomo Mitsui Financial
( SMFJY) gained 3.2% to 623 yen.
In Hong Kong, gains were more modest but telecoms saw most of the buying action.
China Unicom
(CHU) - Get China Unicom (Hong Kong) Ltd. Report
jumped 2.9% to HK$17.70, while
China Netcom
(CN) - Get Xtrackers MSCI All China Equity ETF Report
advanced by the same percentage to HK$24.60.
China Mobile
(CHL) - Get China Mobile Ltd. Report
rose 0.7% to HK$117.90, and
China Telecom
(CHA) - Get China Telecom Corp. Ltd. Report
gained 1.1% to HK$5.68.
Property stocks and financials were also higher, since heavy U.S. interest rate cuts helps these companies most.
Cheung Kong
(CHEUY)
added 2% to HK$127.70, and
Hang Seng Bank
(HSNGY)
rose 2.4% to HK$154.30.
HSBC Holdings
(HBC)
increased 0.9% to HK$117.60.
Chinese banks
Industrial & Commercial Bank of China
(IDCBF)
and
Bank of China
(BACHF)
(Hong Kong) announced that they have to make a larger provision than previously thought from subprime exposure.
Industrial & Commercial fell 0.6% to HK$4.89, and Bank of China was 0.3% lower at HK$3.33.
Auyeung says that banks and properties may gain the most from a rebound in the Hang Seng, which he expects in the next few weeks. However, other dealers also point out that comparisons between today and 1997 point to a sharp decline in the index after such a rebound.
"If the Fed cuts by 50 basis points that will support the market, but don't expect a major push," says Conita Hung, head of equities for Delta Asia Finance. "If it cuts just 25 points then there will be major selling pressure." Hung adds that support for the index is now around 23,500, with the next level at 22,300.
The price of gold suffered profit-taking from Asian speculators, but was hitting a new all-time high of $934.80 an ounce by the end of trading as economic uncertainty continued to fuel demand for the metal.
Gold miners were mixed in Hong Kong trading, mostly showing modest gains.
Zhaojin Mining
(ZHAOF)
rose 1% to HK$34.54, and
Zijin Mining
(ZIJMF)
added 1.3% to HK$10.08.
Sino Gold
( SIOGF) lost 1% to HK$54.50.
Technology shares were sluggish.
Alibaba.com
( ALBCF) rose 0.5% to HK$20.30, while
Baidu.com
(BIDU) - Get Baidu Inc. Report
ADRs were down 1.8% to 198.99 euros in Frankfurt trading during the morning.
Sina
(SINA) - Get SINA Corp. Report
ADRs were faring similarly, off 4% at 29.87 euros.
In other news in Hong Kong,
Jiangxi Copper
(JIXAY)
obtained permission from shareholders of
Northern Peru Copper
(NPUCF)
for a $435 million buyout, while fertilizer producer
Sinofert
(SNFRF)
acquired 75% of Shandong Deqilong Chemicals.
Shares in Jiangxi Copper fell 0.5% to HK$15.30, while Sinofert leaped 4.2% to HK$6.51.
On the Chinese mainland, snowstorms continued to drag on, and local weather authorities now say they are expected to last another 10 days. Auyeung points out that the market will show resilience to the storms, but that inflation may increase as a result. Financial losses caused by the snowstorm total around $2.5 billion.
Dealers said they expect inflation to increase to greater than 7% for the first quarter vs. 6.5% for the fourth quarter last year.
Major stocks in China were mixed.
PetroChina
(PTR) - Get PetroChina Co. Ltd. Report
rose 0.8% to 24.20 yuan, while
Sinopec Shanghai Petrochemical
(SHI) - Get Sinopec Shanghai Petrochemical Co. Ltd. Report
lost 2.3% to 12.91 yuan.
Aluminum Corp. of China
(ACH) - Get Aluminum Corp. of China Ltd. Report
declined 1.3% to 29.72 yuan.
In India, the country's central bank defied some expectations that it would follow the U.S. policy of easing money supply and kept interest rates unchanged at 7.75%. The Bombay Sensitive Index fell at the close on the news, by 60 points, or 0.3%, to 18,901.
Other Asian markets followed Japan and Hong Kong. The Taiwanese Taiex gained 90 points, or 1.2%, to 7576, while the Korean Kospi advanced 10 points, or 0.7%, to 1638.
Daniel M. Harrison is a business journalist specialising in European and emerging markets, in particular Asia. He has an MBA from BI, Norway and a blog at
. He lives in New York.