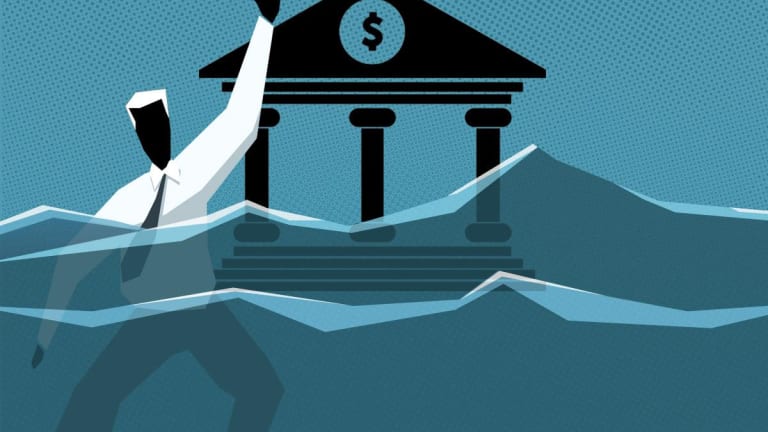 Rapid Growth in Junk Bonds and Loans Poses Risks, Dallas Fed Chief Says
A rapid increase over the past decade in the amount of debt taken out by corporations could aggravate the severity of an economic downturn, according to Robert Kaplan, president of the Federal Reserve Bank of Dallas.
A rapid buildup over the past decade in the amount of debt taken out by U.S. corporations could increase the severity of an economic downturn, according to a top regional official at the Federal Reserve. 
Robert Kaplan, president of the central bank's Dallas branch, said in prepared remarks for a speech on Tuesday, March 5, that new regulations adopted since the financial crisis of 2008 mean that big Wall Street banks may be less willing than in the past to step in and buy corporate bonds and loans if prices for the assets start to fall.
In the past, the Wall Street firms acted as "market makers," but in the next downturn a scarcity of ready buyers may lead to more "volatile" pricing, Kaplan said. A selloff in the corporate-debt markets would cause yields to spike, forcing companies to pay more to refinance bonds and loans or to borrow for new investment.
"These issues have the potential to impact corporate investment and spending plans," Kaplan said. "In the event of an economic downturn, these issues could also contribute to a deterioration in financial conditions which could, in turn, amplify the severity of a growth slowdown in the U.S. economy."
Kaplan's warning adds to a growing chorus of alarms on the risks of rising corporate debt, from Federal Reserve officials as well as from the International Monetary Fund, Standard & Poor's and Fitch Ratings.
U.S. Sen. Elizabeth Warren of Massachusetts, a top Democratic presidential candidate, has said that the market for junk-grade corporate loans, also known as leveraged loans, is starting to resemble the frenzy in subprime mortgages in the years before the 2008 financial crisis.
The Federal Reserve Bank of San Francisco on Monday distributed a research paper by in-house economist Pascal Paul showing that financial crises are usually preceded by a rapid increase in debt among businesses and households, and that they often result in severe recessions, bringing sharp declines in asset prices. 
"Crises typically occur at the end of an expansion, after a prolonged buildup of macrofinancial imbalances," Paul wrote. 
The current economic expansion is now nearly 10 years old, one of the longest in U.S. history. But a survey last month by the National Association for Business Economics showed that three-fourths of economists now expect a recession by the end of 2021.  
Concerns about the economy's health, as the stimulus fades from President Donald Trump's late-2017 tax cuts, are so pressing that the Federal Reserve recently paused its efforts to boost U.S. interest rates to levels considered "normal," after holding them near zero for seven years following the 2008 crisis.  
According to Kaplan, U.S. corporate debt outside the financial industry now equates to about 46% of gross domestic product, up from 40% as recently as 2010. Such measures are commonly used as a gauge of the economy's ability to afford the corporate debt load.
"A number of research studies have indicated that relatively higher levels of corporate debt to GDP could potentially amplify the severity of a recession," Kaplan said. 
Here are some numbers on the growth, per Kaplan:
- Nonfinancial corporate bonds in the U.S. have more than doubled over the past decade to about $5.7 trillion
- Among those, investment-grade bonds have tripled to about $4.5 trillion, but about $2.7 trillion of those are at the lowest rung, rated triple-B. 
- Junk-grade bonds, which have ratings below triple-B and carry higher yields but also a higher risk of default, have climbed to about $1.1 trillion from $700 billion in 2008. "This substantial growth in BBB and lower-rated bonds is indicative of a weakening in corporate credit quality in the U.S.," Kaplan said.
- The market for syndicated loans to junk-rated companies has doubled over the past decade to about $1.2 trillion. The loans have become popular among investors because they come with high and variable interest payments -- prized at a time when prevailing rates are low and rising.  
Wall Street firms have packaged many of these junk-grade corporate loans into a type of bonds known as "collateralized loan obligations," or CLOs, Kaplan noted. 
Sen. Warren has said the trend is reminiscent of the way in which subprime mortgages were packaged into bonds in the years before the 2008 crisis; those bonds in turn were packaged into new bonds called collateralized debt obligations, or CDOs, which in turn were packaged into yet another type of bond called CDO-squareds. 
When the housing market cooled, investors and banks suffered huge losses, forcing the Treasury Department and Federal Reserve to deploy trillions of dollars of bailout money to keep the nation's biggest banks from collapsing.  
The U.S. CLO market has doubled in size over the past decade to about $615 billion, according to Kaplan. 
"Unlike mortgage-backed securities, the CLO structure proved relatively resilient during 2008-09," Kaplan said. "However, it is important to recognize that CLO loan-credit quality today is estimated to be somewhat weaker than 10 years ago." 
A major risk is that an economic downturn would cause many of the triple-B-rated bonds to lose their investment-grade ratings, flooding the market for junk-grade assets and leading to a steep increase in yields when compared with those on similar-maturity U.S. Treasury bonds, Kaplan said. When yields on bonds rise, their prices fall.
"These dislocations could further negatively impact credit spreads and market access for more highly indebted companies," Kaplan said.