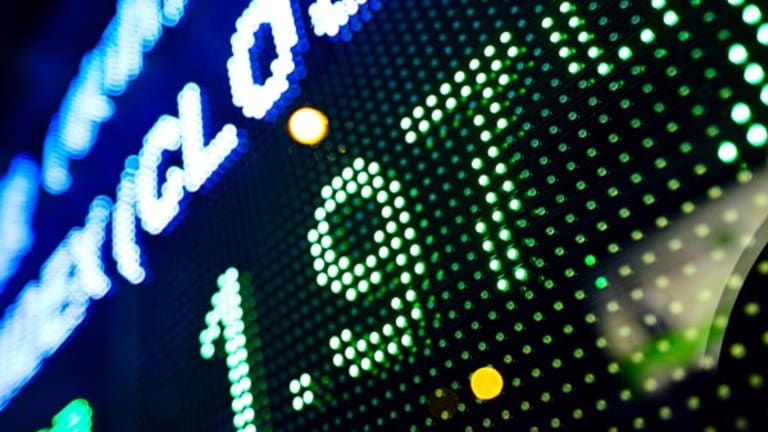 Rally Takes a Breather
Wal-Mart's revenue is slightly soft, and the producer price index raises inflation concerns.
Updated from 4:31 p.m. EST
Light revenue at
Wal-Mart
(WMT) - Get Walmart Inc. Report
and a jump in October producer prices put a halt Tuesday to the broad-based postelection rally in stocks.
The
Dow Jones Industrial Average
closed down 62.59 points, or 0.6%, to 10,487.65, only its fourth loss in the past three weeks. The
S&P 500
fell 8.38 points, or 0.7%, to 1175.43, having closed at a three-year high yesterday. The
Nasdaq
fell 15.47 points, or 0.7%, to 2078.62. In the past two weeks, both the Dow and the Nasdaq joined the S&P 500 in turning positive again for the year.
Volume on the Nasdaq was 1.90 billion shares, while 1.36 billion shares changed hands on the
NYSE
. Decliners beat advancers by about a 2-to-1 margin on both exchanges.
In the credit markets, the 10-year Treasury note ended down 5/32 to yield 4.21%, while the dollar was higher against the yen and higher against the euro.
The December crude oil contract, whose brief trip below $46 a barrel Monday sparked a minor selloff in energy stocks, closed 76 cents lower at $46.11, a new two-month low in Nymex floor trading. The contract is about 17% below the high of $55.17 touched Oct. 25.
The government said its producer price index rose 1.7% last month. Economists were expecting an increase of 0.6%, after a 0.1% gain in September. Excluding the impact of food and energy, prices rose 0.3%, compared with economists' expectation for a gain of 0.1%. The government releases October consumer price data Wednesday.
Joe Liro, equity strategist with Stone & McCarthy Research Associates, said the inflationary news was giving pause to a monthlong stock market rally.
"Before, there was a reasonable chance that the
Fed
would sit out the Dec. 14 meeting, but today's producer price index number wiped that out," Liro said, referring to another increase in the fed funds rate. "People have to price in this change, and it's causing some selling today."
Still, Liro did not think the news would derail the market's longer-term progress.
"Part of the decline today is just the digestion of the gains we saw in the last weeks of October and the first two weeks of November," a period in which the S&P 500 gained 8.2%, he said. "In the broad constellation of things, interest rates are still relatively low. They're rising, but they're still low. They're certainly not high enough to threaten a reasonably strong economy in 2005."
Another factor weighing on sentiment Tuesday was the announcement by
Fannie Mae
(FMN) - Get Federated Hermes Premier Municipal Income Fund Report
that it would delay filing its third-quarter financial results and could be forced to book a $9 billion loss if regulators find fault with its accounting for derivative transactions. That would, in turn, put the mortgage giant out of compliance with statutory capital requirements by as much as $13 billion. Fannie shares closed down 80 cents, or 1.1%, to $69.40.
Wal-Mart kicked off a big day for retail earnings with a third-quarter report that showed net income rose 13% from a year ago to $2.29 billion, or 54 cents a share, matching estimates. Revenue jumped 10% to $68.52 billion, about $700 million short of forecasts, although the company said the economy "continues to improve" and said it's well-positioned for Christmas. Still, the shares fell 81 cents, or 1.4%, to $56.89.
Other retailers reporting earnings included
Home Depot
(HD) - Get Home Depot, Inc. Report
, which said its third-quarter profit jumped about 15% to $1.32 billion, or 60 cents a share, 3 cents better than estimates. Revenue rose 13% from a year ago to $18.77 billion, also above estimates. Home Depot also raised its estimate for full-year earnings growth to 19% to 20% from 14% to 17%. The shares fell 79 cents, or 1.8%, to $43.
J.C. Penney
(JCP) - Get J. C. Penney Company, Inc. Report
said its third-quarter profit jumped 86.3% to $149 million, or 50 cents a share, vs. $80 million, or 27 cents a share, in the year-ago period. Analysts were expecting 48 cents a share. Revenue rose 3% to $4.46 billion. The shares lost 43 cents, or 1%, to $39.98.
Staples
(SPLS)
said third-quarter earnings rose 26% from a year ago to $209 million, or 41 cents a share, on a 12% jump in sales to $3.83 billion. Both figures were slightly above estimates and the company put fourth-quarter earnings at 50 cents a share, in line with guidance. Shares fell 32 cents, or 1%, to $30.82.
Electronic Data Systems
(EDS)
said its third-quarter loss widened to $153 million, or 30 cents a share, from $16 million, or 3 cents a share, last year. The latest quarter included a $375 million pretax writedown related to a computer outsourcing pact with the Navy. Excluding that, EDS earned 11 cents a share on a slight decline in revenue to $4.95 billion.
For the full year, the company predicted earnings of 23 cents to 31 cents a share on revenue of $20 billion to $21 billion. Analysts had been expecting earnings of 20 cents a share on revenue of $20.6 billion. Shares gained 60 cents, or 2.7%, to $22.56.
Overseas markets closed lower following Monday's flat close in New York. In Europe, London's FTSE 100 lost 0.7% to 4770 and Germany's Xetra Dax shed 0.4% to 4117. In Asia, Japan's Nikkei fell 0.6% overnight to 11,162, while Hong Kong's Hang Seng fell 1.3% to 13,746.