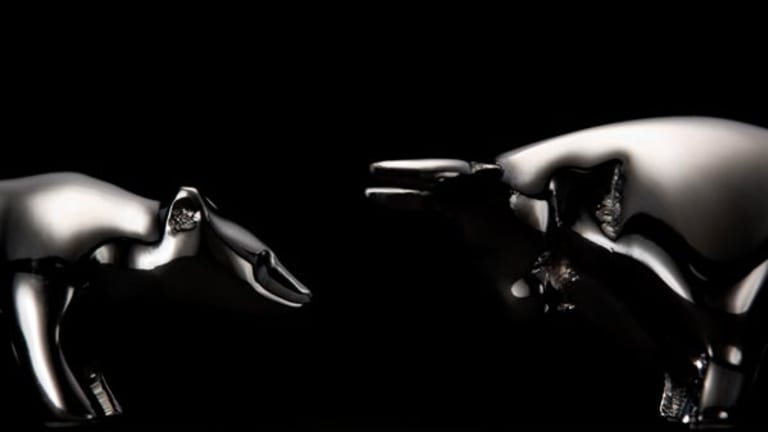 Rally Forth! Good News From Microsoft, Yahoo! Has Investors Jumping
Nasdaq gains 3.7%; Dow rises 1.5%. Now for the bad news -- the number of initial jobless claims filed last week was the highest since 1992.
(Updated from 9:39 a.m. EDT)
The earnings season has a new shine after cheery reports from tech titans
Yahoo!
(YHOO)
and
Microsoft
(MSFT) - Get Microsoft Corporation (MSFT) Report
.
Tech and blue-chips were climbing higher right out of the gate this morning. The
Dow Jones Industrial Average was lately up by 110 points, or 1.1%, to 10,352; the
Nasdaq Composite Index was higher by some 69 points, or 3.5%, to 2041; and the
S&P 500 index was up 15.1 points, or 1.3%, to 1195.
"It looks to me
like Yahoo and couple of other numbers that people were looking out for came in on the OK side. They gave the Street a sigh of relief," said Tony Cecin, manager of Nasdaq trading at
U.S. Bancorp Piper Jaffray
. "And Microsoft has got to do well for the market to do well."
Microsoft raised its revenue bar, estimating it would have
higher sales of $6.5 billion to $6.6 billion, up from previous guidance of $6.3 billion to $6.5 billion. The company also said it planned to post a $2.6 billion charge due to writing down weakened investments. Separately, Mister Softee said it would allow computer makers to customize computer screens with direct links to Microsoft rivals, in a nod to a court's finding of antitrust violations. In early trading, Microsoft was adding 6.5% to $70.80.
Investors also liked the tone of Yahoo!'s second-quarter earnings report. The Internet portal posted sharply lower earnings of $8.7 million, or 1 cent a share, compared with $69.2 million, or 11 cents a share, in the year-ago period. Still, it
beat analysts' expectations, which had called for the company to break even. Yahoo! was jumping 6.2% to $18.09.
This morning,
General Electric
(GE) - Get General Electric Company (GE) Report
said it met analysts' second-quarter earnings estimates of 39 cents a share, up from 34 cents in the year-ago period. Since the European Commission last week killed the company's proposed acquisition of
Honeywell
(HON) - Get Honeywell International Inc. (HON) Report
, GE's stock has dropped more than 10% -- to $44.61 from $49.51. In early trading this morning, it moved up 2% to $45.49.
And
Redback Networks
(RBAK)
managed to
beat the Street's revised loss-per-share estimates for the second quarter. The stock gained in after-hours trading last night. Redback and its rival networker
Juniper
(JNPR) - Get Juniper Networks, Inc. (JNPR) Report
were both lately jumping.
But not all the news was uplifting. Handset giant
Motorola
(MOT)
rang in its second consecutive quarterly operating loss, saying it lost $232 million, or 11 cents a share, excluding some items, compared with earnings of $551 million, or 25 cents a share in the year-ago period. Motorola nonetheless beat analyst estimates by a penny a share and was gaining 8.5% to $17 so far today. Rival
Nokia
(NOK) - Get Nokia Oyj Sponsored ADR Report
also was getting a lift, lately gaining 4.3% to $18.79.
With second-quarter earnings season in full swing, stocks have straddled positive and negative ground. The earnings outlook remains mixed, and investors are waiting for signs that the economy is turning around. A day after the major market averages closed at their
lowest levels since mid-April, the market yesterday managed to shrug off 11th-hour earnings warnings and end on a slightly higher note. The Dow gained 65.38 points, or 0.6%, to 10,241.02, while the Nasdaq posted a gain of 9.25 points, or 0.5%, to 1972.04. The S&P 500, which tracks the broader market, fared the worst, losing 1.34 points, or 0.1%, to 1180.18.
"You've seen a pattern of herky-jerky action over the last three weeks, so there's no real trend at all. But hopefully this will be the start of one," Cecin said. "I'd definitely like to see conviction and some move on the upside."
After a springtime rally, the major averages retreated and are below their recent highs hit on May 21. The Nasdaq is now 14.5% below that day's close of 2305.6, while the Dow has fallen by 10.7% from 11,337.9. The S&P 500 has lost 11.2% since then. Year to date, the Nasdaq is off 20.2%, the Dow is 5.1% lower and the S&P 500 has declined by 10.6%.
Earnings will continue to be first in investors' thoughts, but they'll also be digesting the latest economic data to suss out the big picture. The latest weekly
initial jobless claims for the week ended July 7 showed the number of U.S. citizens claiming first-time unemployment benefits rose to its highest level since 1992. The
Labor Department
said the number of new jobless claims rose by 42,000 to 445,000, sharply exceeding the decrease in claims economists had expected.
Back to top
Bonds/Economy
U.S. Treasuries were higher despite optimism in the stock market, maybe because investors are seeing another interest-cut by the
Fed after the worse-than-expected jobless claims number. Usually, investors rotate money out of bonds when stocks rally, and vice versa. The benchmark 10-year
Treasury note was recently up 7/32 to 98 2/32, yielding 5.259%.
The 30-year bond was up 16/32 to 96, yielding 5.654%.
Back to top
International
Back to top
European markets were higher on the latest cheer in the U.S. stock market, led by strong performance in tech stocks. London's
FTSE 100
lately gained 1.73% to 5485.20. The Paris-based
CAC-40
, meanwhile, rose 1.40% to 4983.30. Frankfurt's
Xetra Dax
was up 1.76% to 5904.01.
Asian markets also ended higher, boosted by good earnings news in the U.S. Tokyo's
Nikkei 225
rose 3.36% to 12,407.95. Hong Kong's
Hang Seng
climbed 1.06% to 12,660.20.
The dollar was lately stronger against both the yen and the euro.
Back to top