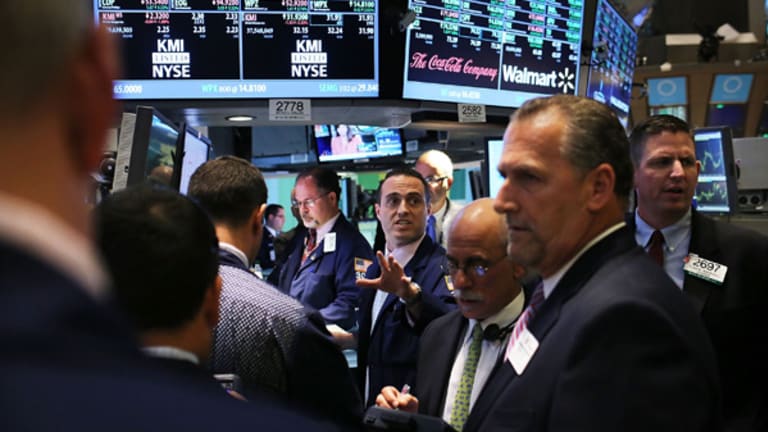 Quarter Ends With a Thud
Stocks head south as oil surges and the financial sector turns down.
Updated from 4:09 p.m. EDT
Stocks tumbled late in the session Friday and closed lower as a surge in crude prices and a downturn in the financial sector overshadowed a string of positive economic data.
During a volatile session, the
Dow Jones Industrial Average
gained 100 points and then fell by 100, ultimately ending off 13.66 points, or 0.1%, to 13,408.62. The
S&P 500
eased 2.36 points, or 0.16%, to 1503.35, and the
Nasdaq Composite
gave back 5.14 points, or 0.2%, to 2603.23.
In the financial sector,
Merrill Lynch
( MER) slid 2.8%,
Bear Stearns
( BSC) fell 2.8%,
Morgan Stanley
(MS) - Get Report
lost 1.2%, and
Goldman Sachs
(GS) - Get Report
dropped 1%.
"After some good numbers this morning, the fear has come back," said Paul Mendelsohn, chief investment strategist with Windham Financial. "It's clearly related to the financial sector and the subprime problem, as financial stocks plummeted. This kind of volatility is something the bulls should've prevented."
Oil jumped $1.11 to $70.68 a barrel, the second straight day it has gone above the $70 mark. During the prior session, crude came off its highs to close at $69 and change.
About 3.03 billion shares changed hands on the
New York Stock Exchange
, as advancers matched decliners. Volume on the Nasdaq reached 2.21 billion shares, with losers outpacing winners 9 to 7.
Earlier, investors cheered new inflationary data after the Commerce Department said personal income rose 0.4% last month, compared with a revised 0.2% decline in April. Personal spending was up 0.5%. Both figures were mostly in line with expectations.
Taking out food and energy, the personal consumption expenditure price index is now higher by 1.9% over the past year, down from 2% in April. That number is within the
Federal Reserve's
so-called comfort zone range of 1% to 2%.
"As recently as February, the year-over-year rate was as high as 2.4%, but as we know from their statement yesterday, the Fed does not yet view this as a convincing slowdown," said Ian Shepherdson, chief economist with High Frequency Economics.
"Real spending was a bit weaker than we expected in every sector, though at least some of the softness in services was likely due to the relatively warm weather, which will have cut real energy spending," he added.
The economic docket was littered with other releases that also helped to give stocks an early lift. While the Chicago Purchasing Managers Index eased to a reading of 60.2 in June from 61.7 last month, it still topped estimates of 58.
Elsewhere, the University of Michigan said its consumer sentiment index for June was revised to a reading of 85.3 from the preliminary 83.7. Forecasts were for 84.
Additionally, the government also said that construction spending rose 0.9% in May, nearly five times estimates. April's gain of 0.1% was revised higher to 0.2%.
Treasury prices rose after the reports. The 10-year note climbed 17/32 to yield 5.03%, and the 30-year bond rose 1-3/32 in price, yielding 5.12%. The dollar was mixed against the world's major currencies.
The action comes a day after the market closed little changed after a policy meeting of the Fed. Officials kept rates unchanged, as expected, and tempered their view on inflation, but on the whole the central bank offered few surprises.
On the corporate side, BlackBerry maker
Research In Motion
( RIMM) easily exceeded analysts' first-quarter earnings expectations. Bank of America and JMP Securities both upgraded the company, which saw its shares soar 20.8% to $199.99.
Things weren't as rosy at
Palm
( PALM), which got a Deutsche Bank downgrade to sell after the company's outlook for its fiscal first quarter was weaker than analysts had been anticipating. Palm's stock dropped 54 cents, or 3.3%, to close at $16.01.
New smartphone rival
Apple
(AAPL) - Get Report
climbed 1.2% ahead of the 6 p.m. EDT debut of its much-lauded iPhone. Meanwhile, iPhone's service carrier
AT&T
(T) - Get Report
rose 1.9%.
Commerce Bancorp
(CBH) - Get Report
shares jumped on news that its founder and CEO, Vernon Hill, has departed amid scrutiny of real estate transactions and insider relationships. Shares of the banking outfit jumped $3.18, or 9.4%, to $36.99.
Overseas, stocks were mixed. Tokyo's Nikkei was up 1.2%, while Hong Kong's Hang Seng lost 0.8%.
In London, the FTSE initially eased after police defused a car bomb that was found in the city's theater district and opened a terrorism probe, but the index rebounded and rose 0.6%. Frankfurt's DAX jumped 1.1%.