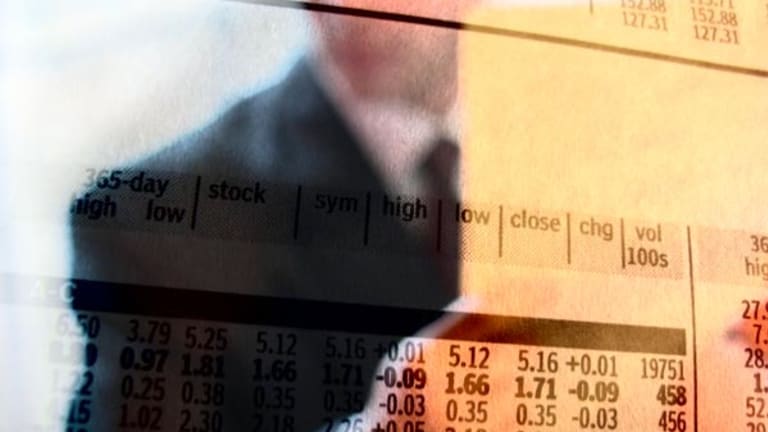 Pyrrhic Victory: Bulls Carry the Day, but Exit Bloodied
Outlooks from Nokia, Broadcom and Dell lift the market early, but the major indices retreat from their highs.
An across-the-board rally can only sustain itself until folks get distracted with something else. And that's what happened today.
Investors grew cautious ahead of several important earnings releases after today's close, and that, along with ongoing economic uncertainty, was enough for them to give back much of the morning rally.
After a bout of selling, stocks bounced back in the last 15 minutes of trading, but extended the ongoing aimlessness of this slacker of a stock market, neither angst-filled enough to fall sharply nor optimistic enough to push forward with any kind of rally.
For the fourth day in a row, the major indices have alternated rallies and selloffs. The
Dow Jones Industrial Average ended the day up 40.17, or 0.4%, to 10,610. The
S&P 500 rose 7.31, or 0.6%, to 1215.02, while the
Nasdaq Composite Index rose 30.42, or 1.5%, to 2046.59. The
Wilshire Total Market Index
gained 59 to 11,243.
Until 2 p.m. EDT, the stock market was handling the day's news reasonably well. Earnings were once again a bit of a minefield, but investors were heartened by some reasonably positive news out of handset maker
Nokia
(NOK) - Get Nokia Oyj Sponsored ADR Report
, a bit of steady optimism from PC maker
Dell
(DELL) - Get Dell Technologies Inc Class C Report
, and a cross-your-fingers assessment of the outlook from Dow component
IBM
(IBM) - Get International Business Machines (IBM) Report
.
It didn't last, however. Expectations for an economic recovery extend broadly from sixth-grade hedge fund manager wannabes to
Fed Chairman Alan Greenspan, but these prognostications still seem misplaced, and the market knows it. Earnings news continues to confirm that, and with
Microsoft
(MSFT) - Get Microsoft Corporation (MSFT) Report
,
Nortel
(NT)
and
Sun Microsystems
(SUNW) - Get Sunworks, Inc. Report
reporting after the close, the power of self-preservation is a noble and positive pursuit these days. No sense sticking your head out the window to feel the breeze when the car isn't going anywhere.
Microsoft and Nortel met Wall Street's estimates, while Sun beat expectations by a penny. But Microsoft also lowered its guidance for the first fiscal quarter ending in September.
"The long-term perspective is about three hours," said Tony Cecin, head of Nasdaq trading at U.S. Bancorp Piper Jaffray. "After a rally, it's a time to get in a few sales, and then get out. My fear is that it's going to be like that through the summer. There's no catalyst that's going to probably identify a trend either way."
Others didn't have much other reason to suggest that anything else could be happening this summer. Cecin and other market observers variously felt that the summer will continue to be tough. Mostly, what they're hoping for is stability.
Here's Your Stability
Today it got stability. The strongest example came today in the form of IBM. Big Blue reported earnings of $1.15 a share after the close yesterday, hitting the mark, but the company missed estimates for the top line. Gritting its teeth, the company put its best face on the second-quarter results, but also said the rest of the year would continue to be rough.
Hang in there, the market shouted back -- IBM was up most of the day, succumbed to the selling pressure late, but ultimately finished down 28 cents, or 0.3%, to $104. Dell, which said it would meet analysts' current estimates for quarterly earnings, fared better, gaining $1.18, or 4.3%, to $28.38.
"Not so bad" seems to be the rationale behind today's activity when considering stocks like IBM, as well as others, such as
Broadcom
undefined
. The defining principle behind the hope for stability is that by all measures, earnings for the second quarter are much worse than the first quarter. Still, stocks haven't been shoved to the floor in quite the same way this time around. Unlike the first quarter, the market somehow feels that the hoped-for upward surge in economic activity is closer than when the market was tumbling in March.
Along with that, investors are generally quick to offer up the laundry list of factors that now work in favor of the market, rather than against it, sort of an investing "pros and cons" list -- the Federal Reserve's rate cuts, falling energy prices (though that's partially due to falling demand -- not good), tax cuts and low inflation.
"My suspicion is that it's going to stay weaker longer," said David Sowerby, portfolio manager at Loomis Sayles in Detroit. "Earnings are more likely to be below consensus, but earnings news was weaker today than three months ago. Yet stocks are still 10% to 15% higher. That gives me more evidence the Fed will prevail."
That is, the market's got all that going for it, which is nice.
But Wait, There's More
The environment, overall, hasn't really improved much. That doesn't mean investors aren't finding some solace in companies speaking optimistically, either by hitting reduced targets or putting forth positive expectations. That was the case with Nokia, which was one of the motivations for today's rally.
The handset maker, which has been beaten down in the last several months along with other cell-phone makers, rose 14.8% to $19.51 today after beating analysts' earnings expectations by a penny and suggesting that 2002 will be better. Chipmaker Broadcom, which said
things aren't going to be so good in the second half of the year, still managed to push out a nice gain today, rising 8.7% to $42.40 after reporting earnings yesterday.
Coming out of the woodwork to inject some reality into the proceedings today was Bush administration official
Larry Lindsey
. The presidential economic adviser and former Fed governor took his time in a speech today to remind folks that the bulk of the response to Fed easing comes 12 to 18 months after the rate cuts -- which seems to suggest that significant improvement shouldn't be expected until mid-2002.
In a sense, Lindsay went further than Fed Chairman
Alan Greenspan, who included this perplexing thought when presenting the Fed's semiannual monetary outlook to Congress yesterday: Demand should be assisted going forward, among other things, "by the inducement to resume increases in capital spending." Which sort of means businesses will start spending because they'll start spending.
"Greenspan mentioned some measures to encourage capital spending, but what was he talking about?" wondered Phil Dow, director of equity strategy at Dain Rauscher. "I don't know if there's anything the government can do, or what he was referring to."
Judging by the last couple of weeks, the market isn't really convinced of it yet either.
Market Internals
Back to top
Most Active Stocks
Back to top
Bonds/Economy
The benchmark 10-year Treasury note ended the day down 1/32 to 99 4/32, yielding 5.116%. Meanwhile, the 30-year bond closed down 1/32 to 97 24/32, with the yield at 5.531%.
Back to top
International
Asian stocks were mixed overnight. Hong Kong's
Hang Seng
dropped 221.26, or 1.8%, to 12205.93, while Tokyo's
Nikkei 225
rose 15.81 to 11,908.39. Overall, it was a decent day in Europe, as London's
FTSE
rose 32.8 to 5437.40; Paris'
CAC
gained 62.89 to 4930.39, and Frankfurt's
Xetra Dax
ended up 101.32 to 5829.69.
Back to top