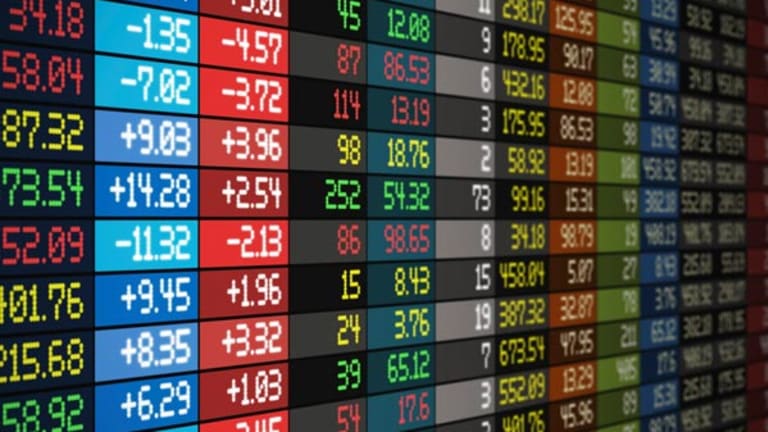 Profit-Taking Crimps Blue-Chips
The Nasdaq finishes virtually unchanged despite Hewlett-Packard's miss.
Updated from 4:10 p.m. EDT
The broader market faltered on Wednesday, while tech stocks overcame
Hewlett-Packard's
(HPQ)
disappointing results to close with slight losses, thanks to a rally in semiconductor stocks.
The
Dow Jones Industrial Average
, which closed at a 14-month high of 9428.90 Tuesday, succumbed to profit-taking, falling 31.39 points, or 0.3%, to 9397.51. The
Nasdaq
, which has jumped 30% in the last five months, was off 0.57 points to 1760.54, while the
S&P 500
was down 2.05 points, or 0.2%, to 1000.30.
Markets had a decidedly negative tone early Wednesday, but things evened up in the afternoon. Winners beat losers by a slight margin on the
New York Stock Exchange
, while losers topped winners by a slight margin on the Nasdaq. The NYSE traded 1.2 billion shares, and the Nasdaq traded 1.5 billion shares.
With little in the way of economic data, the early weakness stemmed from H-P's second-quarter earnings, which missed Wall Street's earnings and revenue estimates. The computer-hardware maker posted a profit, but many of its divisions, including the PC unit, lost money, sending shares down $2.31, or 10.5%, to $19.80.
But semiconductor shares helped reverse the early losses on the Nasdaq, with the Philly chipmakers moving off lows only to slip in the late afternoon, ending the session down 0.7%. Last night, the semiconductor equipment book-to-bill ratio for July hit 0.97, which is the best mark since last February, coming off June's 0.93 and May's 0.90.
In premarket notes to investors, market watchers predicted both the early morning weakness and the midday recovery.
"Expect a sharp move lower that immediately tests yesterday afternoon's low
of 995 on the S&P 500," said Ken Tower, chief market strategist at CyberTrader. "The market is then likely to continue to sink until noon. A repair process will then dominate the afternoon, but cannot undo early damage."
In more positive tech earnings news,
Network Appliance
(NTAP)
, a maker of computer-data storage systems, said first-quarter profit surged 67% on strong revenue growth. Shares gained $2.83, or 15.7%, to $20.88.
Also,
Intuit
(INTU)
, the world's biggest maker of tax-preparation software, narrowed its quarterly loss but warned of a wider-than-expected loss in the fiscal first quarter. However, shares were up 97 cents, or 2.2% to $46.21.
The retail sector was awash in news again on Wednesday, but much of it was mixed, unlike the bullish report from
Wal-Mart
(WMT)
early in the week. The S&P Retail Index was up 0.5%.
Department store chain
Dillard's
(DDS)
announced second-quarter earnings that missed Wall Street estimates by 17 cents a share, sending its stock down $1.40, or 8.3%, to $15.52. Fellow mall-staple
Talbots
(TLB)
announced second-quarter earnings that topped estimates by a penny, lifting its shares $1.25, or 3.3%, to $35.55.
Brookstone
undefined
posted second-quarter losses that were 6 cents narrower than estimates, while announcing a 3-for-2 stock split and guiding third-quarter earnings above current expectations. Shares rose $1.73, or 6.6%, to $27.84.
Ross Stores
(ROST)
reported second-quarter earnings that matched expectations, sending its shares down 50 cents, or 1%, to $47.49.
Big Lots
(BLI)
announced second-quarter earnings that topped estimates by a penny, boosting its shares 52 cents, or 3.1%, to $17.52.
Elsewhere,
Circuit City
(CC)
shares fell 35 cents, or 3.5%, to $9.53 after
The Wall Street Journal
reported that Mexican billionaire Carlos Slim wouldn't raise his unsolicited offer to buy the company.
In other earnings news, mutual fund company
Eaton Vance
(EV)
announced third-quarter earnings that missed estimates by a penny on revenue growth of 2.4% from the year-ago quarter. Shares fell $1.51, or 4.4%, to $33.12.
Among research news,
Home Depot
(HD)
shares rose 41 cents, or 1.3%, to $32.57 after Prudential said the recent weakness in the stock represented a good time to buy shares, telling investors that Home Depot wasn't faring all that badly in its market share battle against rival
Lowe's
(LOW)
.
RBC Capital Markets upgraded data-storage company
EMC
(EMC)
to outperform from sector perform, saying it expects strong quarterly results from the company. EMC was up 56 cents, or 4.8%, at $12.18.
Agile Software
(AGIL)
was off 6 cents, or 0.6%, at $9.89 after the company was upgraded to buy from neutral at D.A. Davidson, which said Agile's customers are gearing up to spend more money on its products.
DeVry
(DV)
shares took a hit, falling $2.48, or 8.4%, to $26.93, after Banc of America dropped its fiscal 2004 earnings estimates on the company, telling investors that DeVery's undergraduate population was missing its targets while reiterating its sell rating on the stock.
Leapfrog
(LF)
shares jumped $2.39, or 7.6%, to $34 after Bear Stearns said the educational toymaker's second-half results will be a "blow out" with more upside for shares, which have nearly doubled in the last 52 weeks.
GlaxoSmithKline
(GSK)
and
Bayer
undefined
announced their co-developed impotence drug Levitra received Food and Drug Administration approval. The drug will compete directly with
Pfizer's
(PFE)
Viagra. Glaxo dipped 4 cents, or 0.1%, to $39.75, while Bayer rose 43 cents, or 2%, to $22.33. Pfizer fell 54 cents, or 1.7%, to $30.73.
Overseas markets were mixed. London's FTSE 100 closed down 0.8% at 4217, while Germany's Xetra DAX ended off 0.1% at 3501. In Asia, Japan's Nikkei closed 1.2% higher at 10,292, while Hong Kong's Hang Seng shed 0.3% to 10,475.
The 10-year Treasury was lower, with the yield rising to 4.44%. Brent crude for future settlement was down in London, and the dollar was slightly stronger against the euro and the yen.
On Tuesday, the Dow Jones Industrial Average gained 16.45 points, or 0.2%, to 9428.90. The Nasdaq, fueled by positive news from the tech sector, gained 21.50 points, or 1.2%, to 1760.99. The S&P 500 added 2.59 points, or 0.3%, to 1002.33.