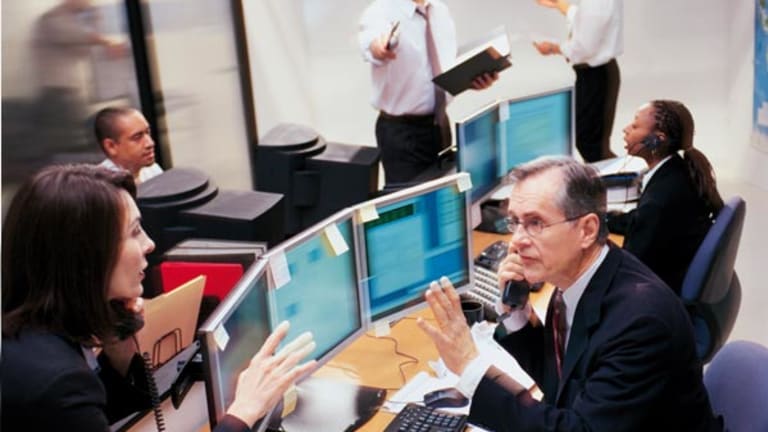 Procter & Gamble Should Clean Up Well
The consumer and packaged goods giant reports its first-quarter earnings before the open.
Editor's Note: This column by Ron Thomas is a special bonus for
TheStreet.com
and
RealMoney
readers. It appeared on
Street Insight
on Oct. 30 at 8:53 a.m. EST. To sign up for
Street Insight
, where you can read Thomas's commentary in real time, please click here.
Procter & Gamble
(PG) - Get Report
seems to have very little controversy attached to its quarterly results. The company is almost coasting, it would seem, on unit growth momentum from this past quarter, when the top line was up 8%. The top line for this quarter, if it comes in around a consensus 6% organic growth, is at the top end of the 4%-6% rate espoused by the company as its long-term model.
The new product pipeline is currently strong, with Fusion starting its Japanese and European rollout, and Olay Definity coming out at near-department-store prices. Meanwhile, sales at
Estee Lauder
(EL) - Get Report
are lagging at department stores.
Also, Crest Pro Health is having usage gains, mostly at the expense of Colgate Total, according to market research data. The remainder of the Olay line is being introduced to the last of the developing and emerging markets. The improved Luvs and Baby Dry diapers may be the only new products whose success seems to be less assured. Some amount of growth will come from the pipeline fill for these products.
Data on the company from Information Resources point to share gains coming in categories accounting for 70% of PG's sales in the quarter, with gainers and losers relatively the same as last quarter. Price/mix is up over 3%. Overseas, we are seeing strong growth in Latin America for all sorts of consumer packaged goods, as well as strong growth in Central and Eastern Europe.
While commodities costs could hurt in the next few quarters, that is not particularly likely now, and price increases have -- at least up until now -- been possible. PG apparently will give back on pricing if commodities costs fall so as to not be hurt by private-label products, but one could reasonably expect better sales in a lower-commodities-cost environment, especially for oil.
I note that no company for which I have covered earnings this quarter has seen much in the way of sales lift from lower gasoline prices as of yet, and I would not expect PG to have benefited yet.
Gross margin expansion should come, as Gillette's blade and razor sales benefit from the inventory reduction probably being over. Sales momentum is coming over many products and geographies, so it would be illogical to expect any particular slowing now.
The cost synergies should accelerate, and even if they do not come on schedule, operating profit growth near the 10% area in the fourth quarter is enough over long-term expectations to keep most holders happy. We may also get more fleshing out of PG's plans to take 4 percentage points out of the longer-term SG&A to sales ratio over time.
EPS are expected to be 78 cents vs. 77 cents a year ago, and my guess is that a small upside earnings surprise is much more likely than a small disappointment. Revenue is expected to come in at $18.56 billion, and sales growth of 25.5% is probably expected to be near 6% without the Gillette acquisition.
I am somewhat surprised that the stock is at its current level -- $63.81 as of Monday's close. I know that the earnings momentum is slowing, but the trends in place are good for 9% earnings growth in the longer term, probably 8% at an absolute minimum. That sort of outlook would imply a $71-$74 stock price at a time when there is a fair amount of uncertainty in the economic outlook.
The catalyst should be good sales, a 14% increase in expected EPS growth this year and a 15% EPS increase expected in the December quarter, when there will be simpler apples-to-apples comparisons to look at.
At the time of publication, Thomas had no positions in the stocks mentioned.
Ron Thomas, CFA, was most recently with Colonial Management Associates (one of the mutual fund subsidiaries of Liberty Corp.) as an analyst covering consumer stocks. Colonial Funds was named by Barron's as its "Mutual Fund Family of the Year" for 2000, based significantly on its consumer staple stocks selection performance. From 1990 to 1999, Thomas was employed at ASB Capital Management in Washington, D.C. as an analyst and later as a co-portfolio manager with absolute discretion over stocks in the financial, consumer staples and consumer services sectors. Prior to that, Thomas was with First City Bancorp. in Houston following financials and consumer companies. He holds a B.A. in economics from Rutgers College and an MBA in finance/marketing from Cornell University.