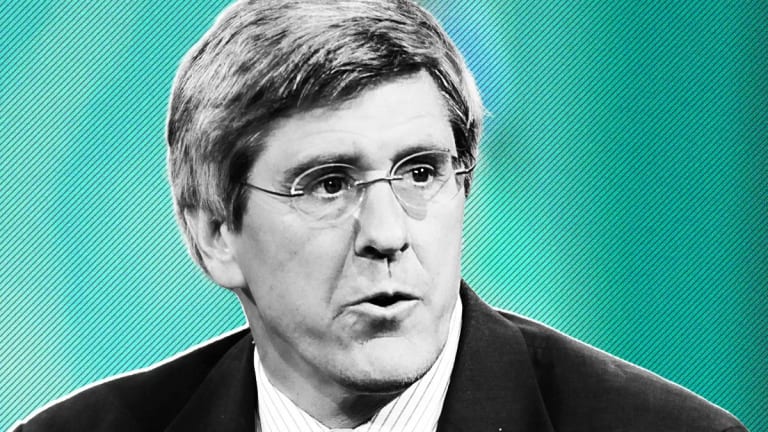 President Trump Nominates Former Campaign Adviser to Federal Reserve Board
Stephen Moore, a prominent economist, has been nominated to the board of the Federal Reserve.
President Trump nominated one of his former campaign advisers to the board of the Federal Reserve, the U.S. central bank.  
Stephen Moore, a Trump economic adviser during the 2016 presidential campaign, is a prominent conservative economist who helped draft Trump's 2017 tax cut plan.
Moore would fill one of two vacancies on the Fed board. Herman Cain, a former member of the Federal Reserve Bank of Kansas City, reportedly also is being considered by Trump for the board. Cain is former Republican presidential candidate.
Trump's nomination of Moore comes as the Federal Reserve earlier this week said it would hold official U.S. interest rates at their current level pending signs that the economy can stabilize as the stimulus fades from the late-2017 tax cuts.
The Fed said it would keep its target for short-term interest rates in their current range of 2.25% to 2.5%, a that was widely anticipated after central-bank officials led by Chairman Jerome Powell signaled in January they would pause their three-year campaign to tighten monetary policy as the U.S. economy slows.
But in a sign of the Fed's heightened fears of risks to the economy, the central bank announced measures to reduce potential obstacles to growth, including an ongoing campaign to shrink its $4 trillion balance sheet.
Trump last repeatedly criticized Powell - his own appointee to head the central bank -- for raising interest rates too far, too fast.
How Much Money Will I Need to Retire?
Want to learn about retirement planning from some of the nation's top experts? Join TheStreet's Robert "Mr. Retirement" Powell live in New York on April 6 for our Retirement Strategies Symposium. For a limited time, tickets are available for $99 for this full-day event. Check out the agenda, learn about the speakers and sign up here.