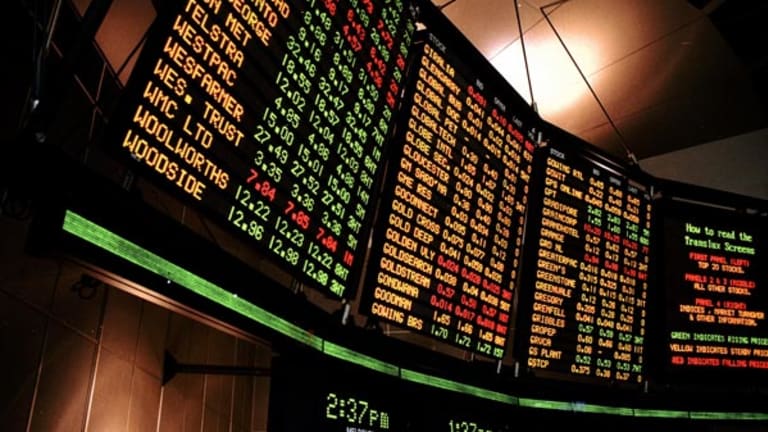 Prepare for the iPhone Backlash
Some key questions linger ahead of the hotly anticipated launch.
This column was originally published on RealMoney on June 14 at 12:03 p.m. EDT. It's being republished as a bonus for TheStreet.com readers. For more information about subscribing to RealMoney, please click here.
The launch of
Apple's
(AAPL)
iPhone is just two weeks away -- and any day now, we'll get some
real
information about the model's pivotal features and associated service contract.
It is almost unprecedented that we know so little about a high-profile mobile phone this close to its launch. We do, of course, know that the 4GB model is priced at $499 and the 8GB model at $599. However, the true price of a mobile phone is a combination of the device's price, the applications it offers and the price of the service contract.
For instance, an unlocked expensive phone that features GPS support and VoIP applications can save notable sums over a period of two years. That's because its users can switch freely to low-cost mobile service providers, substitute it for a dedicated GPS device and use WiFi for long-distance calls. On the other hand, a model that lacks such money-saving features can carry a steep long-term cost for its owner.
How well do consumers factor in long-term cost and substitution? How much do they care about mobile VoIP's cost-saving potential and the ability to switch carriers? This is hotly debated among device vendors and mobile operators, and we may gain crucial insights on it over the next 12 months.
Apple and
AT&T
(T)
, the iPhone's exclusive distributor, have battled over many issues in their deal. In fact, some of Apple's demands were so unusual that they drove away
Verizon
(VZ)
, the first pick for the iPhone carrier. Thus, AT&T became the only realistic alternative in the U.S., as
Sprint
(S)
and
T-Mobile
would be too small for a major launch like this. This gave AT&T genuine leverage over Apple -- and that has likely resulted in some restrictions that may turn out to be controversial.
My current assumption is the following combination:
AT&T will have several years of exclusivity on all Apple handsets;
AT&T will chain iPhone into contracts that last a minimum of two years and cost at least $90 per month with barebones text messaging and mobile data add-ons;
iPhones will be crippled for mobile VoIP applications.
Apple undoubtedly extracted major concessions from AT&T, including veto power over key marketing and distribution decisions and a strong link between the iPhone and the iTunes service. The latter may effectively sideline AT&T in the content-distribution business built around the mobile device it sells -- something that used to be a deal-breaker for any self-respecting mobile operator.
But if the aforementioned assumed limitations AT&T wants to place on iPhone turn out to be real, the handset's sales trend will be extremely interesting to watch in the fourth quarter and particularly the first quarter of 2008. By then, some iPhone variation should be on sale in Europe and Asia. Investors will find out the extent of the iPhone's American appeal outside the hardcore Apple fans at roughly the same time that the model's international version goes on sale.
Needless to say, some recent projections for iPhone sales have been fever dreams, particularly those calling for a 7% U.S. market share by 2009. That would mean taking over 30% of AT&T's entire phone range in just two years.
Even the oft-cited 1% global share is an astounding goal; the market-share range for all mobile phones that retail for $500 or more is about 2% to 3%. So will Apple take over half the global premium market or simply change worldwide consumer behavior? I have a hard time seeing Apple entering the $200 phone segment, either; selling midpriced phones is the toughest gig this side of being a Hilton family lawyer.
Winter Hurdles
Surely, iPhone shipments will sell out during the third quarter; the 2 million to 3 million American Apple loyalists are in the bag, no matter what the specifications are. But modeling sales beyond the first wave will be extremely tough.
The biggest smart-phone selling points in Europe and Asia this summer are GPS support, mobile VoIP functionality over WiFi and 3G-speed browsing and downloading of mobile content. Apple's first iPhone will offer none of these -- but it will cost more than models that do.
Will any of this bother U.S. consumers next autumn? Or will they accept the lower data transmission speed of EDGE technology (80-200 kbps) as well as the lack of GPS and VoIP over WiFi? It's true that the American handset market still supports high-end devices with low-tech features; it's the last affluent market with healthy demand for second-generation models, even at the pricier end of the market. This may change as AT&T and T-Mobile both ramp up their W-CDMA services near the end of this year.
So how big is Apple's window of opportunity to sell the first iPhone with its limited specification range? Its spectacular display technology and unique software capabilities will do much to mask the hardware shortcomings -- but only if power consumption is tolerable and the second generation of iPhones arrives in time.
To avoid a backlash, iPhone should deliver at least eight to nine hours of battery life for moderate mixed usage (with WiFi turned off most of the time). Mixed usage in this context would be, for example, 60 minutes of voice calls, 45 minutes of browsing and 30 minutes of music listening. This is below what competing smart phones can deliver, but I'm making allowances for the dazzling display. Anything less than this would likely create negative buzz, and that's a major danger right now.
Millions of U.S. consumers will make an exception for Apple, but European and Asian consumers won't accept less than HSDPA-quality W-CDMA support and either GPS or a better than 2-megapixel camera by the first quarter of 2008. Apple has to improve the phone specs a lot in six months, or it may find its appeal has clear limits outside of North America. That's a tight timeline, considering there will likely be a lot of things to iron out with the first iPhone, even without major upgrading. No vendor has ever attempted to launch a new hardware platform, new display technology and new operating system simultaneously. Even the most experienced phone vendors tend to stagger innovation across product generations to avoid the development nightmare of complexity piled on top of complexity. Apple is locked in tough negotiations with European operators; any missteps with the AT&T launch would curtail its leverage with the already skeptical
Vodafone
(VOD)
.
I'm not sure most investors realize what a high-wire act Apple is now attempting. Yet its share price has hardly wobbled after a stunning run-up through the first half of the year. Faith in the company has been absolute, even though every shareholder I've talked to is well aware of the media backlash scheduled to ramp up around June 18.
The iPhone-fueled Apple run has coincided with the
Nasdaq
ramp-up -- a rare coincidence where a specific product launch matches a wider telecom/tech rally. This serendipity has created a unique setup for massive volatility over the next month.
At time of publication, Kuittinen had no positions in any stocks mentioned, although holdings can change at any time.
Tero Kuittinen is managing director and senior analyst for Avian Securities, a brokerage firm specializing in technology companies. Although Kuittinen is an employee of Avian Securities the statements above are being made in Kuittinen's personal capacity and are in no way are the statements of Avian Securities, nor attributable to the company. Under no circumstances does the information in this column represent a recommendation to buy or sell stocks. Kuittinen appreciates your feedback;
to send an email.