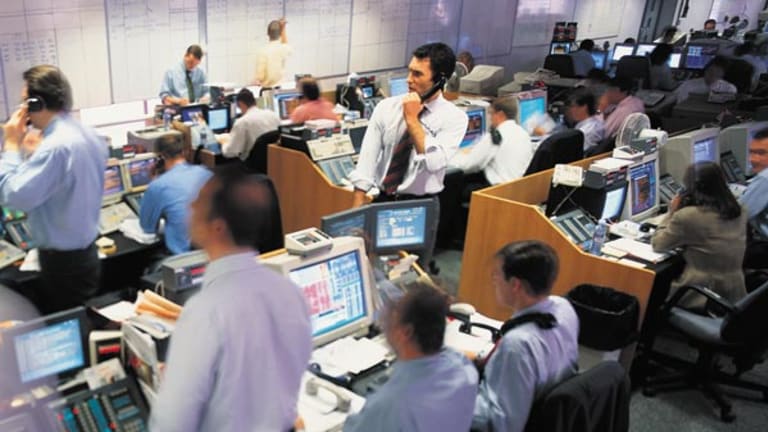 Power and the Network
From LAN to WAN, two small tech companies' technologies offer valuable enhancements.
This column was originally published on RealMoney on June 22 at 12:00 p.m. EDT. It's being republished as a bonus for TheStreet.com readers.
If you want to achieve outsized gains in the stock market, you need a strategy that runs contrary to popular wisdom. It comes down to basic supply and demand -- once the majority share an opinion, most of the money is already at work on the idea. To achieve big returns, there needs to be money left to be put to work to drive prices higher.
An idea can be right as rain and the stock can still go lower if sellers outnumber buyers. The only way to find ideas before an investment theme has run its course is to look where others won't, or take a stance against the market. Constitutionally, this isn't hard for me -- I like looking for hidden gems and I disagree with most people on most things, especially stocks. Don't be scared to disagree -- it will make you money.
To develop your own style, it's necessary to understand your psychology, goals and risk tolerance. If your goal is to make 20% but you are willing to take big losses and marry your losers, you're in trouble. On the other hand, if you are looking to make 100% and aren't scared to take a loss but can limit them to 30%, if your picking skills are any good, you will probably do quite well.
I won't buy a stock if I don't think it can go up at least 100% over 24 months. So if a stock goes down 30%, or even 40%, I'm not that worried about it. I want you to know where I'm coming from, so when a stock I've written about like
O2Micro
(OIIM) - Get O2Micro International Limited Report
goes down 20%, you understand why I'm not in a panic. It is just one stock in a 30-position portfolio, and I believe it is at least 100% undervalued. Generally, these companies are market leaders in technology niches that I believe can grow into larger opportunities.
PowerDsine
(PDSN)
and
Packeteer
(PKTR)
are two companies I bought recently that fit nicely in my portfolio.
PowerDsine is an interesting little Israeli company. The stock has come down significantly in the recent carnage -- it is plain cheap. It is a leader in power over Ethernet (PoE) technology, which I believe has tremendous potential.
PoE enables networked devices to be powered through the same Ethernet cables that connect them to the LAN, eliminating the need for a separate power source. This not only provides great convenience (just looking at my power bar gives my wife a headache), but for new construction, it eliminates the need to install a separate power source. This technology can be applied to a broad range of applications, including networked security cameras, VoIP phones and WiFi access points.
Until recently, network switches and routers weren't configured to manage power delivered over Ethernet cabling, so PowerDsine offers a line of equipment to retrofit these systems for PoE. Makers of next-generation switches are embedding PowerDsine chipsets that enable power delivery, and I believe this will be the catalyst for mass acceptance of this technology -- the benefits are just too persuasive.
The company is working with industry leaders like
Avaya
(AV)
and
Alcatel
(ALA)
on embedded solutions and sells PoE retrofitting equipment to
Cisco
(CSCO) - Get Cisco Systems Inc. Report
.
At its recent price of $6.70, the company has a market cap of $130 million with roughly $75 million in liquid assets. Projections are for the company to be profitable in 2007 on 30% revenue growth to $45 million. If we apply a growth multiple of five times revenue, which is consistent with other semiconductor companies, the company is worth roughly $225 million plus the cash. This stock could easily double in 12 months. If growth continues to accelerate, we could see a much higher price in 24 months.
Packeteer offers a series of products that optimize bandwidth usage and manage traffic across wide-area networks (WAN). The company is the leader in its field, with 36% market share. As Web traffic continues to grow, the need to manage application traffic should continue to spur demand for Packeteer products.
Using Packeteer technology, companies can prioritize Web traffic to make sure purchasing customers are offered the best transaction experience possible, which should help maximize sales. For businesses, Packeteer products prioritize network access, giving business-critical software applications priority over malicious bandwidth-clogging viruses and recreational Web access. Universities have implemented Packeteer solutions so faculty members receive priority access to email and other critical applications while music file-sharing is limited to reduce network clogging.
With the introduction of VoIP and video over Internet, data traveling across networks continues to grow, making it difficult for businesses to ensure the performance of their applications. Packeteer solutions are the answer for businesses looking to maximize the utility of networks.
The company has posted impressive growth, more than tripling revenue over the past five years. In 2007, analysts estimate the company will post earnings of 74 cents a share on 20% revenue growth to $164 million. With a market cap of $370 million and more than $130 million in cash, the company is a compelling investment at its current price of $10.60.
If the company continues its impressive growth, earnings should reach 90 cents a share in 2008. If we apply a PEG of 1.5, we get a price target of $27. I believe Packeteer is an attractive acquisition candidate, which could send its share price higher.
I believe there are compelling values in the market, and a new group of technology companies will emerge to lead us higher. Demand from evolving international economies will soften the effects of any U.S. slowdown.
Nonetheless, there is still no better country to invest in -- U.S. technology companies continue to innovate and remain the most desirable growth investments in the world. An increase in interest rates will only provide the support the dollar needs to encourage more international investment in dollar-denominated assets.
Hopefully, some of those dollars will start chasing PowerDsine and Packeteer, two well-priced market-leading growth stocks.
Please note that due to factors including low market capitalization and/or insufficient public float, we consider PowerDsine and Packeteer to be small-cap stocks. You should be aware that such stocks are subject to more risk than stocks of larger companies, including greater volatility, lower liquidity and less publicly available information, and that postings such as this one can have an effect on their stock prices.
P.S. from TheStreet.com Editor-in-Chief, Dave Morrow:
It's always been my opinion that it pays to have more -- not fewer -- expert market views and analyses when you're making investing or trading decisions. That's why I recommend you take advantage of our
to TheStreet.com's
RealMoney
premium Web site, where you'll get in-depth commentary
and
money-making strategies from over 50 Wall Street pros, including Jim Cramer. Take my advice --
At the time of publication, Bulwa was long PowerDsine and Packeteer, although holdings can change at any time.
Steven Bulwa is an independent portfolio manager based in Toronto. Under no circumstances does the information in this column represent a recommendation to buy or sell stocks. Bulwa appreciates your feedback;
to send him an email.