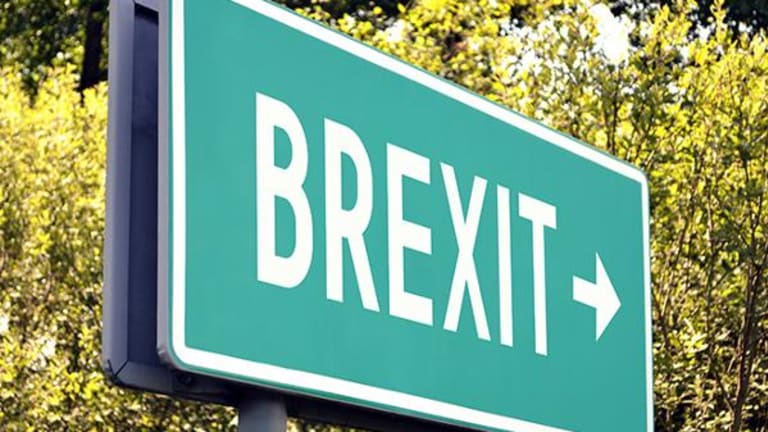 Pound Under New Pressure as Germany Pushes for 'Hard Brexit'; Businesses Hit Back at PM May
Germany's Chancellor and British business lobbies hit back at the British government on Brexit plans.
The pound came under renewed pressure Thursday as Germany's Chancellor Angela Merkel reiterated her preference for a so-called "Hard Brexit" and British business leaders hit back at Prime Minister Theresa May's EU exit strategy.
Sterling dipped below the 1.27 mark against the U.S. dollar during the London trading session, nearly matching the 31-year low of 1.2685 and further hampering confidence in Europe's third-largest economy. The downward move, however, failed to lift UK stocks, which have largely traded inversely to the pound's decline since the June 23 Brexit vote. The benchmark FTSE 100 index traded around 10 points lower, or 0.3%, by mid-day in London, while sterling was quoted at 1.2698 against the greenback.
The declines followed sharp comments from Merkel, who told a German industry conference in Berlin that she would not support a Brexit deal that would separate membership of the single market from the free movement of people around the EU.
Britain's biggest industry lobby, the Confederation of British Industry, or CBI, has also heaped pressure on the government's plans to prioritize immigration over single market access, saying in a statement late Wednesday that "businesses will not welcome further restrictions on high skilled migration from key trading partners around the world, especially as a series of changes were only announced earlier this year."
May pledged Wednesday to take control of and to toughen immigration rules governing entrants from the EU, in addition to promising to reassert the supremacy of British courts on questions of law.
The Prime Minister's remarks followed a speech by her cabinet colleague, Amber Rudd, who now occupies May's previous position as Home Secretary, that suggested broadest crackdown on immigration in the U.K. for decades.
"The numbers coming from Europe are unsustainable and the rules have to change," May said after Rudd outlined policies that could see businesses forced to publish statistics on the number of foreign workers that they employ as a portion of the labor force.
"British companies invest £45 billion a year training workers in the UK. But there are skills gaps right now and if firms do not fill them they cannot grow and spread prosperity," CBI deputy director-general Josh Hardie said. "We understand public concern and why it's important to control immigration but the Government should be working in close partnership with business to create a system that works, rather than layering on more bureaucracy at a time where the country needs to be open for business."
The placement of workers and consumer representatives on boards, energy prices, the housing market and a crackdown on corporate tax avoidance all featured in May's speech.
"Where companies are exploiting the failures of the market in which they operate, where consumer choice is inhibited by deliberately complex pricing structures, we must set the market right," she added.
Sam Bowman of the Adam Smith Institute said that worker representation on boards would be tantamount to giving union's a seat in the boardroom, adding such influence would be "toxic".
Bowman pointed to Volkswagen (VLKAY) as an example of a firm that has been hindered by employee representation on boards, which is timely given representatives of workers at the VW Group called on Wednesday for the firm to extend job guarantees to workers beyond an existing 2018 commitment.
Britain's Institute of Economic Affairs heaped further scorn on May's plans to intervene in markets that aren't "working properly", with director general Mark Littlewood describing the plans as "an alarming attack on free markets" that "completely disregards the evidence that competition, deregulation and a light-touch approach breeds the best results."
May also attacked the pricing strategies of domestic energy companies, promising action, given that some firms have consumers tied into contracts for household energy for too long, which creates the possibility that some might not have benefited from the drop in energy prices seen in recent years.
"We have evidence that these will lead to lower investment, lower production and more brownouts or even blackouts ... high energy prices are mostly caused by high wholesale prices, and energy firms are not generally more profitable than other large firms," Bowman argued.