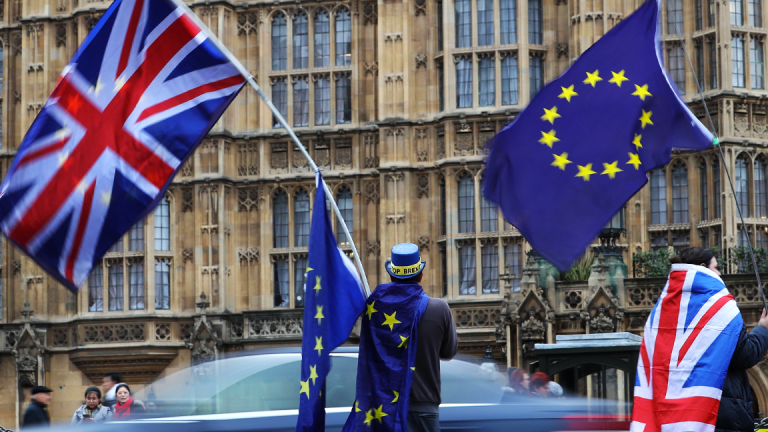 Pound Slumps to 11-Month Low as 'No-Deal' Brexit Risks Hammer Sentiment
With the risk of a so-called Hard Brexit now "uncomfortably high", according to Bank of England Governor Mark Carney, investors are dumping the pound even after last week's rate hike.
The pound fell to a fresh eleven month low against the U.S. dollar Monday amid concern that Britain could leave the European Union next year without a formal trade deal, a so-called 'Hard Brexit' that could seriously damage growth prospects in the world's fifth-largest economy.
U.K. Trade Secretary Liam Fox, a senior lawmaker in the cabinet of Prime Minister Theresa May, told Britain's Sunday Times newspaper that EU "intransigence" is pushing the country towards a Hard Brexit in March of next year thanks to a "theological obsession" with the bloc's rules on the freedom of capital, people, goods and services. Britain has proposed an agreement to Brussels that includes the free movement of goods, and a broad alignment of rules on services, but has steadfastly refused to compromise on the freedom of movement, insisting that the June 2016 referendum was a demand to "take back control" of the country's borders. 
"We have set out the basis in which a deal can happen but if the EU decides that the theological obsession of the unelected is to take priority over the economic wellbeing of the people of Europe then it's a bureaucrats' Brexit -- not a people's Brexit -- (and) then there is only going to be one outcome," Fox wrote in the Sunday Times.
The pound was marked 0.55% lower from Friday's close against the U.S. dollar and changing hands at 1.2923, the lowest since September of last year, extending its decline from late April to around 9.85%. 
If Britain were to exit the EU without a bespoke deal, it would revert to trading with the EU -- as well as all other major economies in the world -- under WTO rules and tariffs. 
"The average EU tariff rate is low - around 1.5%. However, at a sectoral level, the impacts would be much larger: for example, for cars and car parts the tariff rate is 10%," the research group 'UK in a Changing Europe' wrote last year. "Since most UK-based car production is exported, and uses imported parts, the impacts would be magnified. The impacts would also be large on agriculture, where EU tariffs and quotas remain high; this would result in significant food price inflation for British consumers."
Fox's remarks echo a similar warning from Bank of England Governor Mark Carney, who told BBC radio on Friday that the risk of a no-deal Brexit was "uncomfortably high at this point" and urged all parties to "do all things to avoid it". His comments, however, came just 24 hours after he confirmed that the Bank would raise its key lending rate to 0.75%, only the second hike since the global financial crisis of 2008, noting that U.K. households have been "resilient" to Brexit news.
"People will have things to worry about in a no deal Brexit, which is still a relatively unlikely possibility but it is a possibility," Carney said.
The pound's moves may reflect weakening growth prospects in the world's fifth-largest economy, particularly in the country's manufacturing sector, where sentiment fell to the lowest level in two years last month, according to PMI data from IHS Markit. Britain's economy, however, is far more fuelled by services and consumer spending, and flat wage growth, alongside slowing inflation, suggests little signs of acceleration there, either.
U.K. inflation slowed notably in June, Britain's Office for National Statistics said earlier this month, as consumer prices rose 2.4% higher on an annual basis, a figure that fell short of the consensus forecast of 2.6%. That slide comes even as motor fuel prices hit a near four-year high, thanks to the surge in global crude prices, suggesting underlying pricing strength is starting to erode amid the uncertainty over the country's post-EU future.