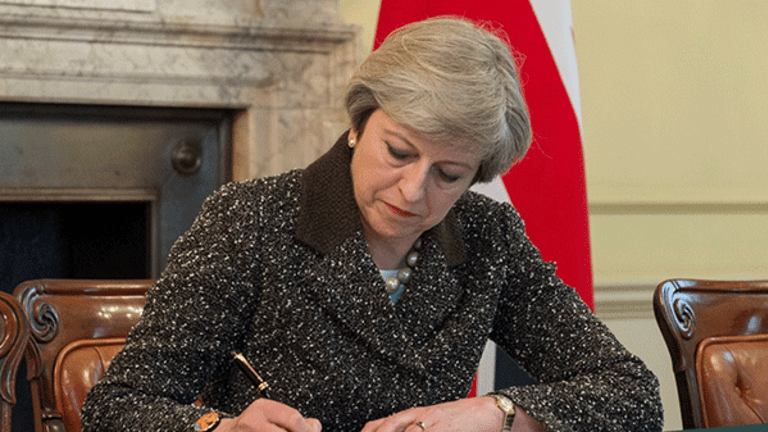 Pound Volatile After U.K. Prime Minister Confirms Aim to Leave EU Single Market
U.K. Prime Minister Theresa May's aim to leave both the European Single Market and the Customs Union has send the pound tumbling.
The pound fell sharply against the U.S. dollar Friday, before recovery nearly as quickly, after U.K. Prime Minister Theresa May confirmed plans to leave both the European Single Market and the Customs Union when its Brexit negotiations are complete.
May said that she recognised that the EU's "four freedoms" -- the movement of goods, capital, labor and services -- were indivisible and thus Britain would not seek Single Market membership once it has left, given its desire to control its own immigration policy. She also repeated her view that "no deal is better than a bad deal", in reference to her earlier vow not to be forced into an unfair agreement with her opposite numbers in Brussels.
"Britain will cease to be a member of the European Union on March 29, 2019," the Prime Minister said, although she did request a "period of implementation" for businesses to plan for "one set of changes" in the future that could be up to two years.
"This is a defining moment in the history of our nation," May said, before adding that "we may be leaving the European Union, but we are not leaving Europe."
The pound fell as much as 0.7% against the dollar after May's statement within her much-anticipated speech in Florence to trade at 1.3497 before paring the decline to around 1.3556 15:30 London time.
May said that a full set of new immigration rules would apply only after an implementation period, and appeared to suggest that European courts could continue to preside over British law until at least 2021 and possibly beyond.
The Prime Minister did not, however, offer any direct financial contribution to the EU in exchange for single market membership during the transition period, although she did say that the the U.K. "will honor commitments we have made" and that Britons "would want to make an ongoing contribution to cover our fair share", adding that she would "not want our partners to fear they need to pay more or receive less over the remainder of the current budget plan."