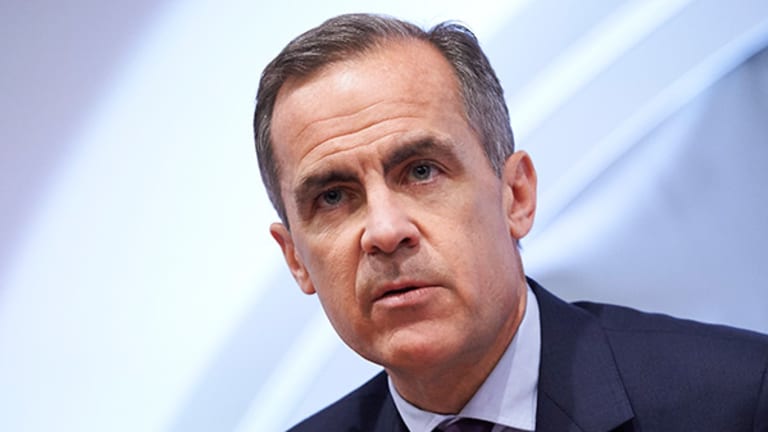 Pound Flip-Flops, Bond Yields Rise as U.K. GDP Growth Tops Forecasts
Third-quarter growth of 0.5%, compared with expectations of 0.3% expansion, make an interest rate cut from Bank of England Governor Mark Carney next week unlikely.
The U.K. economy held up better than expected in the first three months after the country's Brexit vote, making a Bank of England rate cut next week unlikely.
U.K. GDP expanded by 0.5% in the third quarter, the Office for National Statistics said. That was down from 0.7% growth in the second quarter but above consensus expectations for expansion of 0.3%. The year-on-year gain was 2.3%, above the 2.1% expected.
ONS chief economist Joe Grice said "there is little evidence of a pronounced effect in the immediate aftermath of the vote."
The pound initially rose against the U.S. currency, though swiftly fell back and was recently down 0.16% at $1.2227. U.K. bond yields rose and stocks remained down as the figures dashed already dwindling hopes that the central bank will cut borrowing costs again next Thursday after a quarter-point cut to 0.25% on Aug. 4. Bank of England Governor Mark Carney has sustained criticism from politicians and bankers alike for acting too soon after the June Brexit vote and had this week appeared to signal further cuts this year were unlikely because of the pound's weakness. The yield on the 10-year U.K. government bond was recently up 8 basis points at 1.23%.
"Today's U.K. GDP figures confirmed that the immediate economic impact of the vote to leave the EU has not been nearly as severe as many had initially expected," said Capital Economics U.K. economist Ruth Gregory.
She noted that the consensus expectation in July was for a 0.1% economic contraction in the third quarter. But she added:
"We would not get too carried away. It could be that the economy is in a post-referendum "sweet spot" whereby some of the positive developments since the vote, such as action by the MPC have been felt before the major adverse consequences, such as a rise in inflation."
Third-quarter growth was underpinned by faster services sector expansion, which posted a 0.8% growth rate, up from 0.6%. But industry and construction were both drags on growth.
Capital Economics' Gregory predicts economic growth in the U.K. of 2.0% this year, slowing to 1.5% next year.