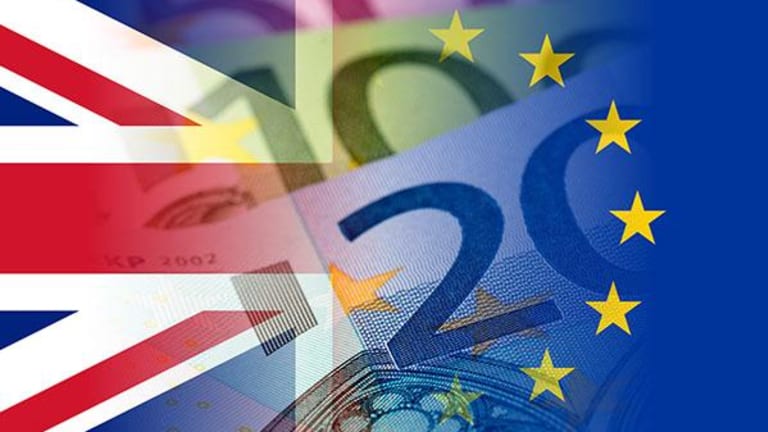 Pound Falls Further in Brexit Turmoil; Hits 31-Year Low
Traders weigh up the likely monetary policy fallout from the U.K.'s shock vote to leave the European Union.
Traders weigh up the likely monetary policy fallout from the U.K.'s shock vote to leave the European Union.
The pound has extended losses in early afternoon trading in London, falling to a 31-year low. As the U.S. market prepares to open the pound has fallen 3.76% against the dollar to $1.3164.
Dow Jones mini futures were recently down 0.72% and S&P mini futures were down 0.71%. 
The euro has fallen 1.16% against the dollar to $1.0988. On Friday, the pound had the biggest one-day fall ever plunging 8.1% against the dollar.
Currencies are under pressure as traders consider central banks' response to the turmoil. In their meetings this month, the Federal Reserve, Bank of England and Bank of Japan said they held off on rate decisions due to the U.K.'s referendum. A minority of observers are now betting the Fed will cut rates in July rather than raise them, while a rate cut by the Bank of England, which has held benchmark rates at historic lows of 0.50% for more than six years, is seen as likely.
On Friday, the G7's central bankers said they would take necessary steps to ensure financial stability and offered additional liquidity.
The yen further strengthened against the dollar ¥101.87. The Bank of Japan today held an emergency meeting, which could result in some intervention.
The FTSE 100 was recently down 2.05% at 6,012.91, in London. In Frankfurt, the Dax was trading at 9,372.90, 1.93% down and the Cac 40 was recently down 1.93% at 4,027.59. 
Before the markets opened today, Britain's finance chief Chancellor of the Exchequer George Osborne tried to quell fears about the market impact of the referendum.
"[We] have further well thought through contingency plans if needed," he said in a press conference before the markets open, adding that he has been in constant contact with the central bank and that "swap lines" were in place so institutions could get foreign currency if needed.
He said, "The fundamentals are strong, we have dealt with the immediate impact because of the contingency plan. Britain is open for business."
Over the past 72 hours Osborne said he has been speaking with his fellow finance ministers in Europe, the International Monetary Fund, central banks and the U.S. Treasury Secretary to ensure financial stability. He has also been in contact with CEOs of major financial institutions, "so that collectively we keep a close eye on developments."