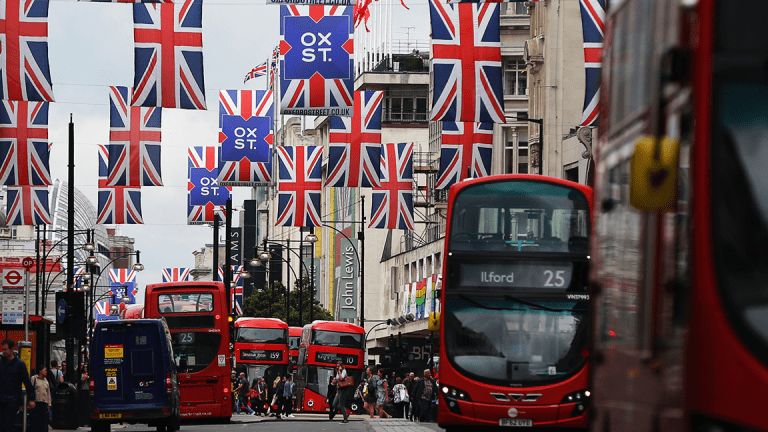 Pound Slides as Inflation Slows, Doubts Grow Over Bank of England Rate Hikes
The pound tested 6-month lows against the dollar Wednesday after the slowest reading for core inflation in a year cast new doubt on the Bank of England's ability to lift its key lending rate before the end of the year.
The U.K. pound is still getting, well, pounded.
The U.K. pound tested a six-month low against the dollar Wednesday after a slower-than-expected reading for April inflation cast further doubt on the Bank of England's ability to follow-through on its vow to raise interest rates. 
U.K. consumer prices slowed to an annual growth rate of 2.4% last month, the country's Office for National Statistics said, down from 2.5% in March and missing economists' estimates of 2.5%. The so-called core reading, which strips out volatile food and energy prices, was tabbed at 2.1%, the slowest in a year. The ONS said airfares were the biggest downside contributor to a reading that was affected by the early timing of Easter, with headline reading offset a rise in gasoline prices.
"Soft drink prices saw their biggest ever rise for this time of year, due to the introduction of the sugar tax. However, many retailers still haven't passed the impact of the tax onto shoppers," the ONS said. "Annual price growth for goods leaving factories was unchanged in April. However, the cost of raw materials increased, mainly driven by strong rises in crude oil prices."
The pound was marked 0.1% lower at 1.3361 following the ONS release, paring a decline that took the currency to 1.3346 against the dollar, the lowest since December 15, as investors reduced bets that the BoE will be able to raise its key 'Bank Rate' from the current 0.5% level before the end of the year. 
BoE Governor Mark Carney said Tuesday that he expected the U.K. economy to rebound in the second quarter after GDP data for the first three months of the year showed Britain edging towards recession with a growth rate of just 0.1%.
"Our view is not that circumstances changed in the first quarter. It's more likely to have been temporary and idiosyncratic factors that slowed the economy," Carney told lawmakers on Parliament's Treasury Select Committee as he repeated his view that rates will rise sooner -- and more quickly -- than the market has been anticipating.