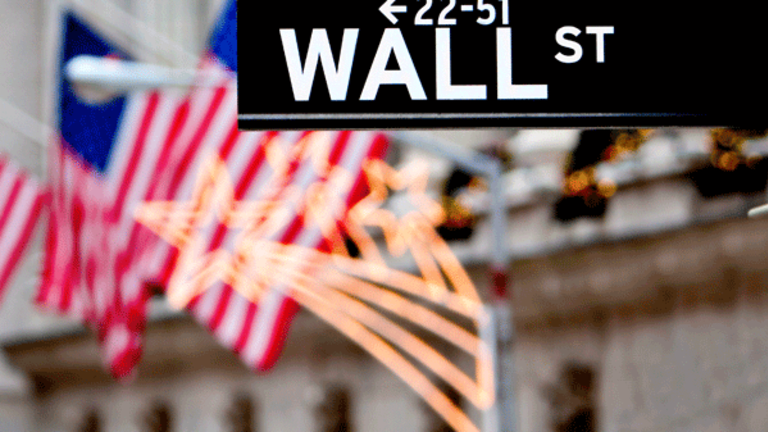 Post-Trump Rally Stalls as Dow Jones Slips Further From 20,000 Mark
The Dow Jones index of blue-chip stocks climbed to within 19 points of the 20,000 milestone before sliding backward, while the Nasdaq dropped from a record opening of 5,499.
U.S. stocks ended Wednesday in the red, with all sectors of the S&P 500 slumping and a milestone of 20,000 slipping further out of reach of the Dow Jones Industrial Average. 
The index of 30 blue-chip stocks dropped 0.56%, while the S&P 500 fell 0.84% and the Nasdaq declined 0.89%. 
The dip helped prolong days of speculation about when the Dow might reach what would be a historic high, after climbing within 19 points of it earlier Wednesday. The Nasdaq slid from a record opening of 5,499, with a 6.9% drop at Nvidia (NVDA) - Get Report  leading the index lower.
"With the runup we have had in equities over the past six or eight weeks, a lot of people, including us, would not be surprised to see a modest pullback in equities in the neighborhood of 3% to 5% at most," David Schiegoleit, U.S. Bank managing director of investments, said in a phone interview. "It's been a very hard and quick runup since the election."
All 11 S&P 500 sectors were lower, with materials, industrials and utilities the biggest losers. Insurance provider Travelers (TRV) - Get Report  , with a 0.08% gain, was one of only two companies in positive territory on the Dow.
Trading volume was light, Schiegoleit noted, "so any modest down pressure or for that matter upward pressure get a little bit magnified on days like this, simply because of the low volume."
Crude oil prices are in positive territory for the fourth consecutive session as investors anticipated lower global oil production based on an agreement by the Organization of Petroleum Exporting Countries. West Texas Intermediate crude oil climbed less than 1% to $53.91 a barrel on Wednesday. Brent crude, the global benchmark, traded at $56.16, also up less than 1%.
On the economic calendar, the November pending home sales index declined 2.5% from the prior month, according to the National Association of Realtors. The index fell from 110 to 107.3 as prospective home buyers grapple with rising mortgage interest rates following Donald Trump's election.
U.S. prosecutors charged three Chinese citizens with hacking into law firms to obtain confidential information on deals involving Intermune (ITMN) and Roche; Intel (INTC) - Get Report and Altera; and Pitney Bowes (PBI) - Get Report and BorderFree. The hackers were said to have made $4 million in profits on trades related to about five companies.
Qualcomm (QCOM) - Get Report was fined 1.03 trillion won ($853 million) by the Korean Fair Trade Commission. The watchdog said that the communications technology company violated antitrust and competition laws with its patent license agreements. Qualcomm general counsel Don Rosenberg said the company disagreed with the findings and will appeal the decision. Shares of Qualcomm were down 2.2% to $65.75 in trading Wednesday.
Delta Air Lines (DAL) - Get Report said that it reached an agreement with Boeing to cancel 18 Boeing 787 Dreamliner aircraft orders. Based on list prices, the aircraft order was valued at $4 billion. Delta inherited the orders when it combined with Northwest Airlines in 2008.
"This business decision is consistent with Delta's fleet strategy to prudently address our widebody aircraft needs," said Greg May, Delta's senior vice president for supply chain management and fleet, in a statement.
Shares of Boeing (BA) - Get Report fell 0.9% and Delta's shares fell 1.7% following the news.
BP (BP) - Get Report ADRs were up 0.4% after the company announced the purchase of Australian retailer Woolworths in a deal worth A$1.79 billion ($1.29 billion).
Galena Biopharma (GALE) , which specializes in hematology and oncology therapeutics, saw its shares soar more than 21% when the company announced it received regulatory confirmation from the U.S. Food and Drug Administration for its GALE-401 Phase III trial. The trial is expected to start before June of next year.
Toshiba (TOSYY) shares were in focus again after the company said Tuesday that its U.S. nuclear operation might record billions in losses. Shares of Toshiba fell 20%, and trading was halted in Tokyo.
Kate Spade (KATE) shares popped 23% after the Wall Street Journal reported that the apparel and accessories company is working with bankers on potentially selling the company.