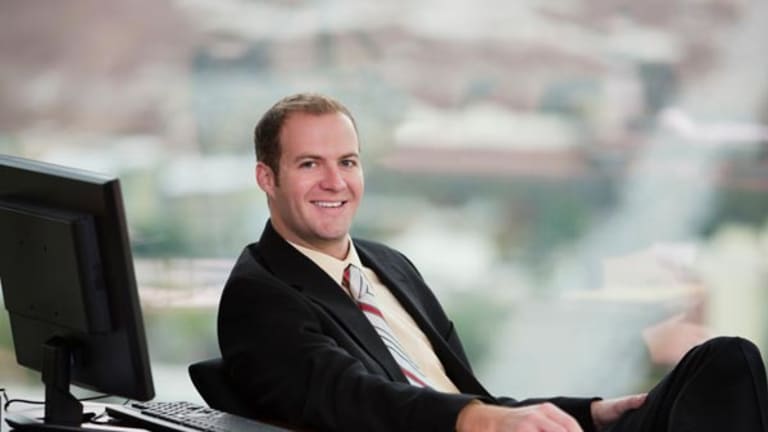 Plotting Your Plays on Takeover Targets
Selling calendar spreads is a better strategy than buying calls on every rumor.
This column was originally published on RealMoney on Jan. 11 at 2:00 p.m. EST. It's being republished as a bonus for TheStreet.com readers. For more information about subscribing to RealMoney, please click here.
Even as private-equity buyouts and corporate takeovers are occurring with increasing frequency and at record numbers, the ability to identify and profit from the next big deal remains as elusive as ever.
One of the most popular strategies is to use options, buying out-of-the-money calls on a slew of possible takeover candidates and hoping one gets a big premium bid and delivers jackpot returns. The problem is, just like the lottery itself, buying another fistful of tickets does not measurably improve your odds, but increases the likelihood of loss.
A better bet is to focus your attention, and dollars, on companies already in play, such as
Harrah's
( HET), or those that are courting suitors, such as
Foot Locker
(FL) - Get Foot Locker Inc. Report
.
It might mean lower returns, but it offers a much higher probability of turning a profit. And the last time I checked, consistent hitters Cal Ripken and Tony Gwynn are heading to the Baseball Hall of Fame, while slugger Mark McGwire will be riding the pine of shame into retirement. The obvious lesson is don't swing for the fences. Be patient and wait for a situation that offers not only a reasonable risk/reward, but also a quantifiable edge.
Collapsing Time Premiums
In options-trading (or any investing, for that matter), eliminating or accurately gauging the behavior of the price variables under a particular circumstance provides an enormous edge to controlling risk and increasing the probability of a profit.
It's crucial, and advantageous, to understand what happens to the option prices on a company once it agrees to a merger/takeover/buyout: Once a deal is agreed to, the implied volatility or time premium collapses. That is, options that are out of the money will be essentially worthless, and in-the-money options will be priced at their intrinsic value.
Remember, the bulk of an option's value stems from the right to buy or sell a stock at a set price -- the strike price -- during a given time period defined by the expiration date. Once terms of a deal are agreed upon, those variables are eliminated and so, too, is the price premium awarded to the options.
Sell Calendar Spreads
As I discussed in a
Jan. 9 video, one of the best ways to play the possibility of a takeover is to sell a calendar spread. The video used
Gap
(GPS) - Get Gap Inc. (The) Report
, which recently hired Goldman Sachs to explore a sale, as an example.
In this case, I suggested buying the March $22.50 call for 40 cents and simultaneously selling $22.50 calls with a January 2008 expiration for $1.50 per contract. This gives the position a $1.10 net credit for the calendar spread. Because talks are still in very initial stages, the longer term, or LEAP, options still retain a significant amount of time premium. But if Gap does agree, or even home in on the terms of sale before the March 16 expiration day, then expect the implied volatility or time premiums to collapse across the board.
The result will be that the value of the March and the January 2008 calls will trade at nearly equal values, meaning the value of the calendar spread will contract or flatten out. This will be true regardless of the price of the deal; if price is only $20, then both options will be worthless; if there is a 30% premium to $26 per share, then both call options will be worth $6 per contract. In each case, the value of the spread will be close to equal, allowing you to collect that $1.10 premium, which represents the position's maximum profit.
The risk, especially in a case like Gap, which is still in the early exploration stages, is that the timing, terms and pricing are far from set. In fact, the company might consider spinning off certain units. That means if no deal, parameters or even intentions are clarified by the March expiration date, the position will be exposed to incurring a loss. The 2008 LEAP (long-term equity anticipation) options that you've sold short will maintain their time premium and potentially increase in value while the near-term March options you own will expire, possibly worthless.
To avoid winding up with a naked short position, it is imperative to close the position before the March expiration or roll those long calls into a later month. My advice in Gap would be to wait and see if some more details emerge regarding any potential deal. Even after a proposal is put on the table, it is not too late to benefit from this sale of a calendar spread strategy. The key to the trade is establishing the position in the window between when a deal is still just a proposal, and its consummation.
Hoping the EGL Deal Flies
EGL
(EAGL)
offers a recent -- and, because I established a position in the
Options Alerts Model Portfolio, better, I hope -- example of using this strategy. On Jan. 3, the freight company received a buyout bid from a group led by its chairman and CEO James Crane. The bid was worth $36 a share, a 25% premium to the stock's previous closing price.
The company's board will review the offer, which investors interpreted as EGL looking for a higher price, so shares jumped to $38 TJan. 4 and have been trading above $37 for the past four days. Given that Crane is also EGL's largest shareholder, with about an 18% stake, it is likely the deal will go through and at a higher price. After all, he is basically paying a large portion of the purchase price to himself.
The position I established consisted of buying the February $35 calls and selling the August $35 calls for a net credit of $1 for the calendar spread. If a deal is agreed to prior to the Feb. 16 expiration, the time premiums should collapse, the spread will contract and the position will earn the $1 profit of the net credit collected.
If no headway is made by the second week of March, I'll close the position to avoid ending up naked short the August calls and at the mercy of a rising IV or stock price. But at the moment, with the firm proposal on the table, I like my odds of squeezing out a profit during the time period of very limited risk.
Keep Your Eye on the Balls in Play
Right now, there is hardly a name on the board that isn't being floated as a takeover target, and if you tried to swing at all of those by purchasing calls on every rumor, both your arms and wallet would be exhausted before you connected with a winner.
By focusing on companies that already are in play, that is, ones that are contemplating "strategic alternatives," officially up for sale or have received unsolicited buyout bids, you have essentially performed a very efficient screen that allows you to pass on the tough-to-read curveballs, and you can now groove on those entering the strike zone.
Steven Smith writes regularly for TheStreet.com. In keeping with TSC's editorial policy, he doesn't own or short individual stocks. He also doesn't invest in hedge funds or other private investment partnerships. He was a seatholding member of the Chicago Board of Trade (CBOT) and the Chicago Board Options Exchange (CBOE) from May 1989 to August 1995. During that six-year period, he traded multiple markets for his own personal account and acted as an executing broker for third-party accounts. He appreciates your feedback;
to send him an email.
To read more of Steve Smith's options ideas take a free trial to
.