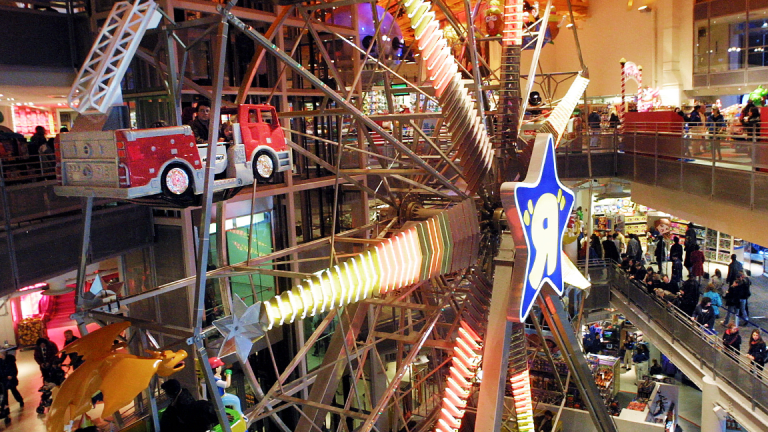 Playtime Over? Toy Stocks Slump as Toys 'R' Us Reportedly Faces Liquidation
Reports of a pending liquidation for iconic retailer Toys 'R' Us is hitting rival toymakers hard Friday as investors re-price stocks in the struggling retail sector.
U.S. toy company shares were lower Friday amid reports that bankrupt Toys "R" Us was preparing for a possible liquidation if it can't cut a deal with its creditors.
Multiple media reports suggested the liquidation move could come as early as Monday, March 12, when Toys "R" Us is scheduled to appear in bankruptcy court as part of its September 2017 Chapter 11 filing. The news follows several recent reports that pointed the likelihood that the company's holiday earnings had fallen short of expectations and an announcement that it would shutter at least 150 of its 880 locations.
Mattel Inc. (MAT) - Get Mattel, Inc. Report shares fell 9% on Friday, a move that wipes out the stock's year-to-date gains. Rival Hasbro Inc. (HAS) - Get Hasbro, Inc. Report  fell 3.6%. Jakks Pacific Inc. (JAKK) - Get JAKKS Pacific, Inc. Report fell 1.1%.
Last week, the British arm of Toys "R" Us collapsed into insolvency just months after creditors backed a restructuring plan for the iconic toy retailer, with analysts blaming the retailer's slow adoption of e-commerce for its demise.
Retail Economics CEO Richard Lim said the company was hit by shifts in U.K. retail such as rising operating and online retailers.
"Put simply, the retailer was too slow to embrace omnichannel, were burdened with too many stores and failed to deliver a retail 'experience' good enough to stand out from their competitors," he said.
Hasbro CEO Brian Goldner, however, told TheStreet's Brian Sozzi last month that "we don't see a long-term impact of from the Toys "R" Us bankruptcy."
Toys "R" Us accounted for 9% of Hasbro's global sales in 2016, according to Securities and Exchange Commission filings. Goldner said much of the impact from Toys "R" Us store closures will be felt in the first two quarters of this year.
Goldner was quick to point out that online toy sales continued to be a growing piece of the pie for Hasbro. Moreover, the company does still have retail partners opening stores, notably big box stores like Walmart Inc.  (WMT) - Get Walmart Inc. Report and Target Corp.  (TGT) - Get Target Corporation Report .