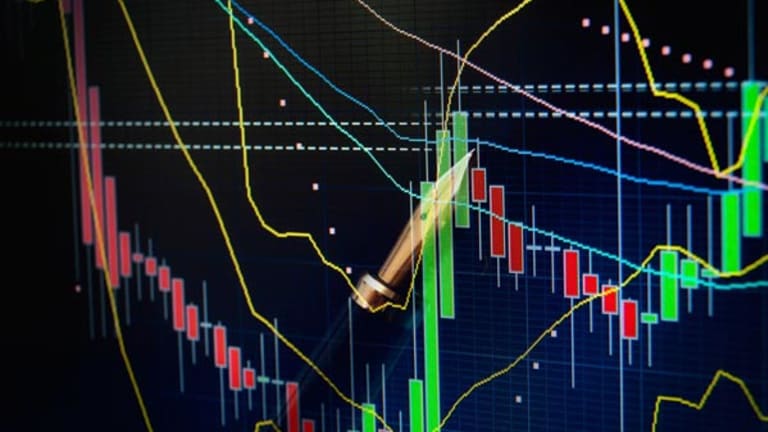 Playing the Video-Game Group
Sometimes, real-world research can help you get the edge.
This column was originally published on RealMoney on Dec. 12 at 7:12 a.m. EST. It's being republished as a bonus for TheStreet.com readers. For more information about subscribing to RealMoney, please click here.
While some market participants keep close watch on the
Fed
minutes and assorted economic reports, I find another set of information infinitely more interesting. That's video-game sales data, which were recently reported by market researchers NPD Group.
The Latest Snapshot
For November, software sales rose 15%, while hardware sales rose 36%, both essentially in line with expectations. Software sales were driven by
Microsoft
(MSFT) - Get Microsoft Corporation Report
Xbox 360 titles like "Gears of War" and "Call of Duty 3," as well as Sony PlayStation 2 titles like "Final Fantasy XII" and "Guitar Hero 2."
Hardware sales were again dominated by
Nintendo
(NTDOY) - Get Nintendo Co. Ltd ADR Report
, which sold a combined 1.56 million units of its DS and Game Boy handhelds, again taking lunch money from the more technologically advanced Sony PSP, which sold 412,000 units.
Over in the land of next-generation hardware, the Xbox 360 sold 511,000 units, a nice month-over-month gain catalyzed by the aforementioned "Gears of War." However, it was actually outsold by the Sony PlayStation 2, which moved 551,000 units. Both the Sony PlayStation 3 and Nintendo Wii were in short supply, and software sales for both consoles were fairly weak, with the exception of the new "Legend of Zelda: Twilight Princess" Wii game, which likely crowded out a lot of other Wii titles. In addition, the fact that many Wii buyers were purchasing the console just to flip it likely hit software sales.
But as a whole, the industry seems to be producing fewer games. That's because development budgets are rapidly rising, thanks to the sophisticated nature of the Xbox 360 and PlayStation 3. This is creating a big obstacle for larger software publishers, namely
Electronic Arts
( ERTS); with such a huge library of games, the chances of a small number of titles creating a huge financial impact aren't very good.
On the flipside, look at a smaller company like
Activision
(ATVI) - Get Activision Blizzard Inc Report
, which had excellent November numbers on the backs of "Guitar Hero 2," "Call of Duty 3" and "Marvel: Ultimate Alliance." (This stock is a holding in the
Breakout Stocks newsletter, so I should note that I switched to a neutral stance on it Friday morning for various reasons, including some concerns over its 2007 lineup, particularly the fate of the upcoming "Transformers" game.)
Finding the Hot Spots
So how do you get an edge on what's hot and what's not in the video-game group? Here's a quick roundup of some of the methods I use to determine sales trends.
First, I monitor retail Web sites, particularly
Amazon.com
(AMZN) - Get Amazon.com Inc. Report
and
GameStop
(GME) - Get GameStop Corporation Report
(the latter of which is another stock in my newsletter on which I switched to a neutral stance Friday). These sites provide easy access to see which games are selling best on each system, and you also can tell which games are being preordered, an excellent gauge of pent-up demand. However, these sites report rankings and not volumes, so you'll need to assess the information accordingly.
I find it bizarre that analysts only recently seemed to become bullish on "Guitar Hero 2," which was rocketing up the sales charts well ahead of its release. Plus, the original "Guitar Hero" was still selling extremely well and was being played by gamers in just about every
Best Buy
(BBY) - Get Best Buy Co. Inc. Report
store I visited in recent months. It was pretty obvious to see Activision had a blockbuster with this series.
It also makes a lot of sense to speak to sales associates in actual stores, particularly in GameStop, where the employees are cognizant of industry trends and what's selling and what's not in real-time.
Another key research method is to closely monitor reviews of key games. Virtually all top-selling games, outside of some sports titles, are well reviewed. Sites I read include the
CNET
(CNET) - Get ZW Data Action Technologies Inc. Report
-owned GameSpot.com (not to be confused with GameStop.com) and IGN.com. In addition, for readers who like to see videos of new games, I recommend having a look at GameTrailers.com, which also posts reviews, though you better have a fast Internet connection.
Electronic Arts recently said its "Superman Returns" game was performing well below expectations. This would have been painfully obvious to anyone monitoring the sales charts. I have been looking at these charts every day for months and never saw this game appear once. In addition,
GameSpot.com rated the game a 4.5 out of 10, so obviously the critics weren't helping.
So in all, if you want to play the video-game cycle, have a look at the smaller players who can benefit greatly from just a few hit titles. As I've explained, some common-sense, real-world research can help you get an edge on Wall Street.
In keeping with TSC's editorial policy, Michael Comeau doesn't own or short individual stocks. He also doesn't invest in hedge funds or other private investment partnerships. Comeau is a research analyst at TheStreet.com. In this role he performs stock analysis for
, and is also a regular contributor to RealMoney.com. Prior to his arrival at TSC in June 2004, Comeau worked as a Consultant to Toyota Motor North America, performing in-depth research on automotive industry issues, primarily in the areas of alternative engine technologies, competitive analysis and macroeconomics. His primary market interests include consumer technology, specialty retail, and small-caps. Comeau received a bachelor's degree in Finance from Brooklyn College, and has completed Level 1 of the CFA program.. He appreciates your feedback;
to send him an email.