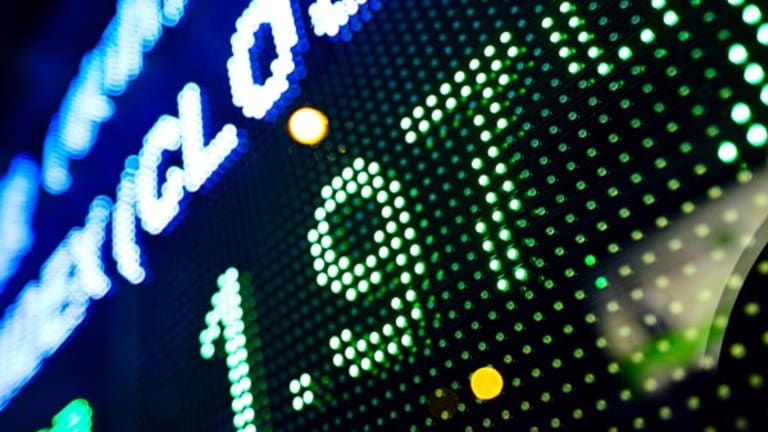 Plain Fedspeak Sinks Stocks
A speech from Richard Fisher suggests that the central bank will hike rates again.
Updated from 4:16 p.m. EDT
There weren't any
baseball metaphors this time around, but Richard Fisher showed once again that he has a way with words.
Stocks closed near their lows of the session Tuesday following an afternoon selloff that came on the heels of hawkish comments from Fisher, the president of the Federal Reserve Bank of Dallas.
The Dow Jones Industrial Average
finished down 94.37 points, or 0.9%, to 10,441.11.
The
lost 12.23 points, or 1%, to 1214.47, and the
Nasdaq
fell 16.07 points, or 0.75%, at 2139.36. The 10-year Treasury was up 3/32 in price to yield 4.37%, while the dollar rose against the yen and euro.
About 1.72 billion shares traded on the
, with decliners beating advancers by a 2-to-1 margin. Trading volume on the Nasdaq was 2.03 billion shares, with decliners outpacing advancers 3 to 2.
The major averages had been higher before Fisher gave a speech in which he said the "inflation rate is near the upper end of the Fed's tolerance zone, and it shows little inclination to go in the other direction."
Once those remarks -- which bolster the belief that the Fed isn't through raising rates -- became known, stocks began to fall back.
"These comments fall in line with other Fed comments that indicate concerns about inflation drifting higher," said Michael Sheldon, chief market strategist with Spencer Clarke LLC. "The Fed is continuing to raise rates in the face of higher energy prices. All of this is creating headwinds for the market. The comments, though, aren't a surprise at all."
St. Louis Fed President William Poole also spoke at a separate conference, but he didn't expound on the economic effects of hurricanes Katrina and Rita. Philadelphia Fed President Anthony Santomero will speak at 7 p.m.
Crude prices plummeted, with oil for November delivery diving $1.57 to $63.90 a barrel in Nymex trading after hitting an intraday low of $63. Natural gas futures rebounded from an earlier selloff to rise 21 cents to $14.23 per mmBtu, and unleaded gasoline was down 6 cents at $2 a gallon.
"Oil is a big story, but there continues to be positive economic news as well," said Edgar Peters, chief investment officer with Pan Agora. "There's been a push-pull with the prospect for higher interest rates and oil prices."
Shares of oil companies were trading lower.
BP
(BP) - Get Free Report
fell 2.6% after the company estimated that hurricanes Katrina and Rita will lower its third-quarter replacement-cost profit by more than $700 million, before interest and taxes.
Additionally,
Valero
(VLO) - Get Free Report
was lower by 3.1%, and
Exxon Mobil
(XOM) - Get Free Report
closed down 3.1%.
Meanwhile,
Chesapeake Energy
(CHK) - Get Free Report
was weaker after the company late Monday announced the acquisition of
Columbia Natural Resources
for $2.2 billion in cash and the assumption of $75 million in debt. Chesapeake lost $1.24, or 3.2%, to $37.62.
Monday began the last quarter of 2005 with mixed results after a strong September ISM manufacturing report raised worries that the Federal Reserve has more reason to continue its rate-hiking campaign. The Dow Jones Industrial Average lost 33, the S&P 500 dipped by 2 points, and the Nasdaq Composite gained about 4 points.
On the economic front, the Census Bureau said factory orders rose 2.5% in August. Economists expected orders to increase by 1.8% after a 1.9% decline in July.
"While the economic data still remain good or better than expected, it still brings up concerns that the Federal Reserve will continue to raise rates," said Peter Cardillo, chief market analyst with S.W. Bach & Co.
Among companies,
Lexmark International
(LXK)
plunged 28.6% after the company warned that third-quarter earnings and revenue will come in below expectations. The company now expects third-quarter earnings of 40 cents to 50 cents a share, down from its previous forecast of 95 cents to $1.05 a share.
Revenue will likely fall 4% to 5% from a year ago. Lexmark blamed the warning on declining laserjet and inkjet supplies revenue. Shares fell $17.44 to $43.50.
Clorox
(CLX) - Get Free Report
also issued a profit warning, cutting its earnings target for the second quarter to a range of 41 cents to 47 cents a share from its previous outlook of 50 cents to 57 cents a share. The company also cut its full-year earnings from its previous guidance. Clorox cited rising energy costs as the reason for the earnings warning. The stock lost 77 cents, or 1.4%, to $53.81.
After the closing bell Monday,
CMGI
(CMGI)
posted fourth-quarter earnings of $300,000, or less than a penny a share, compared with a loss of $6.8 million, or 2 cents a share, a year ago. Revenue jumped to $251.2 million from $96.5 million a year earlier after the acquisition of
Modus Media
. CMGI gained 2 cents, or 1.2%, to $1.73.
Google
(GOOG) - Get Free Report
and
Sun Microsystems
(SUNW) - Get Free Report
announced a collaborative effort Tuesday involving distribution of a new software product that will compete with
Microsoft's
(MSFT) - Get Free Report
Office and Outlook programs. Google was down $7.68, or 2.4%, to finish at $311, while Sun gained a penny, or 0.2%, to $4.20.
In ratings moves, Goldman Sachs cut
Texas Instruments
(TXN) - Get Free Report
to underperform from in-line as the firm believes the company's margins are cyclically peaking. TI fell by $1.87, or 5.5%, to $32.01.
Citigroup downgraded
Procter & Gamble
(PG) - Get Free Report
to hold from buy, citing concerns over raw material pricing. The firm also cut its stock price target to $59 from $61. P&G was down $1.23, or 2.1%, to finish at $58.08.
Overseas markets were mixed, with London's FTSE 100 down 0.3% at 5486 and Germany's Xetra DAX adding 0.9% to 5129. In Asia, Japan's Nikkei gained 1.6% overnight to 13,738, while Hong Kong's Hang Seng slipped 0.1% to 15,382.