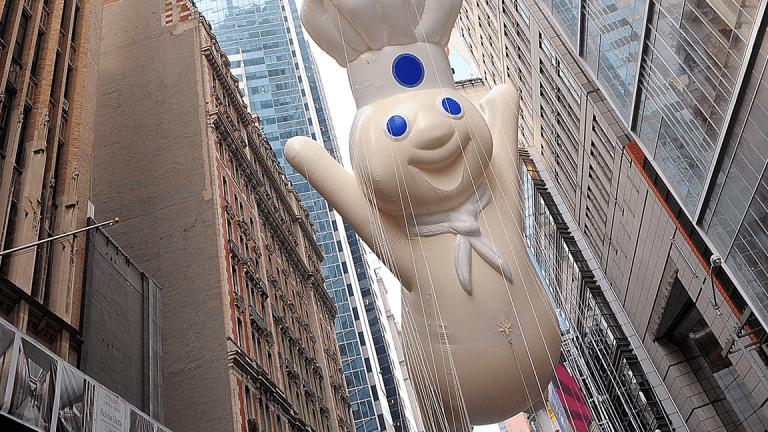 Pillsbury Sold to Private Equity Firm; Goldman Trading Poised for Rebound--ICYMI
Here's what you need to know now for Tuesday, July 10.
The Pillsbury Doughboy has seen better days. J.M. Smucker (SJM) - Get J.M. Smucker Company (The) Report  announced this week it will sell Pillsbury, along with other U.S. brands, to private equity firm Brynwood Partners for $375 million. While the latest deal helps Smucker concentrate on high-growth areas such as pet food, healthy products and coffee, the underperforming brands it divested sold at a discount. "Proceeds of $375 million (or roughly 1 times sales) fell below what we had expected," wrote Credit Suisse Robert Moskow in a note Monday evening. "We expect more earnings dilution to come for big U.S. food companies (like General Mills and Campbell) as they sell their underperforming brands at low prices and acquire fast-growing contemporary brands at high ones in order to improve the quality of their portfolios." Bloomberg reported on March 7 that Smucker was looking to fetch $700 million from the business. Smucker bought the brands in 2004 as part of its $840 million acquisition of International Multifoods Inc.
Markets today: The Dow and S&P 500 indexes ended higher for a fourth straight day, while the Nasdaq ended flat Tuesday as earnings season got underway with strong results from PepsiCo (PEP) - Get PepsiCo Inc. Report  . The Dow Jones Industrial Average closed up 143 points, or 0.58%, to 24,920, the S&P 500 rose 0.35% and the Nasdaq edged up 0.04%. It was the S&P 500's highest close since Feb. 1.
Goldman's (GS) - Get Goldman Sachs Group Inc. (The) Report  back! Did it ever leave? Well, the Wall Street firm is poised to report its second-straight quarter of besting rivals such as JPMorgan (JPM) - Get JP Morgan Chase & Co. Report  and Morgan Stanley (MS) - Get Morgan Stanley Report  in the business of transacting in stocks and bonds, after a worst-in-class trading performance in 2017. Goldman likely increased trading revenue by 23% in the second quarter, RBC estimates. That figure dwarfs an estimated 6.5% gain at JPMorgan, the biggest U.S. bank, as well as a 7.2% gain at Morgan Stanley, Goldman's longtime rival in the securities business. A rebound in the trading business could help restore investors' faith in New York-based Goldman as the firm's executives, led by CEO Lloyd Blankfein and President David Solomon, try to shore up a lagging stock price. The firm's shares are down 2% since the start of 2017, even as rival Wall Street firms have posted double-digit gains. The trading predictions come as the biggest U.S. banks prepare to post second-quarter results, starting with JPMorgan, Citigroup (C) - Get Citigroup Inc. Report  and Wells Fargo (WFC) - Get Wells Fargo & Company Reporton Friday. Goldman is next week with Bank of America (BAC) - Get Bank of America Corporation Report  .
This is an excerpt from "In Case You Missed It," a daily newsletter brought to you by TheStreet. Sign up here.