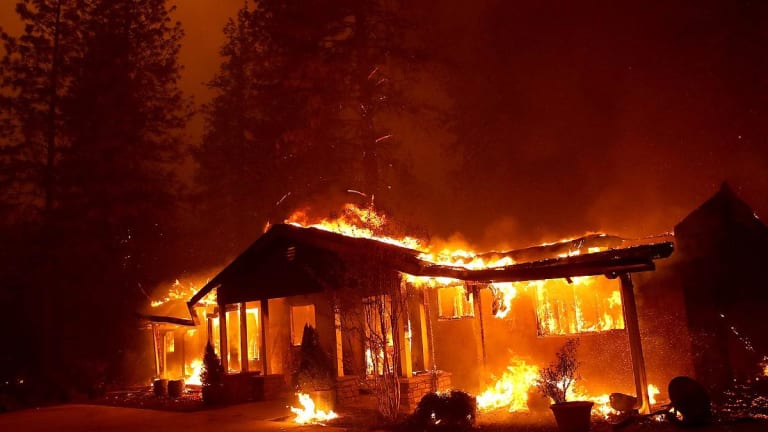 PG&E Shares Slide Following Thursday's Surge
Cal Fire's finding that utility isn't responsible for deadly 2017 fire unlikely to halt bankruptcy, the company hints.
Shares of PG&E Corp.  (PCG) - Get Report -- the beleaguered California utility company seen as partly responsible for a string of wildfires in the Golden State -- dropped 15.6% by Friday's close, following a rapid rise in value Thursday.
The fall to $11.77 a share on, Jan. 25 came after the company surged to $13.95 by Thursday's close, up around 80% from the day prior on news that California fire officials said PG&E wasn't to blame for a deadly 2017 blaze.
California Department of Forestry and Fire Protection investigators declared that an earlier fire, dubbed Tubbs Fire, was caused by a private electrical system near a home, and that no code or legal violations related to the fire's cause were found.
"CAL FIRE has completed its investigation of the 2017 Tubbs Fire and concluded that PG&E facilities did not cause the fire," added the power company in its own statement Thursday. 
But legal action from victims of the Tubbs Fire in Sonoma County -- which had destroyed 36,807 acres and killed 22 people -- was one of the reasons PG&E said it had planned to file for Chapter 11 bankruptcy earlier this month. It's also facing challenges and legal costs over the Camp Fire in 2018 that caused 86 deaths and is still under investigation.
When asked for comment about whether PG&E would proceed with its planned bankruptcy, a spokesperson told the TheStreet to see PG&E's statement from Thursday, that read: "The devastating and unprecedented wildfires of 2017 and 2018 have had a profound impact on our customers, employees and communities. Regardless of today's announcement, PG&E still faces extensive litigation, significant potential liabilities and a deteriorating financial situation, which was further impaired by the recent credit agency downgrades to below investment grade."
The note continued: "Resolving the legal liabilities and financial challenges stemming from the 2017 and 2018 wildfires will be enormously complex and will require us to address multiple stakeholder interests, including thousands of wildfire victims and others who have already made claims and likely thousands of others we expect to make claims."
This story has been updated.