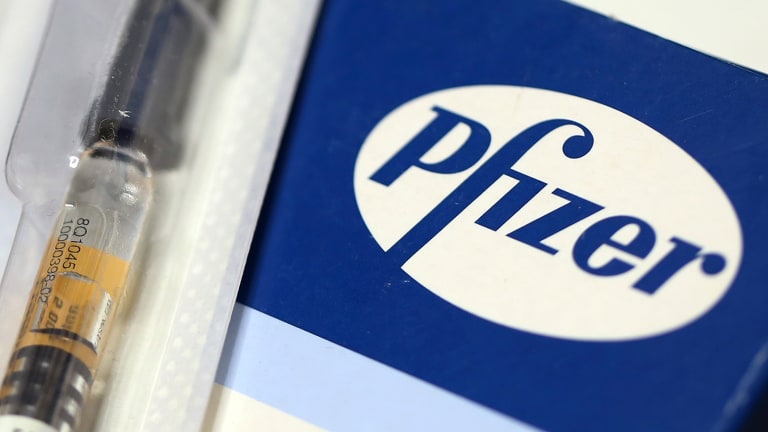 Pfizer Announces Big Reorganization As It Continues Trying to Sell Consumer Biz
The changes will take effect at the start of 2019.
Pharmaceutical giant Pfizer Inc. (PFE)  announced on Wednesday morning that it is reorganizing into three businesses: innovative medicines, established medicines and consumer healthcare.
"This new structure represents a natural evolution of these businesses given the ongoing strength of our in-market products and our late-stage pipeline and the expected significant reduction in the impact of patent protection losses post-2020 following the loss of exclusivity for Lyrica in the U.S which is expected to occur in or after December 2018," said Pfizer chairman and CEO Ian Read.
Lyrica is used for the treatment of diabetic nerve pain and spinal cord injury nerve pain, among others. 
Pfizer said the reorganization will take effect at the start of 2019.
Pfizer is currently organized into two businesses, one of which is the innovative health unit, which focuses on the development and commercialization of medicines and vaccines and also includes consumer healthcare products. The other business is essential health, which includes products that have lost or will soon be losing market exclusivity. It also includes branded generics and biosimilars, among others.

The reorganization news came after Pfizer last night said it will defer drug price hikes that were scheduled to be effective on July 1 after an "extensive discussion with President Trump."
Pfizer said it is deferring the increases to "give the president an opportunity to work on his blueprint to strengthen the healthcare system and provide more access for patients."
Trump on Monday blasted Pfizer and others in a tweet, saying the companies "should be ashamed" for increasing prices "for no reason."
The New York-based company said its innovative medicines business will now include biosimilars and a new hospital business unit for anti-infectives and sterile injectables.
The established medicines business will house the majority of Pfizer's off-patent solid oral dose legacy brands, including Lyrica, Lipitor and Viagra, as well as some generic drugs.
The consumer healthcare business will include all of the company's over-the-counter medicines. Pfizer said it continues to review strategic alternatives for the consumer unit and expects to make a decision this year.
Pfizer said in October it was reviewing strategic options for the unit, which includes brands such as Advil and Preparation H.
In January, Reuters reported that Johnson & Johnson (JNJ)  had dropped out of the running for the business. On March 22, Reckitt Benckiser Group plc said it had terminated talks for parts of the Pfizer division and a day later, GlaxoSmithKline plc (GSK) issued a statement saying it had withdrawn from the sales process for the unit.
Procter & Gamble Co. (PG) , which was reported by CNBC on April 3 to be in talks for the Pfizer unit, on April 19 unveiled a deal to buy Merck KGaA's consumer healthcare business.
On Pfizer's first-quarter earnings call on May 1, Read said Pfizer has not received "an acceptable offer for the sale of this business."
Shares of Pfizer were trading at $37.37 at the market's open on Wednesday, down 0.1%. Year to date, shares are up 3%.
-- Martin Baccardax contributed to this article