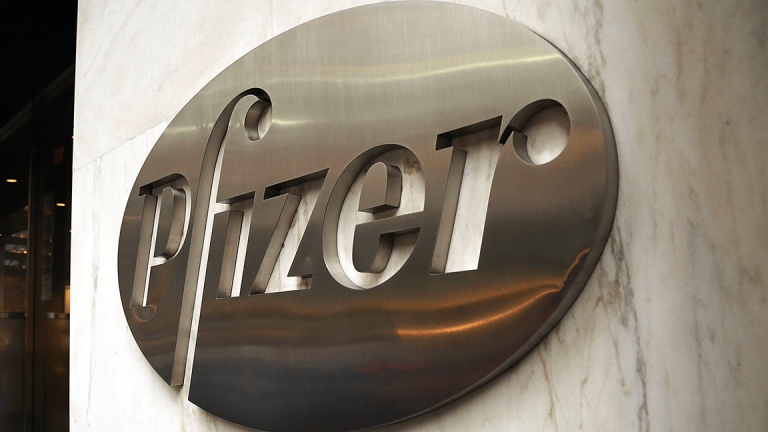 Pfizer Rolls Back Drug Price Hike Following Trump Talks
Pfizer bowed to pressure from President Donald Trump late Tuesday by agreeing to temporarily rollback a planned price increase following Tweets suggesting the group "should be ashamed".
Pfizer Inc. (PFE) - Get Pfizer Inc. Report shares drifted lower in pre-market trading Wednesday after the pharmaceutical group said it would delay drug price increases following a meeting with President Donald Trump.
Pfizer said the price hikes, which the President had harshly criticised on Twitter and were set to take effect on July 1, would be delayed for a maximum of six months, or whenever the President was able to get his drug price blueprint put in place. The company also unveiled plans to re-organize it business into three separate units and continue to look at the sale of its healthcare unit.
"Pfizer shares the President's concern for patients and commitment to providing affordable access to the medicines they need," CEO Ian Read said in a statement. "The most fundamental way the biopharmaceutical industry creates value is by discovering innovative medicines that help people live longer, healthier, more productive lives."
Pfizer shares were seen 0.21% lower in pre-market trading in New York, indicating an opening bell price of $37.35 each, a move that would trim its year-to-date gain to around 3.1%. 
Pfizer's new business re-organization will see the creation of three divisions -- consumer healthcare, innovative medicines and and off -patent branded and generic Established Medicines business -- starting the 2019 fiscal year.
"This new structure represents a natural evolution of these businesses given the ongoing strength of our in-market products and our late-stage pipeline and the expected significant reduction in the impact of patent protection losses post-2020 following the loss of exclusivity for Lyrica in the U.S which is expected to occur in or after December 2018," Read said. "As we transition to a period post-2020 where we expect a higher and more sustained revenue growth profile we see this new structure better positioning each business to achieve its growth potential."
Pfizer also said it would continue to look at strategic alternatives for its consumer healthcare business, which includes brands such as Advil, ChapStick, Centrum and Preparation H and generated just over $905 million in first quarter sales, up 7% from the year-ago period.
Pfizer had planned price increases on around 40 of its products, including Viagra and Lipitor, although the ultimate impact on sales was difficult to gauge given the workings of rebates and various discounting arrangements the company has in place.
Paired with the company's January price hike of an average of 10%, Pfizer would have sent drug prices about 20% higher this year, essentially ignoring pressure from the Trump administration to make prescription drugs more affordable.
Pfizer makes a wide variety of drugs including erectile dysfunction medication Viagra, smoking cessation drug Chanix, glaucoma eyedrops Xalatan and Lyrica pain medication.
Drug pricing was a campaign issue in the 2016 presidential election, with candidate Trump pledging to get tough with pharma companies and bring prices down. But since taking office, Trump has failed to make a dent in rising prices.
In his State of the Union address in January, Trump said, "One of my greatest priorities is to reduce the price of prescription drugs. I have directed my administration to make fixing the injustice of high drug prices one of our top priorities. Prices will come down."