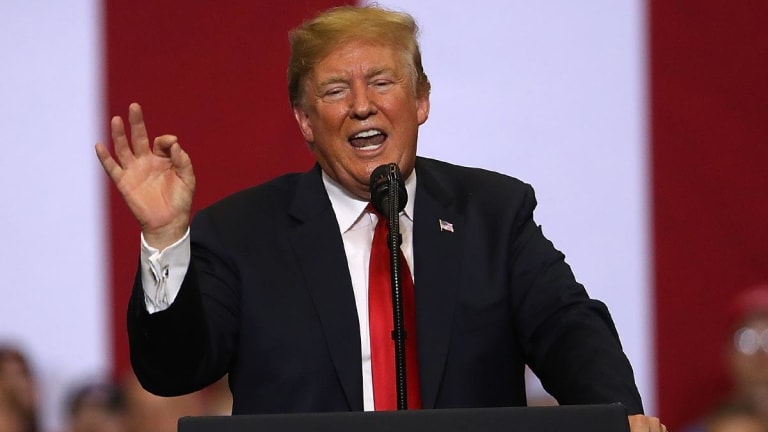 Trump Blasts Pfizer for High Drug Prices in Tweet, but Stock Still Rises
President Trump criticized Pfizer and others in a tweet on July 9, saying they hiked prices 'for no reason.'
President Trump's bite may be worse than his bark. 
Pfizer Inc.'s (PFE) - Get Pfizer Inc. Report shares closed up 0.1% on Monday, July 9, despite Trump's tweet earlier in the day blasting the drugmaker and others on drug prices.
In his tweet, the president said the companies "should be ashamed" for increasing prices "for no reason."
"We will respond!" Trump added.
Pfizer shares, which were trading around $37.43 in early afternoon, dipped to around $37.19 immediately after the tweet. The stock, which saw an intra-day low of $37.01, went on to finish the trading session up slightly at $37.16.
The New York-based drug giant raised prices of its drugs by an average of 9% as of July 1. Paired with the company's January price hike of an average of 10%, Pfizer has sent drug prices about 20% higher this year.
A Pfizer spokesperson in an email on Monday reiterated a previous statement that the list price remains unchanged for the majority of its medicines.
The company has more than 400 medicines and vaccines in its portfolio. It makes a wide variety of drugs including erectile dysfunction medication Viagra, smoking cessation drug Chanix, glaucoma eyedrops Xalatan and Lyrica pain medication.
"[W]e are modifying prices for about 10% of our medicines, including some instances where we're decreasing the price," the Pfizer spokesperson said. "Importantly, list prices do not reflect what most patients or insurance companies pay. In the first quarter of 2018, the net selling price increase was 0% due to the growing amount of rebates paid back to stakeholders in the biopharmaceutical supply chain."
Drug pricing was a campaign issue in the 2016 presidential election, with candidate Trump pledging to get tough with pharma companies and bring prices down. But since taking office, Trump has failed to make a dent in rising prices.
In his State of the Union address in January, Trump said, "One of my greatest priorities is to reduce the price of prescription drugs. I have directed my administration to make fixing the injustice of high drug prices one of our top priorities. Prices will come down."
The administration rolled out a series of ideas on how to make the pharmaceutical sector more competitive, with most of the ideas aimed at getting generics to market faster, and shaming drug companies for interfering with that process. One idea being studied by the FDA is to require drug companies to include their list price for drugs that are advertised on TV as part of direct-to-consumer commercials.
-- Bill Meagher contributed to this article