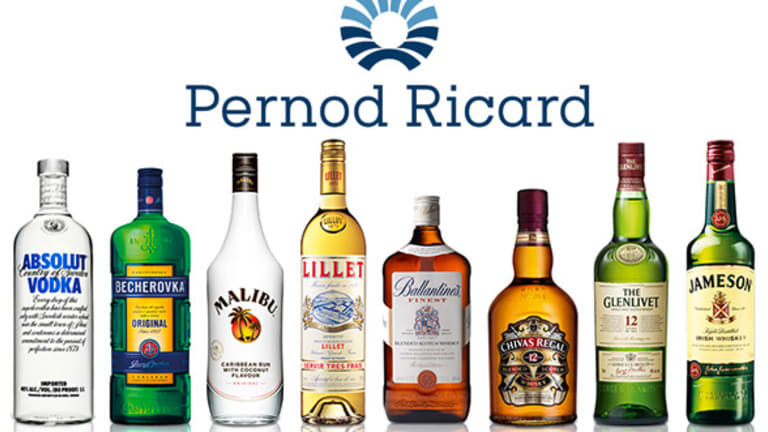 Pernod Ricard (PDRDF) CEO Says Premiumization is Driving Performance
Pernod Ricard CEO Alexandre Ricard discusses the business of distilling.
NEW YORK (TheStreet) --Paris-based Pernod Ricard (PDRDF) is the world's second largest distillery, owning a number of brands including Absolut Vodka, Jameson Irish Whiskey, and Malibu. The company says a consumer shift to premiumization is what is driving its performance.
Pernod Ricard gets 31% of its revenue from Europe, 29% from the Americas, and 40% from Asia and the rest of the world, according to CNBC.
Pernod Ricard CEO Alexandre Ricard joined this morning's "Squawk Box" on CNBC to discuss some of the company's high-end brands and the intricacies of the distilling business.
The fastest growing premium spirit in the U.S. currently is Jameson Caskmates, Ricard noted.
"This brand is very cool, accessible, versatile, and the taste is extremely smooth. It's tripled distilled which is quite differentiated," he said.
Discussing the vodka segment of the company, Ricard explained that while one brand, Absolut, appears to have lost some of its luster with American consumers, it remains quite popular outside of the U.S.
"Absolute is pretty cool outside of the U.S. Within the U.S. market the vodka segment is highly competitive; however we've upped our investment behind Absolut," Ricard added.
He explained why some brands of alcohol are more expensive than others, even though people attest they cannot taste a significant difference.
"You have craftsmen in our industry that work behind these products. There is a heritage behind them, know-how, and expertise. We do blind tastings, and you do see that there really is a difference," Ricard explained.
For Pernod Ricard currently the toughest market to gain footing in is China, Ricard noted. However, the company does see success with one of its brands.
"China is a difficult market currently. The most popular segment in China right now is Cognac with the market leader being Martell, which is a 300-year-old brand," Ricard said.