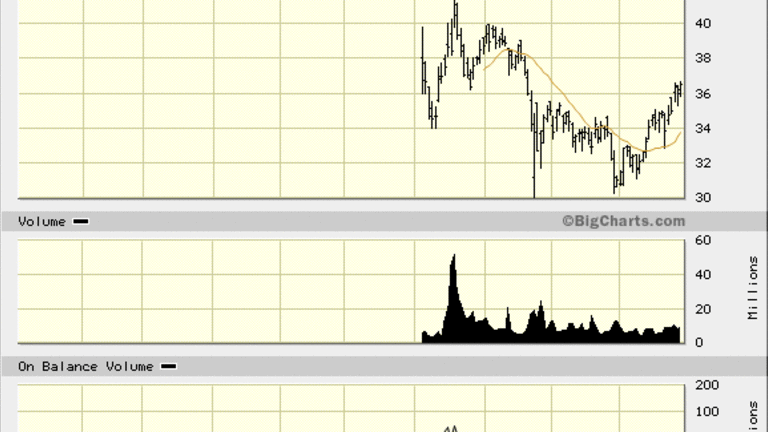 PayPal (PYPL) Stock Chart Offers Only So Many Clues, Could Head Lower
If we have broken down from a rising wedge pattern, I would look for the stock to trade back down to $30.
NEW YORK (TheStreet) -- There must be something in our DNA to explain why we are attracted to initial public offerings (IPO). Maybe it is related to our attraction to new cars? Action Alerts PLUS holding PayPal (PYPL) - Get Free Report has definitely attracted attention.
In other stories I've commented on my problem with IPOs. Chartists look at a security's history of activity to draw conclusions about where and how it might trade. With only four months of trading in PYPL, my ability--maybe others can do this better--to gauge a stock's "personality" is restricted, but here we go:
We can see in this chart of PYPL, above, that resistance was encountered above $40 and support was found in the $32-$30 area. Prices drifted higher this month in what might be considered a rising wedge pattern. Years ago, I learned that a rising wedge pattern was a bearish continuation pattern. Prices rise in a tighter and tighter range on light volume, and then one morning this elevation stops abruptly. The rise in PYPL this month to around $37 from near $30 fits that description. What happens next is that in a very short period of time the gains seen in the rising wedge are erased. PYPL is trading sharply lower this morning.
If we have broken down from a rising wedge pattern, I would look for PYPL to trade back down to $30. Please note: We have just four months of price history.