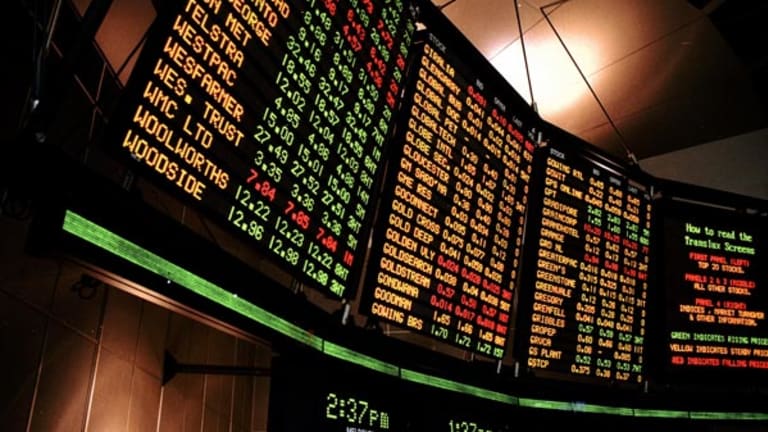 Papers Set to Make Headlines
Looking for bullish indicators as earnings season gets under way for the newspaper sector.
Editor's Note: This column by Steve Birenberg is a special bonus for TheStreet.com and RealMoney readers. It first appeared on Street Insight at 7:05 a.m. EDT on April 11, 2006. To sign up for Street Insight, where you can read Birenberg's commentary in real time, please click here.
The newspaper industry continues to face deep problems -- some cyclical, some structural. Heading into first-quarter 2006 earnings season, earnings estimates remain under pressure virtually across the board.
For example, industry leader
Gannett
(GCI) - Get Gannett Co. Inc. Report
told analysts in late March that earnings would come in at the low end of the range for first quarter. The firm cited ongoing weakness in automotive and national advertising, two problems that plague the entire industry. (Gannetts problems with its U.K. operations are company-specific.)
Retail advertising and subscriber losses are also hurting industry growth rates, so earnings season is likely to have more negative surprises than positive ones. As earnings reports begin to come in this week, here are some things to keep an eye on:
Industry Weakness
Automotive advertising, a major category for the industry, has been dropping at double-digit rates. In this case, the problems appear to be cyclical and structural. Clearly, there is a trend toward the Internet for auto advertising. However, weak auto sales and scaled-back incentives also are exerting cyclical pressure. Advertising Age recently noted that Ford (F) - Get Ford Motor Company Report would have flat to lower ad expenditures this year, and a greater proportion of the spending was headed online.
National advertising, another major category, has also been weak. Telecom has been a big culprit, but I believe this is largely due to recent mergers, particularly among wireless carriers. The wireless industry has been a big newspaper advertiser, but mergers have taken AT&T Wireless and Nextel out of the picture over the past two years, allowing the acquirers, AT&T (T) - Get AT&T Inc. Report and Sprint (S) - Get SentinelOne Inc. Class A Report to gain economies in the advertising budget. Thus, this factor would seem to be cyclical, and since the mergers are lapped on a year-over-year basis and new branding comes from AT&T, the recent pressure on this category could dissipate, and growth might return.
Mergers have also caused a problem in retail advertising. As Federated Department Stores( FD) has bulked up, it has meant loss of advertising in key markets where the company formerly competed with Marshall Field's or May Department Stores. Since Federated is switching from a regional to a national branding strategy by putting the Macy's nameplate on hundreds of stores, the impact on newspapers is structural. Federated will now spend much more of its ad budget on the most effective national ad platforms, such as TV.
Losing Subscribers
Another structural issue the industry faces is loss of subscribers. Until about a year ago, the decline was steady but modest. However, the losses accelerated last year. At least part of the problem came from subscriber restatements as newly audited figures revealed many instances of overstatement. These losses will soon be mitigated in year-over-year measurements, but I have to believe that some small part of the acceleration in subscriber losses is due to what appears to be Round 2 of the Internet wave, this time driven by broadband connections.
One other thing to consider as newspaper companies begin to report is that, in general, advertising and circulation trends have been worse in larger markets. There have been some signs recently that smaller markets are beginning to succumb.
Lee Enterprises
(LEE) - Get Lee Enterprises Incorporated Report
is a smaller-market operator that has recently seen its ad trends revert toward the industry mean.
The Ottaway division of
Dow Jones
( DJ) has also had weak numbers. Nevertheless, the problems are worse at large daily metros, and the earnings reports from Gannett,
New York Times
(NYT) - Get New York Times Company (The) Report
and
Tribune
( TRB) will set the tone for investor sentiment toward the industry.
Weak Investor Sentiment
Turning to the current setup in the newspaper stocks, nothing I have written should come as any surprise. The demise of the newspaper industry has been widely discussed and is conventional wisdom.
The recent sale of
Knight Ridder
( KRI) to
McClatchy
(MNI) - Get McClatchy Company Class A Report
at a modest multiple was a convenient excuse for pundits to dump on the industry, so sentiment is currently about as bad as it has ever been. Newspaper stock prices, which have declined steadily for the last few years, and valuations, commonly judged on enterprise value to EBITDA, are slightly below long-term historical averages at around 8 times 2006 estimates.
Of course, one could argue that given the challenges the industry faces, "slightly" cheap on a historical basis is not saying much. The same thing could be said about valuations relative to other media sectors. Multiple compression in entertainment and cable has been worse, so the discount for newspapers has actually shrunk significantly. Maybe the other sectors were even more overvalued and are now responding to their own set of challenges. However, intrasector relative valuation is a headwind for newspaper stocks.
Potential Upside
Despite lousy fundamentals, with sentiment poor and conventional wisdom well entrenched, I am actually entering this earnings season looking for a reason to become bullish. As mentioned, some of the problems are cyclical. Comparisons on advertising and subscribers will begin to ease in the second quarter. Newspaper management teams have kept a tight lid on controllable costs, with many companies keeping costs close to flat on a year-over-year basis.
Consider these questions. If cyclical trends stop declining, might we be at the point at which estimates stabilize? Could success in monetizing Internet traffic to local newspaper Web sites provide a growth engine? Have recent Internet acquisitions provided the opportunity to develop large, growing business units that can move the needle on the top and bottom lines? Is sentiment poor enough and are valuations cheap enough to ignite a tradeable rally in the group?
Since I am not long any newspaper stocks beyond an odd-lot holding of Tribune, I plan to enter earnings season looking for affirmative answers to these questions. I've got nothing to lose, and at this point, I think that any investment opportunity in the group lies on the opposite side of the deeply entrenched conventional wisdom.
Editor's Note: This column by Steve Birenberg is a special bonus for
TheStreet.com
and
RealMoney
readers. It first appeared on
Street Insight
at 7:05 a.m. EDT on April 11, 2006. To sign up for
Street Insight
, where you can read Birenberg's commentary in real time, please click here.
At the time of publication, Birenberg held a single account with an odd lot in TRB.
Steven Birenberg, CFA, is president and chief investment officer of
Northlake Capital Management, LLC
. Northlake specializes in managing equity portfolios using a combination of exchange-traded funds and special situation stocks. Prior to forming Northlake, Steve was a principal, director of research, and portfolio manager at Gofen and Glossberg, LLC. Prior to that, Steve was a trust investment officer at Star Bank in Cincinnati, Ohio. Steve has been managing portfolios and researching stocks for more than 22 years. Steve's research experience has included almost every economic sector with special emphasis on the media sector. Steve earned his Bachelor of Science in Business Administration from Miami University, Ohio. From 1987 through 1992, Steve taught at the CFA preparatory program the Study Seminar for Financial Analysts in Windsor, Ontario.