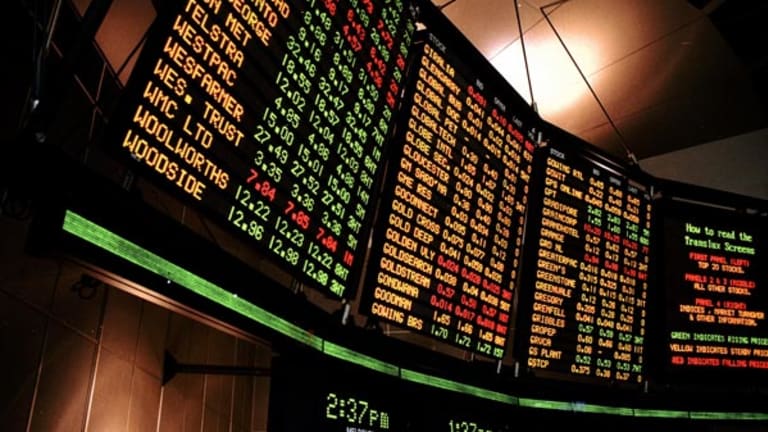 Overstock Paddles the Amazon
The retailer's following the road traveled by Bezos & Co. several years back.
The retailer's following the road traveled by Bezos & Co. several years back.
This column was originally published on RealMoney on May 17 at 1:50 p.m. EDT. It's being republished as a bonus for TheStreet.com readers.
Long-term value investors have a distinct advantage over the short-sellers of
Overstock
(OSTK) - Get Report
. That is, value investors can "buy and hold" this stock and ignore the naysayers.
Short-sellers have no such luxury. It doesn't make sense to "short and hold" Overstock for a couple of reasons.
First, because of
lax rule enforcement and woeful
internal market controls, there are already twice as many shares sold short (9 million) than are lendable (4.5 million). By my estimation, about 70% of Overstock shares have been certificated or are in the process of being certificated, making short positions problematic.
The second reason not to take a short-and-hold position in Overstock is because the stock is dramatically undervalued. This stock has significant multibagger potential as it grows toward profitability.
Wall Street has an analytical blind spot when it comes to identifying changes in profitability. It's a result of the linear bias of analysts, namely, that what happened yesterday will happen tomorrow.
Because of this blind spot, huge valuation adjustments are accorded online retailers as they morph from unprofitable to profitable. Shares of
Amazon
(AMZN) - Get Report
soared 700% from late 2001 to 2003 when that company became profitable.
Shares of
Netflix
(NFLX) - Get Report
also scored a seven-bagger in a short time as the company became profitable.
At their lows, Amazon traded at 75% of sales and Netflix traded at 60% of sales. Currently, Overstock trades at slightly less than 50% of sales.
Investors Have to See Through the Negativity
Only a bold and courageous investor will secure the multibagger opportunity in Overstock. That's because companies don't sell at a fraction of their value unless they are enveloped by negativity, and negativity abounds when it comes to Overstock.
Staying with the Amazon corollary, look at the negative commentary below that enveloped that company in 2001. What is startling is that this is virtually an exact copy of the negative commentary currently directed toward Overstock. As I've noted in an
earlier column, the evolution of Overstock's operating model is remarkably similar to Amazon's.
By the way, this is just a sampling of what I found the "experts" were saying about Amazon within a few days or weeks of the low in the stock. In less than an hour of research, I collected several dozen similar quotes, many of which are from the same characters who criticize Overstock today.
"They're still losing money and are likely to do so for the foreseeable future." -- A hedge fund manager.
"When are they going to earn money? That's what investors want to know. If they could turn profitable, people would be interested. It's up in the air whether their business model will work." -- A money manager.
"They have to show the Street that they can make money." -- Wall Street analyst
"They don't have a proven business model." -- Wall Street analyst
With the benefit of hindsight, the attacks on Bezos in late 2001 were harsh and unfair. For example, when Bezos said the company would grow into profitability, a major business publication said: "Should we believe him? The answer is probably, no ... the numbers don't look good." When Bezos declined to comment for the story, the writer implied "that may be because the numbers raise scary questions."
Look at the negativity embedded in this survey question, directed to investors in general in 2001:
"Is CEO Jeff Bezos dreaming when he says Amazon can be profitable? When do you think Amazon will make money?"
The survey had several specific years to choose from; nevertheless, 52% of the votes went to the last choice: "Never."
As you can see, Amazon CEO Jeff Bezos was the target of scorn and ridicule back in 2001. Of course, Overstock CEO Patrick Byrne is currently the target of negative commentary, much of it unwarranted as I explained in this
earlier column.
Here are some more priceless words of wisdom concerning Jeff Bezos near the stock low in 2001. Each quote is directed toward Bezos, but the quotes are eerily similar to current negativity directed at Overstock's CEO.
"A danger sign for any leader is if they become the issue. It's usually time for that leader to do something drastic, and that usually means leaving." -- University professor
The following quotes are from various commentators:
"Bezos has lost control." "Bezos' high profile may be as much a liability as an asset." "He's become a lightning rod." "They (Amazon) still need a chief executive officer like Joe Galli." "Jeff Bezos is justifiably considered a brilliant person ... it would benefit everyone if he would apply that brilliance to running the company."
This scorn and ridicule were directed at Bezos only a couple of years after he was being widely acclaimed, including being named Time magazine's "Man of the Year." It's interesting to note that Patrick Byrne was named an "Entrepreneur of the Year" by Ernst & Young in 2003 and was listed in 2002 as one of the 25 "most influential people" in e-business by
Business Week
.
Value investor Bill Miller, manager of the
Legg Mason Value Trust
(LMVTX), was a lone voice of rationality on Amazon back in 2001. As one commentator put it, "to the bewilderment of his peers, Miller believes Amazon's business model will one day emerge victorious."
How did Miller see through the negativity? He said that investors have to set aside "preconceived notions" and look at "the long-term reality."
In my next column, which should publish next Monday, I'll go into detail about the long-term reality of the Overstock model, its earnings power and how to value the company.
P.S. from TheStreet.com Editor-in-Chief, Dave Morrow:
It's always been my opinion that it pays to have more -- not fewer -- expert market views and analyses when you're making investing or trading decisions. That's why I recommend you take advantage of our
to TheStreet.com's
RealMoney
premium Web site, where you'll get in-depth commentary
and
money-making strategies from over 50 Wall Street pros, including Jim Cramer. Take my advice --
At time of publication, Alsin and/or ACM was long Overstock, although holdings can change at any time.
Arne Alsin is the founder and principal of Alsin Capital Management, an Oregon-based investment advisor, and portfolio manager of The Turnaround Fund, a no-load mutual fund. Under no circumstances does the information in this column represent a recommendation to buy or sell stocks. Alsin appreciates your feedback;
to send him an email.