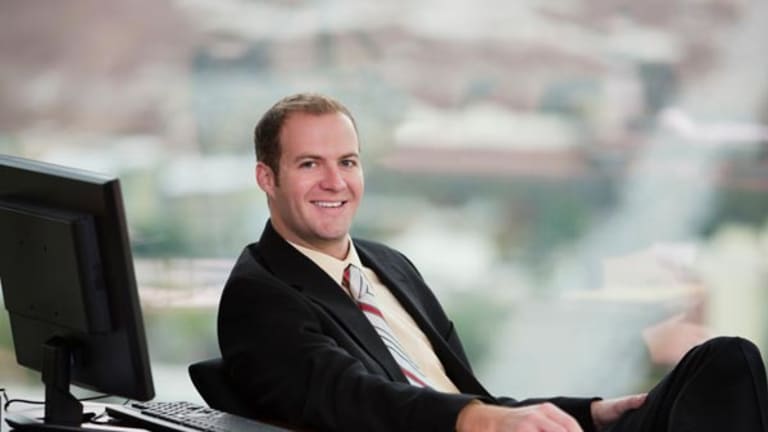 Overstock Is on Discount
Ignore the furor. The company's numbers reveal a stock that could quadruple.
This column was originally published on RealMoney on March 13 at 11:16 a.m. EST. It's being republished as a bonus for TheStreet.com readers.
Over the past year there has been an avalanche of negativity about
Overstock
(OSTK) - Get Overstock.com, Inc. Report
. The company has been criticized for underperforming analyst expectations in 2005, and there has been a swirl of controversy surrounding Patrick Byrne, CEO of Overstock, and his legal battle over alleged front-running by certain hedge funds.
My review of the financial statements and operating history of Overstock indicates that the negativity is overdone. This is a severely undervalued company.
As I'll explain below, my minimum prospective value for Overstock shares is $92 in 2010; it currently trades at about $23.
Overstock's business is not complicated -- it's the online equivalent of an outlet mall. The excess inventory segment of the retail market is ideally suited for the Internet. Brand-name manufacturers can avoid the inefficiencies of supplying and staffing retail outlet stores by partnering with an online aggregator like Overstock.
Also, excess inventory levels are notoriously irregular and difficult for manufacturers to manage. They have to deal with unpredictable change in both the nominal level and across product categories. Using a single distribution partner, like Overstock, requires no capital outlay by manufacturers and results in fast conversion of excess inventory to cash.
Here's the key analytical point for this particular model: The online space that Overstock competes in is a winner-take-all category. Like with
eBay
in the online auction space, there's a self-reinforcing dynamic at work here. Buyers naturally migrate to the inventory liquidation site that has the most product, and sellers want to sell on the site that has the most buyers. It's a mistake to underestimate the importance of this dynamic -- or its potential long-term value.
Financial Statements Paint the Picture
The financial statements of Overstock tell an impressive story. Annual revenue has grown from $92 million in 2002 to $239 million in 2003, to $494 million in 2004, and to $804 million last year. Most remarkable is that this robust revenue growth -- soon to be over $1 billion per year -- has been accomplished using a minimal amount of capital.
Despite having a comparable operating structure (e.g., gross margins) to
Amazon
(AMZN) - Get Amazon.com, Inc. Report
, Overstock has used a tiny fraction of the capital that Amazon used, to build a comparable amount of business. During the past four years of rapid growth, operating losses have averaged about 3% of sales at Overstock. During the rapid growth phase at Amazon, operating losses averaged well over 20%.
When Amazon was nearing $1 billion in sales a few years ago (as Overstock is today), it took on well over $1.4 billion in debt to fund its expansion. Overstock has built a comparable base of business, with a comparable operating structure, with long-term debt of only $75 million. Long after the controversy over the hedge fund lawsuit dies down, business students will be studying this story. They can call it "Building a Billion Dollar Business on a Shoestring."
Critics of Overstock harp on the fact that the company is not making a profit. This criticism is misplaced. There's more to business value than short-term earnings. Companies with low P/E ratios can be expensive, and companies with no earnings at all can be cheap.
Consider Ford, which was being called "a steal" and "the ultimate no-brainer of an investment" in 2000 because it was selling at less than eight times earnings. Since that time, Ford shares have declined by 70%.
Certainly, the value of Overstock will eventually turn on its ability to generate cash earnings. Although the earnings leverage in this model is considerable, the near-term imperative should be maintaining and building on its dominant market position in this winner-take-all category.
Valuation of Overstock Shares
Since Amazon came public in 1998, it has never traded below one times sales, with the exception of 2001, when it was hit by a wave of negativity. At the time, the company was losing 12% at the operating line and had disappointing sales growth. It briefly traded at $5.50 per share, or 0.75 times sales. Currently, Amazon trades at over $36 per share, or 1.8 times sales.
Look for shares of Overstock to perform quite well over the next several years. While Amazon's "trough" was at 0.75 times sales, Overstock's recent low represents a much heavier discount, at less than 0.50 times sales. (Market cap of $440 million divided by $900 million in current year sales.) Using one times sales as a conservative metric, my calculations indicate that Overstock will be worth $92 per share by 2010.
I wouldn't be surprised if the long-term cash earnings power of the Overstock model eventually merits a 1.25 to 1.5 times sales valuation, which would still be a discount to Amazon's 1.8 times sales valuation. This implies a 2010 value of $115 to $139 per share. It's interesting to note that gross margins at Overstock are slightly better and expanding faster than at Amazon.
As discussed above, Overstock is much more capital efficient than Amazon. That is reflected in Overstock's balance sheet, which is in vastly better shape than the balance sheet of Amazon at a comparable point in its history. Also, growth in partner fulfillment (product shipped direct from manufacturer to customer), now at about 60% of revenue, gives Overstock both capital and margin advantages over the Amazon model.
P.S. from TheStreet.com Editor-in-Chief, Dave Morrow:
It's always been my opinion that it pays to have more -- not fewer -- expert market views and analyses when you're making investing or trading decisions. That's why I recommend you take advantage of our
to TheStreet.com's
RealMoney
premium Web site, where you'll get in-depth commentary
and
money-making strategies from over 50 Wall Street pros, including Jim Cramer. Take my advice --
At time of publication, Alsin and/or ACM was long OSTK, although holdings can change at any time.
Arne Alsin is the founder and principal of Alsin Capital Management, an Oregon-based investment advisor, and portfolio manager of The Turnaround Fund, a no-load mutual fund. Under no circumstances does the information in this column represent a recommendation to buy or sell stocks. Alsin appreciates your feedback;
to send him an email