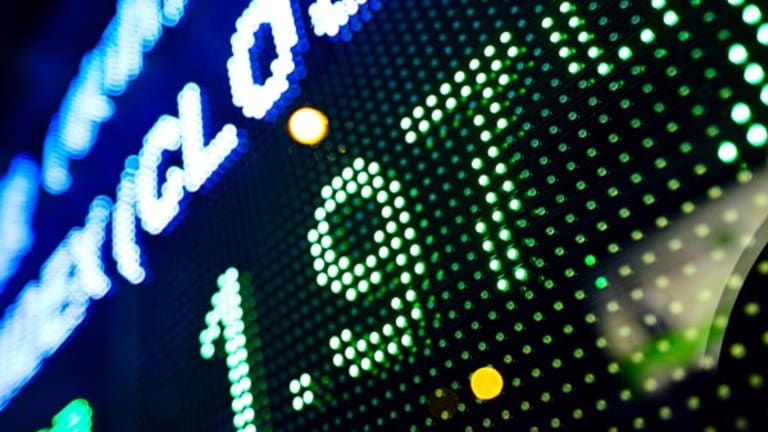 Optimism Prevails
The Nasdaq and S&P 500 close at three-month highs, adding to Friday's rally.
The Nasdaq and S&P 500 close at three-month highs, adding to Friday's rally.
Updated from 4:07 p.m. EDT
Stocks rose modestly Monday, building for a second consecutive session on momentum that greeted the new quarter.
The
Dow Jones Industrial Average
added 23.89 points, or 0.23%, to 10,216.54. The
S&P 500
gained 3.67 points, or 0.32%, to 1135.17, closing 22 points below its 2004 high. The
Nasdaq
rose 10.20 points, or 0.53%, to 1952.40, having been up as much 23 points earlier in the session. Both the S&P 500 and Nasdaq closed at three-month highs.
Volume was moderate, with 1.5 billion shares trading on the
New York Stock Exchange
and 1.8 billion shares trading on the Nasdaq Stock Market. Advancers beat decliners 3 to 2 on both venues.
"We're seeing a follow-through advance that is building on last week's broad-based gains," said Michael Sheldon, chief market strategist at Spencer Clarke LLC. "Investors seem to have started off the new month with a more positive outlook, and appear to be less concerned with the price of oil."
Sheldon says technology and economically sensitive stocks moving into leadership positions are a sign that the people believe "the economy will continue to strengthen."
Leading the blue chips higher were
American Express
(AXP) - Get Report
, up 1.9%;
Eastman Kodak
(EK)
up 2.4%; and
Wal-Mart
(WMT) - Get Report
, which rose 0.3%, despite modest September sales.
Wal-Mart announced that same-store sales last month rose just 2.3% from a year earlier, according to preliminary data. The gain is at the low end of its previous 2% to 4% guidance.
Shares of
Merck
(MRK) - Get Report
were also higher on heavy volume in the wake of their selloff last Thursday when the company decided to stop selling its arthritis drug Vioxx because of health concerns.
"The European and Asian markets followed Friday's recovery on Wall Street, which included a rally in tech," said Subodh Kumar, chief investment strategist at CIBC World Markets. Kumar said Monday's action suggests the market believes oil prices will come down.
"The fact that
stocks are trying to come out of this narrow trading range on the upside suggests that
investors are looking beyond oil," he said. Kumar added that earnings "may grow slower," but have not peaked. "When you have a tech recovery in markets that are trying to break out, that suggests to me that the markets are not that concerned about earnings peaking."
The 10-year Treasury note was 4/32 to yield 4.17%, while the dollar was higher against the yen and euro.
Crude futures fell 21 cents to $49.91 on the Nymex, after closing above $50 a barrel for the first time ever Friday. A cease-fire in Nigeria, between two rebel groups that had threatened production there, was being credited for the decline.
Tech shares were also strong, led by gains in the Philadelphia Semiconductor Index, which rose 0.8%. Driving the sector's gains were
Advance Micro Device
(AMD) - Get Report
, which rose 2%, while
Broadcom
(BRCM)
gained 1.8% and
National Semiconductor
(NSM)
added over 2.5%.
Intel
(INTC) - Get Report
contributed to the Dow's advance with a gain of 1.3%.
Over the weekend, the Group of Seven nations met, focusing on the threat of higher oil to the global economy.
"The fact that the IMF pointed out the sensitivity of the global economy
to oil prices was important," said Kumar. The G-7 nations noted that every $5 rise in oil would reduce growth, globally, by 0.3% and that global growth of 5% this year could drop to 4.3% next year. "To me that's not an environment where energy demand will be increasing," said Kumar.
Friday's rally, in which the Dow Jones Industrial Average added 112 points, or 1.1%, to close at 10,193 and the Nasdaq Composite gained 45 points, or 2.4%, to 1942, boosed overseas shares. London's FTSE 100 added 0.5% to 4681.80, while Germany's Xetra DAX rose 1% to 4033.28. In Asia, Japan's Nikkei rose 2.7% overnight to 11,280, while Hong Kong's Hang Seng gained 1.8% to 13,359.
In corporate news,
PeopleSoft
(PSFT)
expanded on the third-quarter guidance it offered Friday in conjunction with CEO Craig Conway's firing, saying Monday that overall revenue should be $680 million to $695 million. Analysts had been expecting about $660 million. The stock, which has recently traded according to the likelihood of a takeover by
Oracle
(ORCL) - Get Report
, fell 0.63 cents, or 2.8%, to $22.20.
Google
(GOOG) - Get Report
rose despite being downgraded to hold at Jefferies, which cited its recent run-up. Google closed at $132.58 on Friday, up 35% from its opening trade in August. The stock was up $2.48, or 1.9%, to $135.06.
Shares of
Siebel Systems
(SEBL)
shot higher Monday, after the company said it expected third-quarter revenue of $315 million to $317 million, well above analysts' estimates of $305 million. Shares rose $1.15, or 14%, to $9.34.
Elsewhere, shares of
Applied Materials
(AMAT) - Get Report
rose after being upgraded by J.P. Morgan to overweight from neutral. Shares gained 0.8% to $17.16.
Software company
Symantec
(SYMC) - Get Report
was downgraded to hold from buy by Janney Montgomery Scott. Symantec's stock closed 36 cents lower at $56.84.