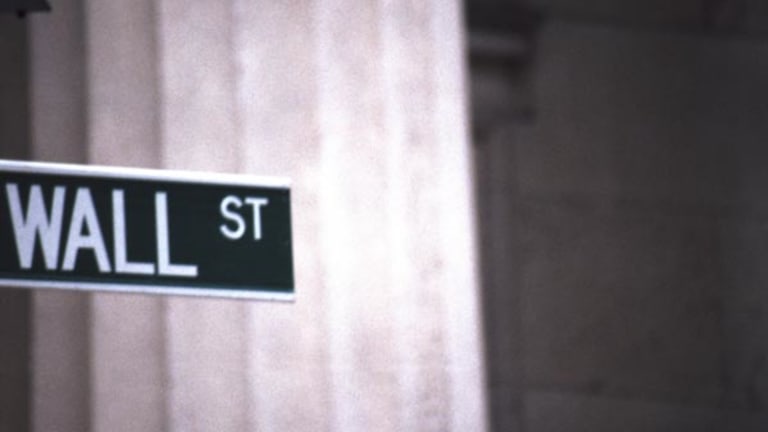 One-Two Combo of Greenspan and Earnings Knock Stocks to the Canvas
The Fed hints at a bit more easing, and corporate America hints at more troubles. Dow, S&P and Nasdaq all slide.
(Updated from 11:06 a.m. EDT)
A formidable tag team -- troubling earnings reports and comments from
Federal Reserve Chairman Alan Greenspan -- threw stocks to the canvas this morning. Wall Street started off the session in a dour mood, thanks to the latest batch of earnings, and Greenspan's remarks to Congress didn't make things better.
At 12 p.m. EDT, the
Dow Jones Industrial Average was losing 69.2 points, or 0.6% to 10,537.7; the tech-laden
Nasdaq Composite Index was off by 39.7 points, or 1.9%, to 2027.6; and the broader-market
S&P 500 index was down by 9.3 points, or 0.8%, to 1205.22.
In his
testimony -- from the biannual speech formerly known as Humphrey-Hawkins -- the Fed chief indicated that further easing of the interest rates may be in the offing, but that the cutting mode is just about over. "Should conditions warrant, we may need to ease further, but we must not lose sight of the prerequisite of longer-run price stability for realizing the economy's full growth potential over time," Greenspan said.
"It was taken as positive on first blush, but people realized that nothing new came from him," Rob Arancio, head of Nasdaq trading at Lehman Brothers. "There was nothing out of context or strange, and the market's now back to selling."
Meanwhile, tech stocks were getting knocked down today. Chipmaker
Intel
(INTC) - Get Intel Corporation (INTC) Report
was shedding 2.4% to $29.19 after
posting earnings that showed a sharp drop in quarterly results.
"Although Intel's always important for the marketplace, a lot of companies are due to report, and the S&P 500 is not even a fifth of the way there," Arancio said.
Software and hardware stocks also took a dive after
Veritas
(VRTS) - Get Virtus Investment Partners, Inc. Report
and
Apple
(AAPL) - Get Apple Inc. (AAPL) Report
laid out their quarterly results and offered bleak guidance about the future. Veritas, the data-storage maker,
lowered its guidance for the second half of the year, and Apple
implied that it would miss its already lowered sales guidance for the fourth quarter. Veritas was falling 24.6% to $38.11, while Apple shed 17.5% to $20.70. The
Philadelphia Stock Exchange Computer Box Maker Sector
index, or the BMX, lately gave up 6.9%.
Shares of
AOL Time Warner
(AOL)
lately lost 8.3% to $45.36, after posting second-quarter results that
fell short of analysts' expectations. Revenue for the quarter rose 3% to $9.2 billion, but it missed consensus estimates of $9.9 billion for the quarter. The company also posted cash earnings of 32 cents a share, excluding amortization and charges, compared with 23 cents a share in the year-ago period, beating Wall Street's expectations by 4 cents.
On tap later today are earnings reports from
IBM
(IBM) - Get International Business Machines (IBM) Report
,
Applied Micro Circuits
(AMCC)
and
Broadcom
undefined
, among others. Some market-watchers expect Big Blue, which reports after the close, to
lower its guidance.
In addition to being one of the biggest earnings days of the quarter, investors have a ton of economic material to wade through. The June
Consumer Price Index came in at 0.2%, higher than the expected 0.1%. Meanwhile, data released this morning showed the market for new homes was stronger than economists had forecast in May and June. Housing starts rose 3% in June to 1.658 million. Economists were expecting just 1.611 million starts in June.
The weakness today marks a retreat from Tuesday, when shares rose on strength in Old Economy stocks. The Dow closed the day up 134.27, or 1.3%, at 10,606.39. The Nasdaq posted a late-day rally, rising 38.2 points, or 1.9%, to 2067.32, after being flat earlier in the session. The S&P 500 finished up about 12 points, or 1%, at 1214.44.
Back to top