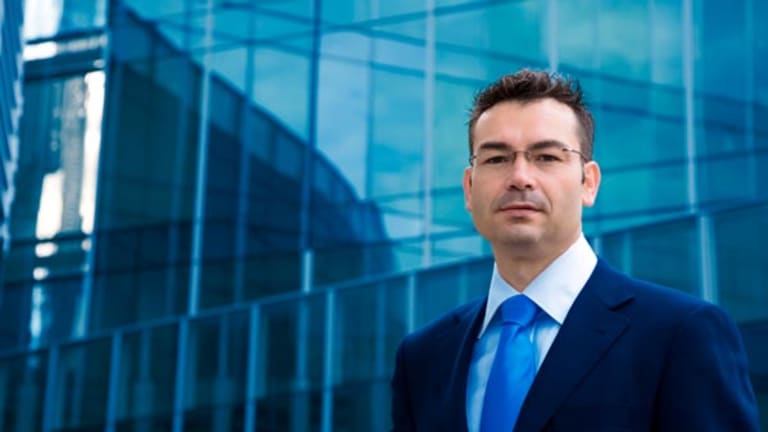 One Legendary Contrarian, Three Picks
The focus of David Dreman's investing is on unfairly beaten-down stocks, such as U.S. Bancorp.
This column was originally published on RealMoney on March 16 at 2:30 p.m. EST. It's being republished as a bonus for TheStreet.com readers.
David Dreman is Wall Street's sultan of contrariness. Tell Dreman one thing, and, like a two-year-old, he'll want the opposite. The author of
Contrarian Investment Strategies in the Next Generation
and other books, he's been contrary for decades, and he's gained a well-earned reputation for being a first-rate stock strategist. He's proven that if you know what you're doing, going against the grain can be a good way to pick stocks.
What does it mean to be a contrarian like Dreman? As I understand his strategy, he looks for stocks the market has beaten down -- unfairly. One advantage of buying such stocks is that they are bargains. But there is a second advantage: Because these stocks already have been beaten up, additional significant price drops are unlikely, though not impossible. This can limit the investor's risk; most of the shareholders who would want to sell already have done so.
Why the market would unfairly punish certain stocks is of considerable interest to Dreman, who is a student of investor psychology. Dreman says that investors overreact to events. And given certain circumstances, they overreact in predictable ways. With stocks they like, they will overprice them, while out-of-favor stocks are underpriced. Moreover, investors will go to extremes in either direction.
Surprises are an example of a trigger to overreaction. When something happens that the market hasn't expected, such as surprisingly good or poor earnings, the market drives the stock up more than it should on good news and unfairly down on bad news. This creates opportunities for contrarian investors who believe the market made a mistake.
Of course, Dreman recognizes that many beaten-down stocks are on the ropes for good reason. These are companies that are in trouble and performing poorly, and the market is right in punishing these stocks. To avoid making a mistake, before Dreman invests in a company, he runs its numbers through a series of tests to be sure the company is financially sound.
But he first wants to know if the company qualifies as a contrarian investment. And to do that, he has a series of four tests in which he's assessing whether various attributes of the stock put it in the bottom 20% of the market. Being in the bottom 20% convinces him the stock is out of favor. The criteria he looks at are:
Price-to-earnings ratio. Price-to-cash-flow ratio. Price-to-book-value ratio. Price-to-dividend ratio (which means that a company's yield should be in the top 20% of the market).
To be considered contrarian, a stock has to pass a minimum of two of these four tests.
Electric and gas public utility
Energy East
(EAS)
is an example of a stock the Dreman strategy currently favors. Of the four tests for being out of favor, it passes three, failing only the P/E ratio. But is its low stock price justified? To find out, the strategy I base on Dreman's practices runs a number of tests. Of these, Energy East passes several, including:
A good current ratio (equal or greater than its industry average). A relatively low dividend payout ratio. A pretax profit margin of 8.1% (8% is the minimum acceptable). A yield, 4.75%, considerably above the market's average yield, which is 2.54% (the market being defined as the S&P 500 here).
U.S. Bancorp
(USB) - Get U.S. Bancorp Report
is another Dreman favorite. It's a contrarian stock because its P/E ratio and price-to-dividend ratio are in the bottom 20% of the market.
Though out of favor with the market, it is financially strong. It's particularly attractive because its return on equity is good. The Dreman strategy requires a ROE greater than the top one-third of the ROE from among the top 1,500 large-cap stocks, which is 19.7%. That's no problem for U.S. Bancorp, which has a ROE of 22.7%. Pretax profit margins need to be at least 8%, and U.S. Bancorp's are a robust 39.6%. Also, its yield is a high 4.3%. This means that U.S. Bancorp is both out of favor with the market and still performing, financially, at a high level.
Let me give you one more example of a stock the Dreman strategy indicates is worth taking a contrarian position on: oil giant
Chevron
(CVX) - Get Chevron Corporation Report
. As proof that it's out of favor with the market, its P/E ratio and price-to-cash-flow ratio are both in the bottom 20% of the overall market. Yet the company is doing well financially. Its current ratio is better than the industry's average, its payout ratio is low, its return on equity is a strong 26.1%, and its pretax profit margins are a desirable 12.7%.
All of these stocks qualify as being out of favor with the market, yet all are doing well financially. These are the situations Dreman looks for: companies that have relatively low stock prices and that aren't well-liked by the market, yet are excellent performers. A strong company sporting a weak stock -- that's what Dreman says is a smart contrarian investment.
P.S. from TheStreet.com Editor-in-Chief, Dave Morrow:
It's always been my opinion that it pays to have more -- not fewer -- expert market views and analyses when you're making investing or trading decisions. That's why I recommend you take advantage of our
to TheStreet.com's
RealMoney
premium Web site, where you'll get in-depth commentary
and
money-making strategies from over 50 Wall Street pros, including Jim Cramer. Take my advice --
At the time of publication, Reese was long U.S. Bancorp, although holdings can change at any time.
John P. Reese is founder and CEO of Validea.com, an investment research firm, and Validea Capital Management, an asset management firm serving affluent investors and companies. He is also co-author of the best selling book,
The Market Gurus: Stock Investing Strategies You Can Use From Wall Street's Best
. Under no circumstances does the information in this column represent a recommendation to buy or sell stocks. Reese appreciates your feedback.
to send him an email.
TheStreet.com has a revenue-sharing relationship with Amazon.com under which it receives a portion of the revenue from Amazon purchases by customers directed there from TheStreet.com.