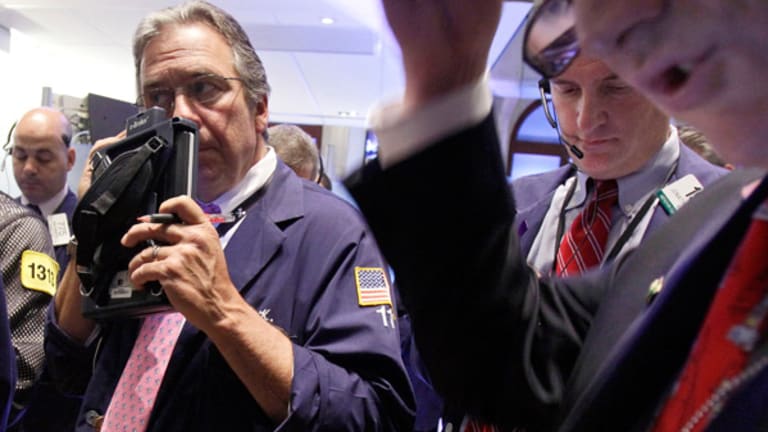 One Homebuilding Stock to Consider
Homex's strong uptrend is appealing. Plus, NYSE Euronext.
This column was originally published on RealMoney on June 19 at 10:42 a.m. EDT. It's being republished as a bonus for TheStreet.com readers. For more information about subscribing to RealMoney, please click here.
On Monday, I wrote about some of the essential attributes of successful traders. But one factor I didn't discuss is among the most fundamental aspect of trading: capitalization. You're either adequately capitalized or you're not. Either way, there are downsides to consider if you are just beginning your career as a trader.
Before I get to reader requests, let's look at the all-too-common problem of undercapitalization.
First, how can you tell you're undercapitalized? You need to make an inordinate return in order to cover your living expenses. How much money does your trading need to generate to enable you to live your life? If you're not starting with a large enough capital base to trade with, you won't be able to trade in sizes that yield returns you can live with.
If you are undercapitalized, you've got to do one of two things to overcome it. First, you can take outsized risks and swing for the fences in the hope of hitting a home run so that you can cure the obvious problem of not having enough trading capital to trade correctly. This usually involves excessive use of options or delving into the futures market. Either way, you are combining excessive risk with a dearth of experience. The outcome is fairly predictable: pain. I don't advocate this approach.
Or you can be patient and focus on learning to trade while augmenting your trading account with income from another job. This is the reality of trading; you need dough to make dough.
Trading is not easy, and being wrong is part of the trade. Despite what late-night infomercials will tell you, there is no tried-and-true method of trading that can shortcut experience and discipline. Successful trading is never as easy as buying the latest package of bells and whistles. Tune out the idea that there are black-box systems that work very well and are virtual money machines. They won't be marketed to the general public because that would render them ineffective.
If you are undercapitalized, accept that reality and do what you need to do. Work hard to build up your trading account with consistent deposits from other income, and focus on learning the right way to trade.
If you find the right environment for learning to trade while you are building up your trading capital, you are likely to have sufficient trading experience around the same time that your account is sizeable enough to make a go of it.
Wednesday, I'll look at the other side of the coin -- the problems of starting out with plenty of capital.
Now let's get to those reader requests.
Homex
(HXM)
is probably the only homebuilding stock that I'd consider owning for the next couple of years. From the looks of the chart, I'm not alone, or early! This stock has been trending higher for the past two years.
But over the past few months, we've seen some consolidation in the stock. That sets up a low-risk entry on a breakout above $65. Assuming that breakout occurs, I'd set the stop right in the middle of congestion, just in case the breakout fails.
I've covered
NYSE Euronext
(NYX)
so often over the past couple of months that I'm starting to feel like a play-by-play announcer. But I keep getting so many questions about it that it's only right to come back to it -- one last time.
NYSE Euronext finally broke down below persistent support at $80. While that's a short-term negative and perpetuates the downtrend that has plagued the stock since January, I'd look for the next crop of buyers right around $75 -- the same level where the stock broke out of congestion last November.
AAR
(AIR) - Get Report
has been in a prolonged uptrend since bottoming at $20 in mid-2006. Aside from the deep pullback in late March, AAR has been trading between the middle and upper Bollinger Bands.
Notice how the stock broke above $32.50 in early May. Since then it's been churning just above that level, creating a higher base of support. If the stock fell below $32.50, I'd look to sell. But until that time, the stock is a keeper.
Total System Services
(TSS) - Get Report
had been churning in a tight $2 range between late February and mid-May. After the stock broke above the $33 resistance, it appeared as if it was going to continue on another leg higher. But that move was quickly reversed and the stock fell right through the channel and out the bottom.
While Total System is consolidating just below the channel now, I'd be leery of any advance. After all, there is a lot of financial commitment between $31 and $33, so any move back into that area is likely to attract some selling pressure.
I've highlighted two recent volatility squeezes in
Barnes Group
(B) - Get Report
, both of which resolved to the upside. Notice how the stock broke out in late April before consolidating during May. By early June the Bollinger Bands were fairly close together, reflecting the tight trading range over the previous few weeks. But last week, Barnes broke out of that congestion and is now running strongly along the upper Bollinger Band. I'd stay long until that changes, and I'd certainly keep a stop just below the breakout level.
Be careful out there.
At the time of publication, Fitzpatrick had no positions in any of the stocks mentioned in this post, though positions may change at any time.
Dan Fitzpatrick is the publisher of
, an advisory newsletter and educational forum dedicated to teaching effective risk management and trading methodologies to aspiring traders and investors. He is a former hedge fund manager and a member of the Market Technicians Association, and he now trades from his home in San Diego, Calif. While Fitzpatrick holds various securities licenses, he does not give recommendations to buy or sell stocks. Under no circumstances does the information in this column represent a recommendation to buy or sell stocks. He appreciates your feedback;
to send him an email.