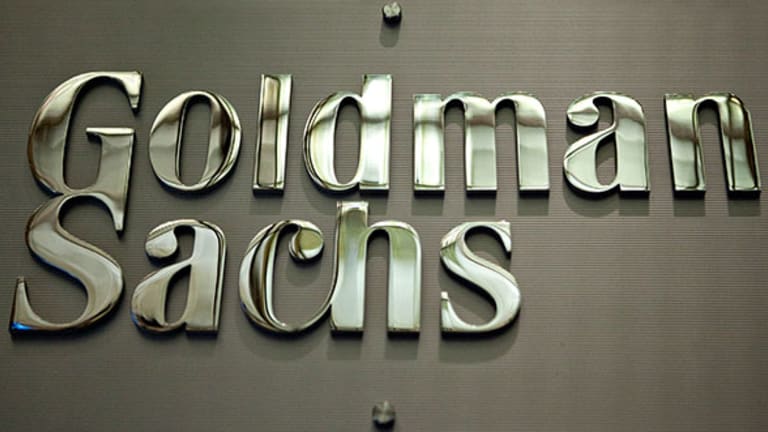 'Once in a Lifetime Moves' in Banks: More Squawk From Jim Cramer
The recent moves higher in several large bank stocks are not being talked about enough, TheStreet's JIm Cramer said.
NEW YORK (TheStreet) --Since the election for President of the United States ended with a Donald Trump victory, several large bank stocks have shown some impressive gains.
Since Wednesday of last week shares of Goldman Sachs (GS) are rising by 16.23%, shares of Morgan Stanley (MS) are higher 18.65%, shares of Citigroup (C) - Get Report are up 11.08%, shares of JPMorgan (JPM) are higher 11.22%, and shares of Bank America (BAC) are gaining by 17.59%
"Look at these moves, these are once in a lifetime moves and we are not talking enough about them," TheStreet's Jim Cramer said about recent moves in bank securities on CNBC's "Squawk on the Street" Friday morning.
He noted that these stocks were "so far behind" and pointed to a recent move in Goldman Sachs as being indicative of the rebound.
"Goldman Sachs has gone from $160, which was a $20 discount to its book value, to now over $200. What a move," Cramer said.
Shares of Goldman were trading around the $160 range at the end of September, presently shares are trading at $211.28. The moves in Goldman are rare Cramer said, noting that Goldman shot up as if it had been taken over.
Additionally, Salesforce (CRM) announced on Thursday that it has inked deals with both Citigroup and PNC Bank (PNC), which indicates that banks are embracing tech.
"These places are radically upgrading their tech. Remember, they hadn't spent a lot of money on tech; its new and its different," Cramer said. "We used to think all that mattered was maybe where net interest margins are, now, people are starting to talk about growth."
Furthermore, Cramer does not believe the Federal Reserve or the Treasury will have a "hammerlock" on the banks and how they spend their money.
"They would love to be able to return more capital, but the government hasn't let them. That's what is going to change under Trump," Cramer said.
(Citigroup is held in Jim Cramer's charitable trust Action Alerts PLUS. See all of his holding with a free trial here.)